10 Minute Edamame Spaghetti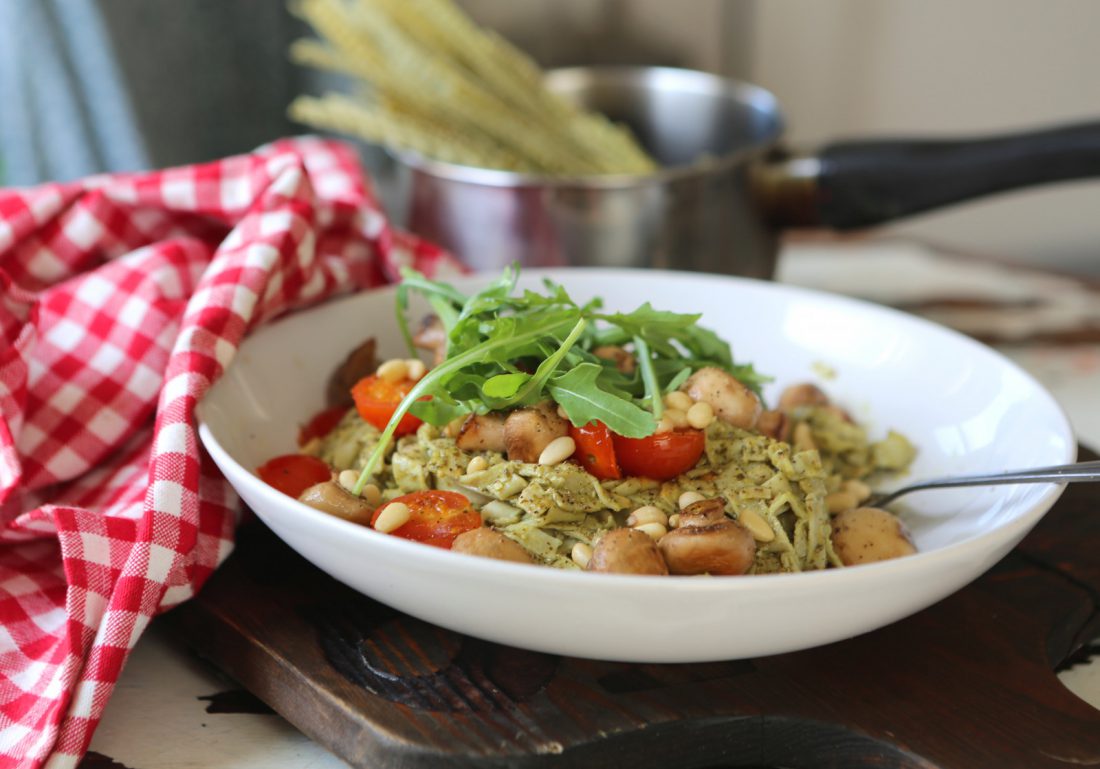 There are lots of great things about this dish… it's simple, very quick, tastes amazing AND it's high in protein!
Edamame pasta contains 24g protein per serving so it's a great way to make up your RDA.
Easy
Gluten free
Wheat free
Quick meal
Ingredients
200g/7oz edamame spaghetti (you can find this in most health food shops, Holland & Barrett, The Vegan Kind and some supermarkets)
1 clove garlic, finely chopped
200g/7oz mushrooms, sliced
200g cherry tomatoes
2 large handfuls spinach
200g (approx.) vegan pesto (eg Sacla, Zest, supermarket own brands. If you fancy making your own then check out our hazelnut pesto recipe)
Optional extras: toasted pine nuts, a few tablespoons of nutritional yeast and a handful rocket per person
Other ideas for serving: mushroom and white wine sauce, mixed mushrooms, fresh chilli, roast vegetables, toasted hazelnuts, avocado, artichokes, sundried tomatoes, olives, capers, fried aubergine, asparagus, vegan sausage, vegan chorizo, vegan bacon with brussels sprouts, caramelised onion, lemon juice, peas. vegan cheese,
Instructions
In a large frying pan, cook the mushrooms in a little oil until soft. Add the garlic after a few minutes of cooking.
Add the cherry tomatoes and spinach, stirring occastionally. Heat for a few minutes until the spinach has wilted.
Whilst the veggies are cooking, place the spaghetti in a large saucepan, add water, bring to the boil and then simmer for around 5 minutes or until just soft.
Drain the spaghetti and mix together with the vegetables and pesto.
Season then top with rocket, pine nuts and nutritional yeast.
Did you know that V30 is run by a charity?
We create vital resources to help educate everyone – vegan veterans, novices and the v-curious alike – about vegan food, health and nutrition; as well as the plight of farmed animals and the devastating environmental impact of farming.
Through this work we have helped thousands of people discover veganism; but we want to reach millions more! We rely entirely on donations as we don't get any government funding. If you already support us, thank you from the bottom of our hearts, you are really making a difference! Please share our details with your friends and loved ones too, as every donation enables us to keep fighting for change.