All Day Big Cooked Breakfast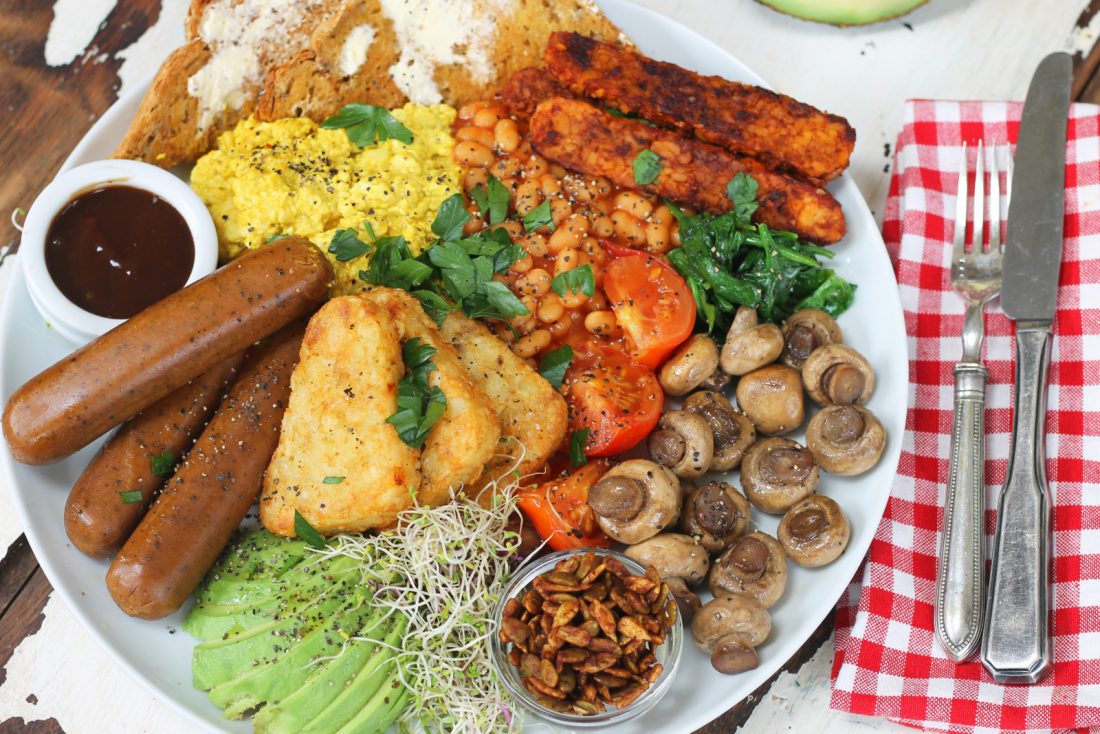 There's nothing like a cooked breakfast. And this one is so good, why keep it for mornings?!
Although animal-free foods are naturally cholesterol-free, try using oil spray to further reduce the amount of oil you cook in – and serve with fresh fruit or freshly squeezed juice for an added vitamin C boost.
Here are some ideas – plus recipe links and product information. You don't have to include them all but it will give you some ideas of just how good a 'vegan full British' can be! (with perhaps a few influences from the USA and the Caribbean).
OPTIONS – choose a few from this list
Vegan sausages (Fry's; Morrison's; VBites; Linda McCartney; Wicken Fen; Vegetarian Choice.. Dee's and Dragonfly sell a GF range). Home made? Try our Nutty Mushroom Sausage or Seitan Sausages
Rashers – ready to cook vegan bacon or tempeh – VBites; Tofurkey; Impulse. Seitan Bacun or home-made tempeh rashers
Baked beans – nearly all vegan unless meat sausages added
Tomatoes, fried or grilled (try adding a bit of fried garlic and olive oil, yum)
Tofu Scramble: two versions for you – Scrambled Tofu with Fresh Tomatoes & Basil OR Maryanne's Super-fast Silken Tofu Scramble
Hash browns (McCain's are vegan)
Mushrooms, sliced, cooked with or without garlic, but fried in a little oil and drizzled with soya sauce – use tamari for a GF option
Pancakes – use our recipe but reduce the liquid a little to make a thicker, American-style breakfast version
French toast – vegan-style
Fried plantain or banana
Toast
Toasted pumpkin and sunflower seeds
Alfalfa sprouts
Avocado
Shoyu and tamari are the best varieties of soya sauce, tamari being the wheat-free and gluten-free option. Try Kikkoman, Essential, Sanchi or Clearspring brands.
Not too tricky
Gluten free
Wheat free
Reduced sugar, diabetic friendly
Quick meal
Cheap
Kids recipe
Ingredients
1-2 vegan sausages per person
1-2 vegan rashers
225g/8oz mushrooms, sliced with a splash of soya sauce, to taste.
Oil or oil spray to fry 4 tomatoes, halved
1-2 tins baked beans (optional)
4 potato scones, eg Warburton's
plus all or any of the options listed above!
Instructions
Put on the oven – about 150°C/300°F/Gas Mark 3 – so you can keep cooked items warm until serving.
Grill sausages according to packet instructions – or fry in oil spray. Keep warm.
Make anything else now eg Tofu Scramble; Pancakes…
Put tomatoes under grill or in a hot oven, ensuring they don't singe.
Fry mushrooms in oil or oil spray, adding soya sauce at end. Keep warm.
Meanwhile, heat baked beans.
Fry rashers. If using, toast potato scones.
Serve and enjoy!
Optional extras / notes
Cooking time depends on which and how many options are used
Did you know that V30 is run by a charity?
We create vital resources to help educate everyone – vegan veterans, novices and the v-curious alike – about vegan food, health and nutrition; as well as the plight of farmed animals and the devastating environmental impact of farming.
Through this work we have helped thousands of people discover veganism; but we want to reach millions more! We rely entirely on donations as we don't get any government funding. If you already support us, thank you from the bottom of our hearts, you are really making a difference! Please share our details with your friends and loved ones too, as every donation enables us to keep fighting for change.