Aubergine BLT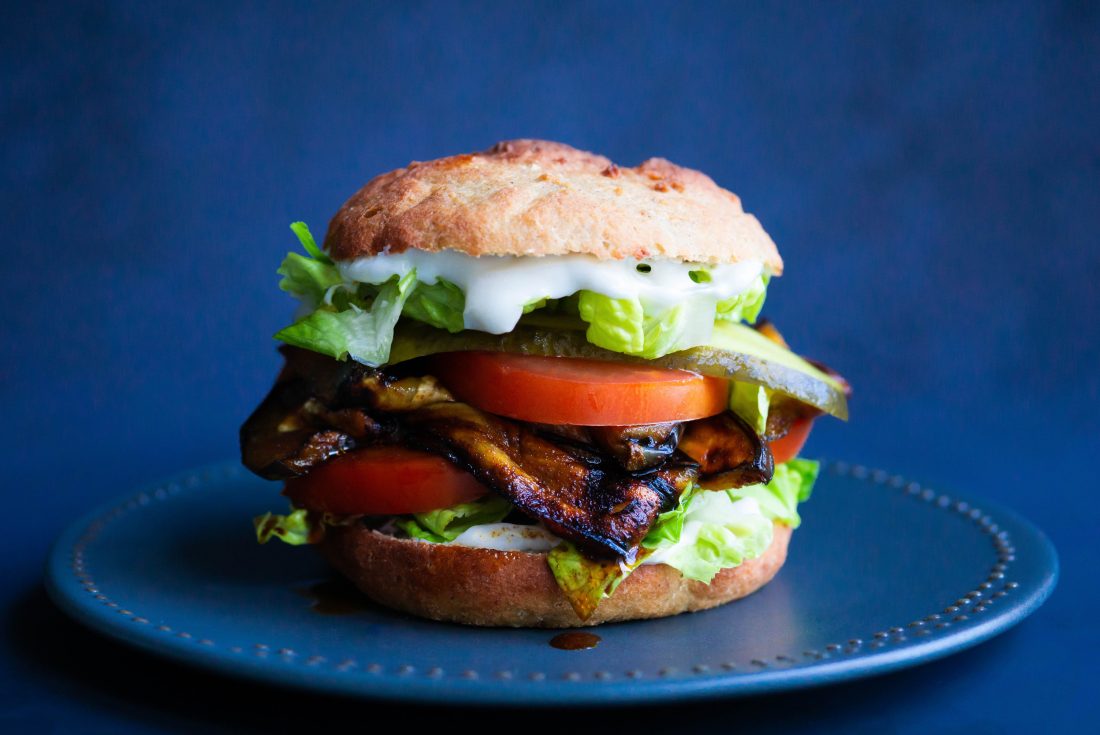 This is a delightfully messy BLT using aubergine as a replacement for bacon. Aubergine soaks up the delicious marinade and crisps up in a hot pan.
Easy
Gluten free
Wheat free
Quick meal
Cheap
Ingredients
2 bread rolls (use GF if required)
1 large aubergine or 2 small aubergines
2 tbsp tamari (GF) or soya sauce
1 tbsp rice, maple or agave syrup
2 tsp smoked paprika
1 tbsp sunflower oil
2 tomatoes, sliced
4 gem lettuce leaves, sliced
2 gherkins, sliced
Vegan mayonnaise or other sauce
Instructions
Cut both bread rolls in half.
Cut the aubergine, lengthwise, into 4 pieces. Slice each quarter into lengths, roughly 2-3mm thin.
Put the tamarind, syrup and paprika in a large bowl. Put the aubergine into the bowl with the marinade. Toss the aubergine so it is completely covered.
Heat the oil, in a large frying pan, on a high heat. Once the oil is very hot, take each aubergine slice from the marinade and place in the frying pan.
You may need to fry the aubergine in batches. If you do, you can keep them warm in a low oven until all of the aubergine is cooked.
Prepare your bread rolls with tomatoes, lettuce, gherkins and sauces, plus the aubergine bacon. I like to twist the bacon, rather than simply layering it, as this gives more height to the BLT.
Serve and eat immediately.
Did you know that V30 is run by a charity?
We create vital resources to help educate everyone – vegan veterans, novices and the v-curious alike – about vegan food, health and nutrition; as well as the plight of farmed animals and the devastating environmental impact of farming.
Through this work we have helped thousands of people discover veganism; but we want to reach millions more! We rely entirely on donations as we don't get any government funding. If you already support us, thank you from the bottom of our hearts, you are really making a difference! Please share our details with your friends and loved ones too, as every donation enables us to keep fighting for change.