Avocado, Tahini and Super Sprouts on Toasted Sourdough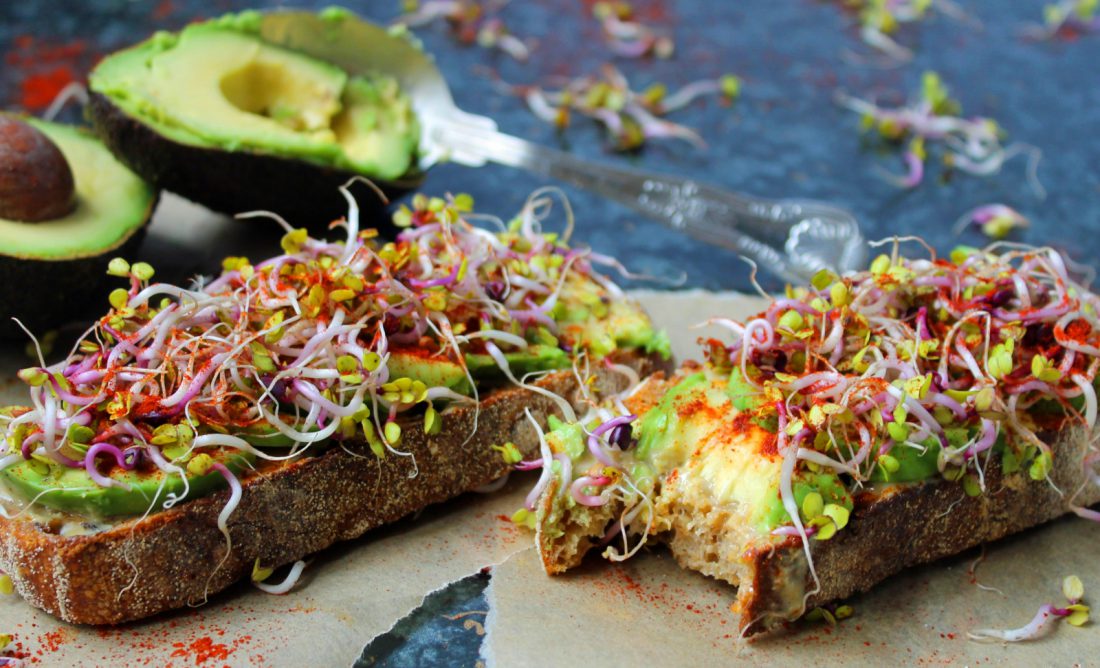 This avocado, tahini and sprouts on sourdough is a super quick and very healthy light lunch, brunch or snack. It's gorgeous on fresh, toasted sourdough but any toast will work. It provides a great hit of omegas, protein and enzymes for a delicious, nutritious pick me up.
Easy
Gluten free
Wheat free
Reduced sugar, diabetic friendly
Meal
mains
breakfasts
lunches
sides-light-meals-and-salads
Ingredients
2 slices of sourdough bread (or gluten-free bread)
1 ripe avocado
Tahini (add to taste)
Super sprouts (alfalfa, radish, mung bean, broccoli etc)
Paprika (smoked or regular)
Extra virgin olive oil (optional)
Pinch of salt
Instructions
Toast the sourdough (or other bread) and while you're waiting, assemble the other ingredients.
Slice the avocado width ways or mash it with a fork if you prefer. Set aside.
Spread a layer of tahini onto the toasted sourdough.
Place the avocado along the length of each of the slices of sourdough so they're completely covered.
Sprinkle a pinch of salt over the avocado.
Cover both slices of toast with the super sprouts.
Drizzle a little olive oil over the top (optional but I love it!) and then sprinkle paprika (the colours look lovely if you dust a little bit onto the plate).
This dish can easily be made gluten-free just by swapping the sourdough with a gluten-free bread of your choice.
Radish sprouts bring the most vibrant colour to the dish (sprouts can be grown at home or bought from local health food shop and some supermarkets).
If you haven't tried tahini before, make sure you add it by the teaspoon as it's got a very full flavour.
Did you know that V30 is run by a charity?
We create vital resources to help educate everyone – vegan veterans, novices and the v-curious alike – about vegan food, health and nutrition; as well as the plight of farmed animals and the devastating environmental impact of farming.
Through this work we have helped thousands of people discover veganism; but we want to reach millions more! We rely entirely on donations as we don't get any government funding. If you already support us, thank you from the bottom of our hearts, you are really making a difference! Please share our details with your friends and loved ones too, as every donation enables us to keep fighting for change.