Balinese Summer Curry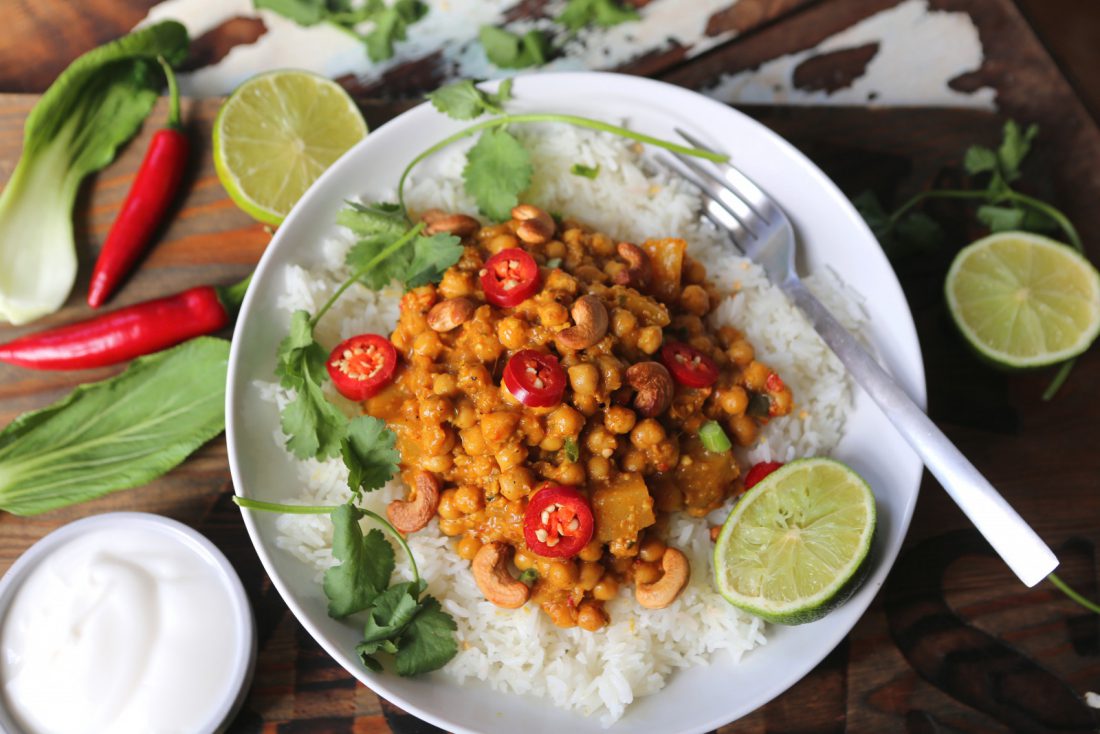 Fragrant, fresh, zingy and summery… what's not to love about this curry!
Easy
Gluten free
Wheat free
Quick meal
Low fat, low sugar
Freezable
Cheap
Ingredients
Paste
1 red onion, diced
2 cloves garlic, roughly chopped
2cm piece ginger, grated
1 red chilli, deseeded and finely chopped
45g/⅓ cup roasted cashew nuts
4 kaffir lime leaves
1 tsp coriander
½ tsp turmeric
1 tsp chilli powder (use a little less if you don't like much spice)
Juice of half lime
Curry
2 x 400g/14 oz tins chickpeas, drained and rinsed or 280g (approx.) plain vegan chicken pieces (eg Quorn Vegan Pieces)
1 x 400ml/1¾ cups plus 1 tbsp tin light coconut milk
1 tbsp sugar (ideally brown) or syrup (eg maple or agave) – optional
Juice of half lime
1 ripe mango, stone/skin removed and cut into small bite-sized cubes (or use around 150g pre-cut mango pieces, chopped into smaller cubes)
2 sticks lemongrass, bashed all the way along using rolling pin or similar (optional but it adds incredible fragrance and flavour)
Bunch fresh coriander, finely chopped and also save some whole leaves for decoration
Salt
Serving suggestions: Thai jasmine rice, steamed or stir fried pak choy, broccoli or spinach, toasted cashews, fresh chilli, vegan Thai crackers (eg Sainsbury's are vegan) and an absolute must is coconut yogurt
Instructions
Paste
Lightly fry the red onion until soft. Add the garlic, ginger and chilli and fry for a further few minutes.
Transfer to a food processor or high speed blender and add all of the other paste ingredients. Blend until nearly smooth.
Curry
In a large wok or deep frying pan, heat around 1 tablespoon oil (medium heat) and then add the curry paste.
Cook and stir for 1-2 minutes until the fragrance is released.
Stir in the coconut milk and sugar and bring to the boil.
Add the chickpeas or 'chicken' pieces then turn down to a low heat.
Add the lemongrass and mango and simmer for 15 to 20 minutes.
Stir through the lime juice and fresh coriander at the end of cooking.
Add some salt, taste the curry and then add a little more if necessary until you achieve your desired result.
Serve with our suggestions and enjoy 🙂
Did you know that V30 is run by a charity?
We create vital resources to help educate everyone – vegan veterans, novices and the v-curious alike – about vegan food, health and nutrition; as well as the plight of farmed animals and the devastating environmental impact of farming.
Through this work we have helped thousands of people discover veganism; but we want to reach millions more! We rely entirely on donations as we don't get any government funding. If you already support us, thank you from the bottom of our hearts, you are really making a difference! Please share our details with your friends and loved ones too, as every donation enables us to keep fighting for change.