Banana, Nut Butter & Cinnamon on Toasted Sourdough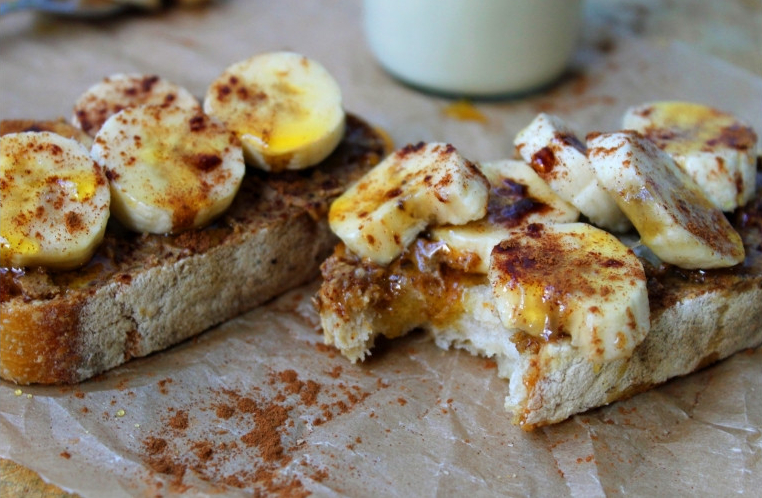 This amazingly simple breakfast tastes like a feast in one dish. Choose a good quality wholefood type nut or seed butter – there are lots to choose from, including mixed nuts and seed butters. The combination of flavours is to die for and creates a healthy but indulgent breakfast. Enjoy!
Bread notes – for a useful low-down on how to buy the best quality bread – made traditionally and without chemicals to speed up the process – check out Campaign for Real Bread
Lots of bread is vegan but not all so check. The less processed it is the more likely it is to be vegan but check nonetheless.
Choose wholemeal not wholewheat. The former is more likely to be unadulterated (and probably vegan) whereas the regulations for wholewheat are not so good! Also, buying sourdough wholemeal is always better than sourdough white.
Supermarkets are often all we have but buying an organic wholemeal loaf gives you some protection from shoddy modern baking practice and will be vegan. (Granary, malted, supermarket-style wholewheat et al are not all they are cracked up to be). Flour 'improvers' and modern processes used to speed up the proving process make bread less healthy and more difficult to digest.
If you really can't bear to give up white bread, get the best quality possible.
If you can't afford quality bread and get through a lot of it, a good breadmaker is a lifesaver and will pay for itself very quickly. If you have time but no money, make it by hand! There are plenty of youtube videos.
If necessary, switch the sourdough for any bread including gluten free.
Easy
Gluten free
Wheat free
Meal
vegan-desserts
breakfasts
sides-light-meals-and-salads
Ingredients
2 slices of fresh sourdough or other bread of your choice
1 large banana
1 tbsp maple syrup, agave or other vegan syrup of your choice for drizzling
½-1 tsp cinnamon
Nut butter of your choice
Instructions
Toast the sourdough (or other bread) and while you're waiting, assemble the other ingredients.
Slice the banana and put aside.
Spread a nice, thick layer of nut butter onto each slice of toasted sourdough.
Place the banana over each slice of toast so they're completely covered.
Drizzle maple syrup over each slice.
Sprinkle a fine dusting of cinnamon over both slices so they are completely covered.
Eat and enjoy.
This dish can easily be made gluten-free by swapping the sourdough for a vegan gluten-free bread of your choice.
It can also be made low sugar by switching the maple syrup or agave for yacon syrup or xylitol (found in health food shops and some supermarkets).
Did you know that V30 is run by a charity?
We create vital resources to help educate everyone – vegan veterans, novices and the v-curious alike – about vegan food, health and nutrition; as well as the plight of farmed animals and the devastating environmental impact of farming.
Through this work we have helped thousands of people discover veganism; but we want to reach millions more! We rely entirely on donations as we don't get any government funding. If you already support us, thank you from the bottom of our hearts, you are really making a difference! Please share our details with your friends and loved ones too, as every donation enables us to keep fighting for change.