Broccoli, Lemon & Mint Risotto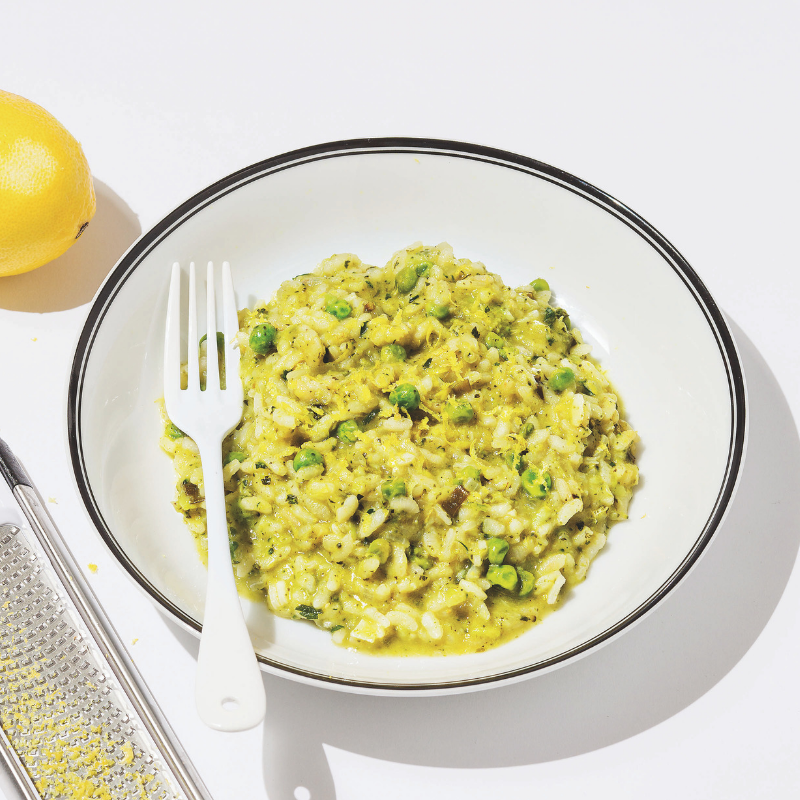 Death to the bland, boring, overcooked, undercooked, crappy, token veg option on the menu: risotto. Seriously, how can this dish be so consistently underwhelming? We are uncertain, but what we do know is how to do it right. Sure, you have your mushroom risottos, but here we have taken it up a notch, and we can help you step up your risotto game, too. This one is undeniably good and a really pretty colour. Step it up, friends.
This recipe comes from the amazing new cookbook by Smith & Deli!
Easy
Gluten free
Wheat free
Reduced sugar, diabetic friendly
Ingredients
Risotto
60 ml/¼ cup extra-virgin olive oil
½ brown onion, finely diced
3 spring onions (scallions), white and green parts, chopped
1–1.25 litres/4–5 cups vegetable stock
1 garlic clove, minced
330g/1½ cups arborio (risotto) rice
80g/½ cup peas (frozen or fresh)
Salt and pepper, to taste
Vegan parmesan, to garnish (optional eg Violife Prosociano)
Broccoli Pesto
1 broccoli head, trimmed into florets (no stalk)
60ml/¼ cup extra-virgin olive oil
10g/½ cup mint leaves
10g/½ cup flat-leaf (Italian) parsley leaves
1 garlic clove
Zest and juice of 1 lemon
1 tsp salt
Fresh green chilli, as much or as little as you like (optional)
Instructions
In a shallow casserole dish or large saucepan, heat the olive oil over a medium heat and add both onions with a big pinch of salt. Fry until the onions begin to soften.
While the onions are cooking, prepare the broccoli for the pesto. Bring a small saucepan of salted water to the boil and blanch the broccoli for 3–4 minutes, or until just cooked. Do not overcook; you want to keep that bright green colour.
Drain the broccoli in a colander and run it under cold water until cool. Set aside to drain.
Using the same pot that you used for the broccoli, heat the stock until hot. Add the garlic to the onions and cook out for a second, then add the rice.
Stir well to coat, then cook over a low heat until the grains begin to look a little translucent around the edges.
Slowly begin to add the warm stock to the rice – about 250ml/1 cup at a time. Stir, almost constantly, over a low heat until the rice is just cooked through and creamy.
If you don't need all the stock, don't use it. Different brands of rice need slightly different amounts of stock, so use your best judgement.
While the risotto is cooking, make the pesto.
In a blender or food processor, combine the broccoli with all the pesto ingredients and blend until smooth.
Once the rice is cooked – not mushy, but just cooked (about 25 minutes) – add the peas and allow to cook for a couple of minutes.
Remove from the heat and fold in the pesto.
Sprinkle with some parmesan, if using, and a good crack of black pepper.
Did you know that V30 is run by a charity?
We create vital resources to help educate everyone – vegan veterans, novices and the v-curious alike – about vegan food, health and nutrition; as well as the plight of farmed animals and the devastating environmental impact of farming.
Through this work we have helped thousands of people discover veganism; but we want to reach millions more! We rely entirely on donations as we don't get any government funding. If you already support us, thank you from the bottom of our hearts, you are really making a difference! Please share our details with your friends and loved ones too, as every donation enables us to keep fighting for change.