Butternut Squash & Lentil Warm Salad (supermarket style)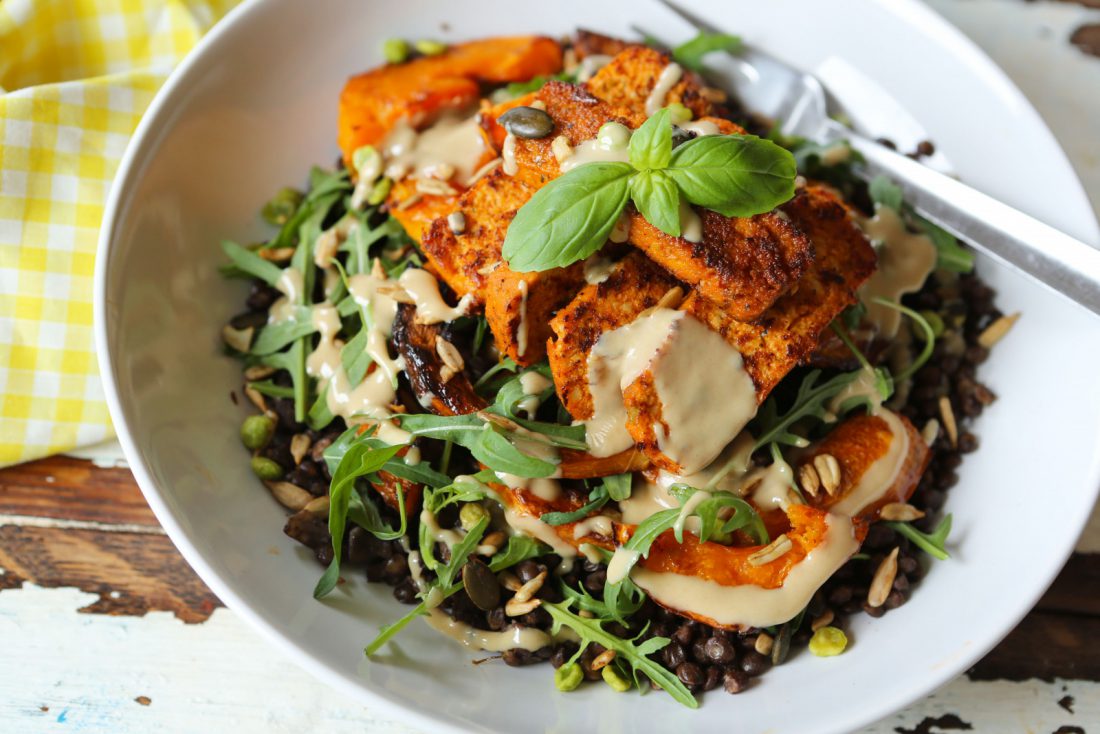 This is a delicious and hearty salad which can be served as a side or as a main. It's very easy to make and perfect if you want something simple but healthy. You don't have to stick rigidly to the ingredients… try roasting other vegetables such as sweet potato, peppers, aubergine, mushrooms, onion, pumpkin, courgette and/or any others you fancy. The slight bitter taste to the tahini works perfectly with the sweetness of the roasted veg… you'll be addicted!
Easy
Gluten free
Wheat free
Quick meal
Low fat, low sugar
Freezable
Ingredients
1 butternut squash, peeled and cut into slices around 1cm thick (or 1 packet pre-cut squash if short of time)
Glug of rapeseed oil
1 packet/250g of pre-cooked puy lentils (or any pre-cooked lentils of your choice)
2 handfuls of rocket or watercress
200g (approx) marinated tofu, diced and lightly fried or serve cold (eg Cauldron or Taifun)
Drizzle of tahini (get a pourable one eg supermarket own brands or from Asian or Middle Eastern shops) or French dressing
Handful of fresh herbs (eg basil)
Handful of mixed seeds (eg pumpkin, sunflower, sesame) (optional)
Salt and pepper
Instructions
Pre-heat the oven to 180°C/350°F/Gas Mark 4.
Pop the butternut squash slices onto a baking tray and cover with a light coating of oil and a sprinkle of salt.
Bake in the oven for 20 minutes before turning once. Bake for a further 20 minutes.
To assemble, start with a layer of lentils then add the butternut squash, tofu, rocket, fresh herbs and mixed seeds.
Top off with a drizzle of tahini or French dressing.
Add salt and pepper, to taste.
Did you know that V30 is run by a charity?
We create vital resources to help educate everyone – vegan veterans, novices and the v-curious alike – about vegan food, health and nutrition; as well as the plight of farmed animals and the devastating environmental impact of farming.
Through this work we have helped thousands of people discover veganism; but we want to reach millions more! We rely entirely on donations as we don't get any government funding. If you already support us, thank you from the bottom of our hearts, you are really making a difference! Please share our details with your friends and loved ones too, as every donation enables us to keep fighting for change.