Cheatin' Tagine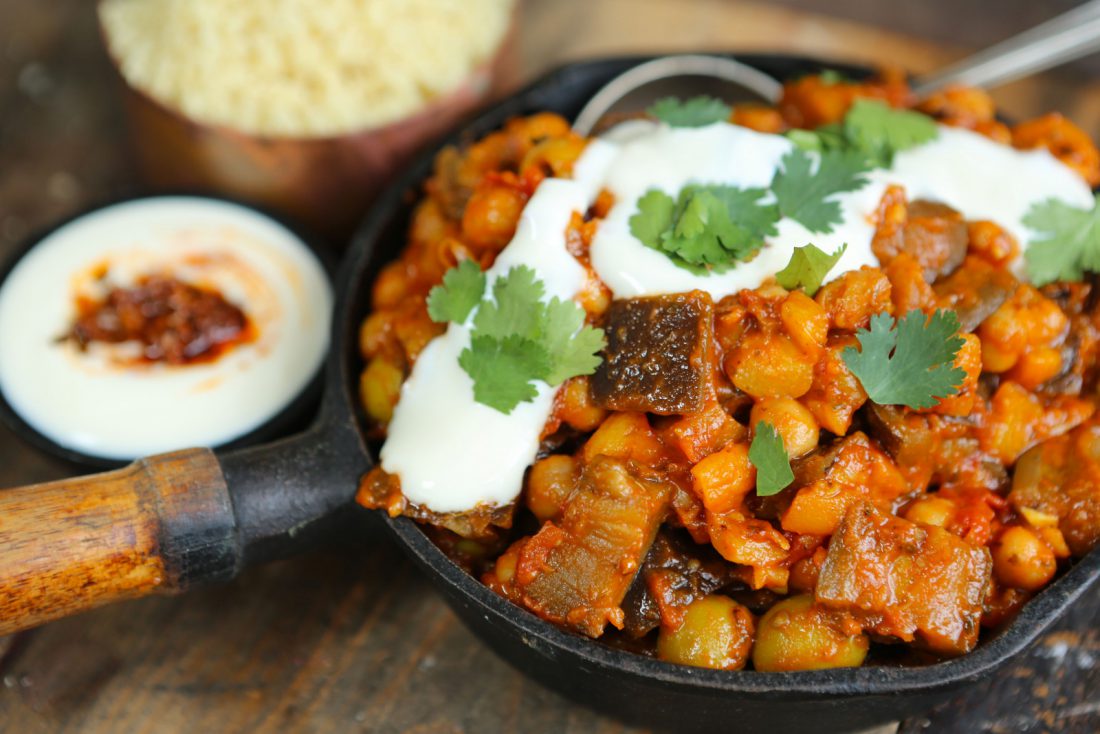 We can't quite believe how delicious this tagine is and yet it's so easy! Definitely one for the weekly staples… enjoy 🙂

Easy







Cuisine
Middle Eastern and Moroccan
Ingredients
3 aubergine, diced
Good glug of oil for frying
1 clove garlic, finely chopped (use pre-chopped if short of time)
2 tsp ground cumin (optional)
½ tsp chilli powder (optional)
1 tin chickpeas
1 tin tomatoes
3 tbsp tagine paste (our favourite is Belazu, found in Sainsbury's (see below), but most of the supermarkets will stock either their own brand or at least one other brand. Also find online and in health food shops)
250ml/1 cup strong vegan stock (add more if sticking to the pan)
2 handfuls apricots, finely chopped OR 2 handfuls of raisins or sultanas
2 handfuls green olives (optional)
2 preserved lemons, finely chopped (optional)
Instructions
In a wok or large saucepan fry the aubergine (in a good amount of oil) until it is soft and lightly golden, stirring frequently (or if you prefer, roast it in the oven on 180ºC until golden).
Add the garlic and fry for a further minute.
Add all other ingredients and stir thoroughly.
Heat on a medium heat for 15 minutes until most of the stock has been absorbed and you have a nice, thick tagine.
Optional: serve with yoghurt, fresh coriander, flaked almonds and couscous.
Keywords
Almost instant meals
Articles
Blog
Breakfasts
Budget recipes
Cakes and baking
Family recipes
Guest chef
Health, nutrition & slimming
Healthy recipes
International recipes
Juices & smoothies
Know-how: kitchen skills, shopping tips, cooking techniques etc
News
Recipes
Sauces
Sports nutrition
Students
V30 facts
Easy
Middle Eastern and Moroccan
Mains
Gluten-free/optional
Wheat-free/optional
Soya-free/optional
Nut-free/optional
Reduced fat
Reduced sugar
Sesame-free/optional
Diabetic friendly
Quick meals
Healthy recipes
Plastic-free adaptable
Store cupboard
Low fat/sugar
Budget
Freezable
Fast and healthy
Did you know that V30 is run by a charity?
We create vital resources to help educate everyone – vegan veterans, novices and the v-curious alike – about vegan food, health and nutrition; as well as the plight of farmed animals and the devastating environmental impact of farming.
Through this work we have helped thousands of people discover veganism; but we want to reach millions more! We rely entirely on donations as we don't get any government funding. If you already support us, thank you from the bottom of our hearts, you are really making a difference! Please share our details with your friends and loved ones too, as every donation enables us to keep fighting for change.