Cheesy Black Bean Enchiladas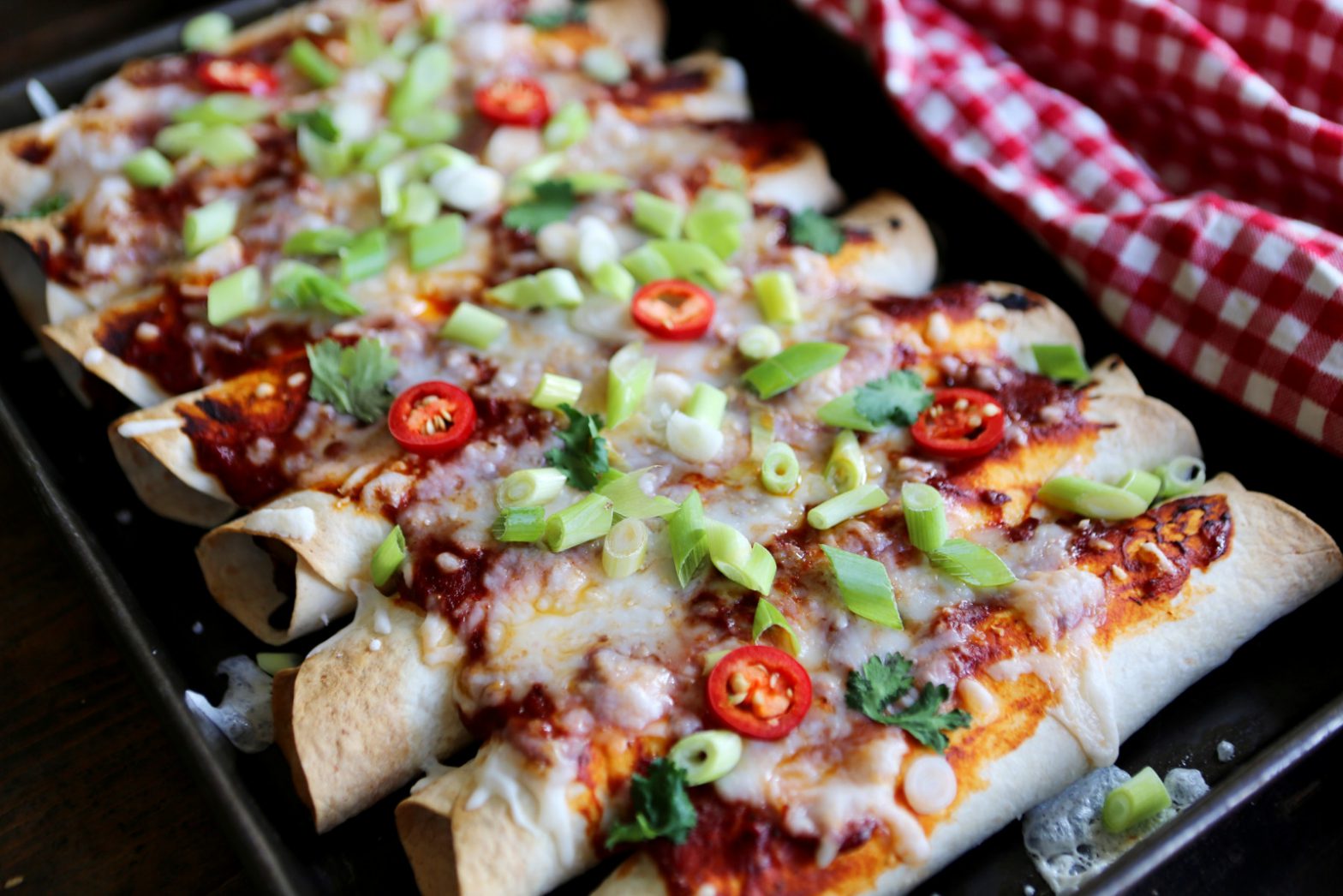 Enjoy a cheesy, black bean and veg-packed version of this classic Mexican dish!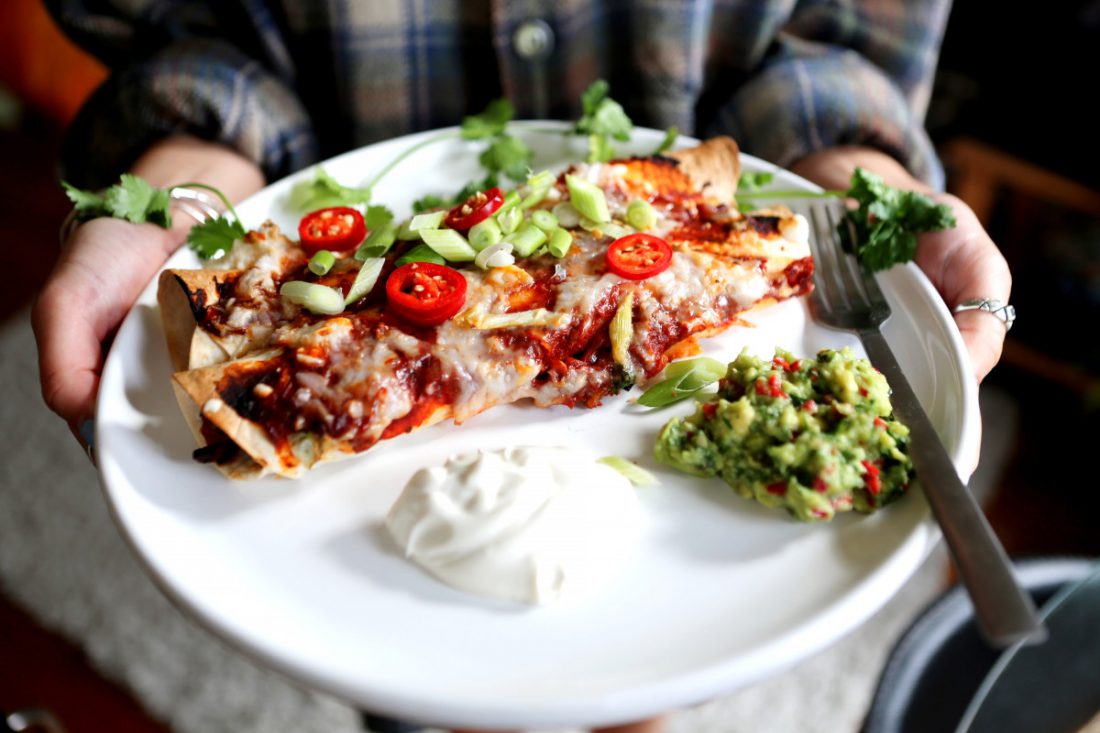 Cuisine
Mexican, Central and South American
Ingredients
Sauce
1 onion, finely diced

1 garlic clove, crushed

1 tsp dried or fresh oregano, finely chopped

1 tsp chilli powder

1 tsp smoked paprika

½ tsp ground cumin

500g/2 cups passata

1 tbsp sugar (ideally brown)

1 tbsp cider vinegar

¾ tsp salt
Enchilada mix
8 tortilla wraps
1 onion, finely diced
1 clove garlic, finely chopped
1 red pepper, thinly sliced
1 small-med broccoli, florets removed and cut into small bite-sized pieces
1 tsp cumin
¼ tsp cinnamon
200g/7 oz baby spinach (optional)
1 x 400g/14½ oz tin black beans, drained and rinsed
200g/2½ cups vegan cheese, grated (our favourite for melting is the Bute Island Sheese Greek Style)
½-¾ tsp salt
Optional decoration: sliced spring onion, guacamole, avocado slices, fresh coriander, fresh chilli, lime juice
Instructions
Sauce
Fry the onions until soft and golden.
Add the garlic and fry for a further minute.
Add all spices and cook for 30 seconds.
Add the passata, sugar, vinegar, salt and simmer on a low heat for 15-20 minutes. You want the sauce to reduce slightly but not too much.
While the sauce is simmering, make the enchilada mix…
Enchilada mix
Preheat the oven to 180ºC/350ºF/Gas Mark 4.
Fry the onions until soft.
Add the garlic and fry for a further minute.
Add the spices and fry for 30 seconds.
Add the broccoli and pepper and cook until the broccoli turns golden.
Pop in the spinach and stir through until it wilts.
Add half the sauce, around 50g of the grated cheese, the black beans and salt. Stir through and immediately remove from the heat.
Place the 8 tortilla wraps out on the counter and evenly divide the mixture into the centre of each one.
Roll them up and place them seam side down into an ovenproof dish (roughly 20 x 30cm).
Pour over the remaining sauce and approx. 150g of the grated cheese.
Place in the oven for 15-20 minutes or until golden and the cheese has melted through.
Did you know that V30 is run by a charity?
We create vital resources to help educate everyone – vegan veterans, novices and the v-curious alike – about vegan food, health and nutrition; as well as the plight of farmed animals and the devastating environmental impact of farming.
Through this work we have helped thousands of people discover veganism; but we want to reach millions more! We rely entirely on donations as we don't get any government funding. If you already support us, thank you from the bottom of our hearts, you are really making a difference! Please share our details with your friends and loved ones too, as every donation enables us to keep fighting for change.