Cheesy Broccoli & Tomato Quiche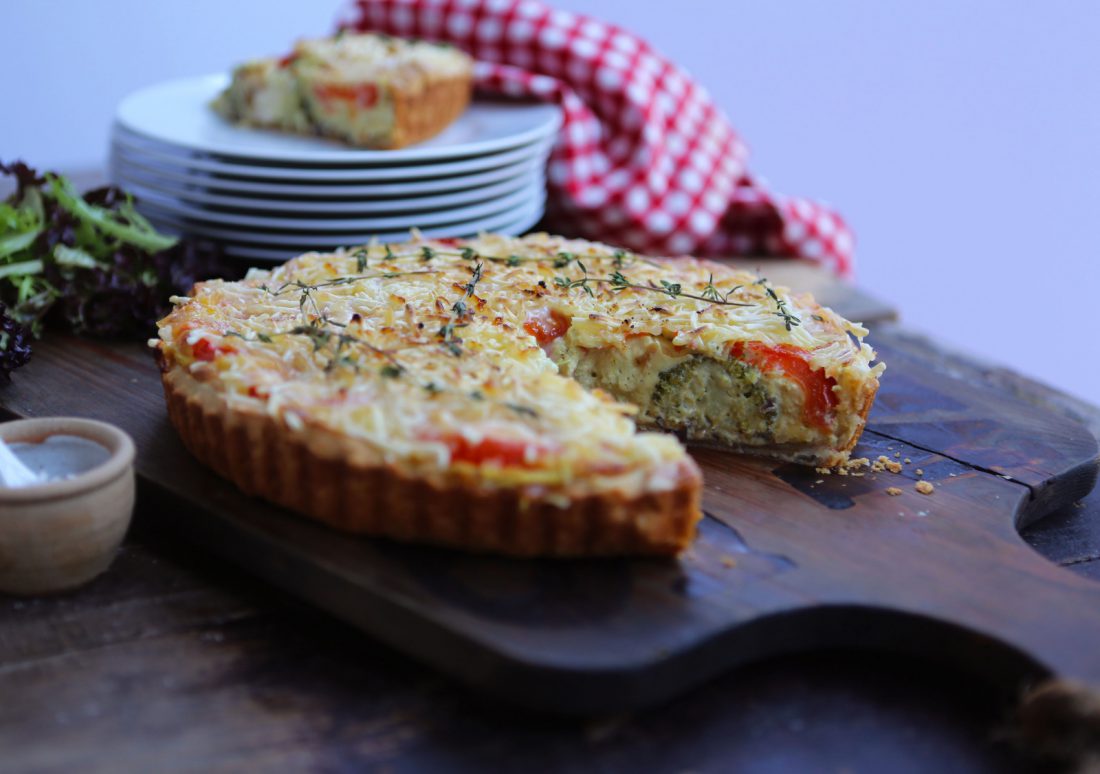 A few new twists on our old deluxe quiche recipe to make it super delicious. If you'd like a gluten-free base then check out the recipe here. Easy, simple and so tasty… this one is definitely a crowd pleaser.
This recipe was taken straight from our Everybody's Going Dairy-free Guide (over 95 pages full of recipes, handy charts, helpful tips, dairy-free secrets, eating out and lots more)
Easy
Gluten free
Wheat free
Kids recipe
Ingredients
Pastry
1 block Jus Rol shortcrust pastry (or other vegan, supermarket own brand, check ingredients). See this recipe for gluten free pastry option.
Filling
2 tsp olive oil
1 onion, finely diced
2 cloves garlic, crushed
400g/1¾ cups firm tofu
225g/2 cups plus 1 tbsp savoury vegan cream cheese (eg Sheese, Tofutti, Tesco, Sainsbury's, Koko, Violife)
125ml/½ cup unsweetened plant milk (eg soya, almond or oat)
1 tsp mixed dried herbs or 1 tbsp fresh of your choice (eg parsley, basil, oregano, chives)
1 tbsp Dijon mustard
1-2 tsp lemon juice (fresh or bottled)
3 tbsp nutritional yeast
1 tsp vegan syrup eg maple or agave
¼-½ tsp turmeric
1 head of broccoli, broken into florets
3 medium tomatoes, sliced
1½ tsp salt (or add more to taste)
Pinch of black pepper
200g/2 cups grated vegan melty/pizza cheese (eg Violife, Cheezly, Sheese, Tesco, Sainsbury's, Asda, Vegusto, Daiya)
Instructions
Roll out the pastry block to fit a large flan dish (diameter about 25-28 cm/10-11 inch). Spread around evenly with your thumb and fingers.
Refrigerate while you prepare the filling.
Preheat oven to 190˚C/375˚F/Gas Mark 5.
Fry the onion in 2 tsp oil for around 5 minutes until softened. Add the garlic and then fry for a further 2 minutes.
Meanwhile, steam the broccoli florets for around 3-5 minutes until just slightly crunchy, not soft.
Blend the cream cheese, tofu, plant milk, Dijon mustard, nutritional yeast, lemon juice, syrup, turmeric, salt and pepper until fairly smooth. Stir in the herbs so they're evenly distributed.
Arrange the broccoli, tomato slices and onion/garlic mix around the pastry case, evenly.
Pour the filling mixture on top, distributing it evenly with a spatula. Sprinkle the melty vegan cheese on the top. Bake in the oven for 30-45 minutes or until firm in the middle. Check after 35 minutes, as the time will vary depending on your oven.
Allow to cool a little before cutting and serving.
Did you know that V30 is run by a charity?
We create vital resources to help educate everyone – vegan veterans, novices and the v-curious alike – about vegan food, health and nutrition; as well as the plight of farmed animals and the devastating environmental impact of farming.
Through this work we have helped thousands of people discover veganism; but we want to reach millions more! We rely entirely on donations as we don't get any government funding. If you already support us, thank you from the bottom of our hearts, you are really making a difference! Please share our details with your friends and loved ones too, as every donation enables us to keep fighting for change.