Chia Seed Porridge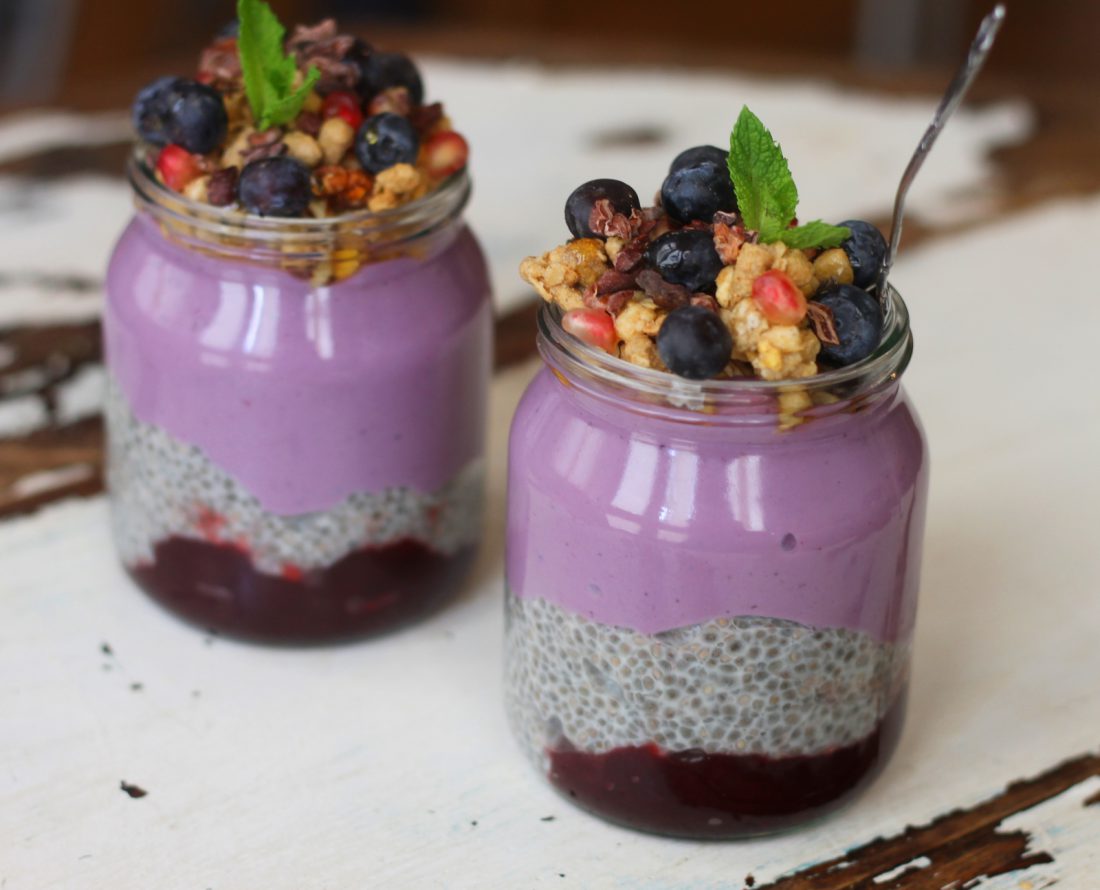 Strictly speaking, this is an overnight recipe but it is no-cook and the prep is almost instant, so bear with us! Basically, all you need to do is stir in the ingredients, fridge 'em – and there you go: an instant breakfast when you open the fridge door the following morning.
If you've not come across chia seeds yet, it's touted as one of those 'new' superfoods but of course, they've been around for a long time! These tiny little seeds are a great source of nutrients – protein, calcium, iron and magnesium in particular – as well being a good source of healthy fats – and they are widely available now.
NB Allergy alert
Chia seeds are safe for those with regular nut allergies unless they have a specific allergy to chia seeds themselves! However, those with tree nut allergies (eg peanuts/coconut) need to buy their chia from companies who don't use mixed production lines. Whole chia seeds are probably the safest. Pressed or ground chia seeds may be processed in a factory that also processes tree nuts or coconut and contaminate the processed chia. This contamination will trigger a severe allergic reaction in those who have a severe allergy to tree nuts or coconut.
Easy
Gluten free
Wheat free
Quick meal
Kids recipe
Total time
10 minute + soaking time
Ingredients
1½ cups unsweetened almond milk
¼ cup chia seeds
Agave or maple syrup to taste
Soya yoghurt (optional)
Topping suggestions
Granola (vegan, honey-free)
Fresh fruit
Dried fruit, eg raisins, chopped figs, unsulphured apricots
Coconut flakes
Goji berries
Cinnamon or cardamon
Nuts and seeds
Cacao nibs
Vegan yoghurt (the one pictured is Sojade Blueberry)
Instructions
Whisk the almond milk, chia seeds, and sweetener together in a large bowl. Let sit for 5-10 minutes and then whisk again.
Cover and chill in the fridge for 2+ hours or overnight. If you are able to stir now and again, even better. If you don't like the texture, blend it until smooth. (Our picture shows whole chia.)
Stir well before serving. Serve into bowls and add toppings of your choice.
Serve into bowl(s) and add your toppings. Leftovers will keep in an air-tight container in the fridge for 3-5 days.
The picture displays a small serving of St Dalfour (sugar-free) jam, followed by the chia/almond milk mix, followed by Sojade blueberry soya yoghurt, followed by vegan granola and topped with blueberries and mint.
Did you know that V30 is run by a charity?
We create vital resources to help educate everyone – vegan veterans, novices and the v-curious alike – about vegan food, health and nutrition; as well as the plight of farmed animals and the devastating environmental impact of farming.
Through this work we have helped thousands of people discover veganism; but we want to reach millions more! We rely entirely on donations as we don't get any government funding. If you already support us, thank you from the bottom of our hearts, you are really making a difference! Please share our details with your friends and loved ones too, as every donation enables us to keep fighting for change.