Chickless Caesar Salad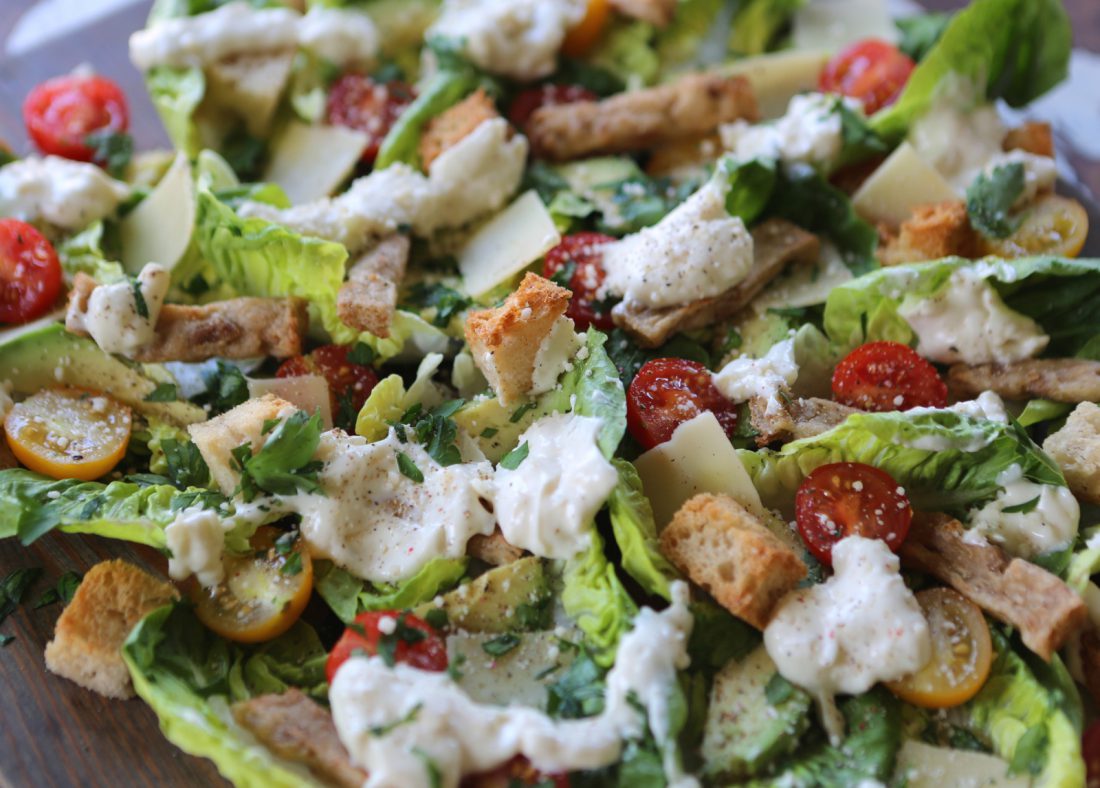 This salad is so delicious and indulgent! It's like a meal in itself and non-vegans won't be able to tell the difference. Enjoy!
Easy
Gluten free
Wheat free
Quick meal
Meal
mains
lunches
sides-light-meals-and-salads
Ingredients
Salad
380g (approx.) vegan chicken strips or pieces (we used Fry's Chicken Strips)
2 baby gem or 1 cos or romaine lettuce, leaves separated
1 avocado, sliced
200g cherry tomatoes, halved
2 handfuls croutons (we made our own using 2cm squares of sourdough, crusts removed, drizzled with a little oil and salt and placed in the oven at 180ºC until golden. Use gluten-free bread if necessary)
Handful fresh parsley, finely chopped
Dressing
230g/1 cup vegan mayonnaise (our favourites are Follow Your Heart Veganaise and Hellmann's)
1 tsp Dijon mustard
2 small or 1 large garlic clove, crushed
2 tbsp freshly squeezed lemon juice
50g/½ cup grated vegan Parmesan (eg Violife Prosociano or you can use pre-grated such as Angel Food or Follow Your Heart. Use nutritional yeast if you can't get hold of any 'Parmesan')
¼ tsp salt
¼ tsp black pepper
1 tbsp capers, drained and rinsed (optional)
1 tsp vegan Worcester sauce (optional)
Instructions
Salad
Lightly fry the vegan chicken pieces in a little oil until golden or according to the instructions on the packet.
Arrange all the different salad ingredients together in a bowl or decoratively on a board if you're feeling fancy.
Dressing
Mix all the ingredients together in a medium-sized bowl until well combined.
Either spoon a few dollops of the dressing around the salad ingredients or mix together with the salad until fully covered.
Did you know that V30 is run by a charity?
We create vital resources to help educate everyone – vegan veterans, novices and the v-curious alike – about vegan food, health and nutrition; as well as the plight of farmed animals and the devastating environmental impact of farming.
Through this work we have helped thousands of people discover veganism; but we want to reach millions more! We rely entirely on donations as we don't get any government funding. If you already support us, thank you from the bottom of our hearts, you are really making a difference! Please share our details with your friends and loved ones too, as every donation enables us to keep fighting for change.