Chickpea, Sweet Potato & Tomato Curry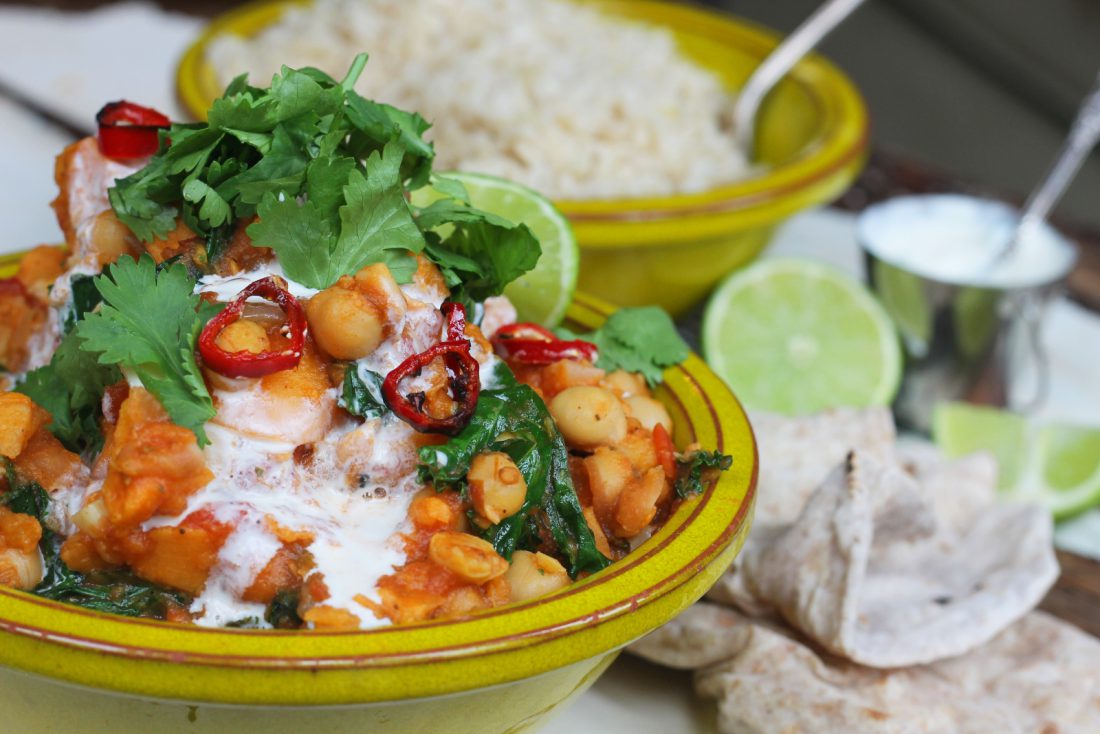 This is a lovely, simple curry to make that also looks colourful and pretty. Plus it's pretty budget-conscious too. Nearly everything can be bought from Aldi or Lidl. A good local greengrocer or Asian store should have most of it too and of course larger supermarkets! It's also very nice with brown rice. Adding extra greens helps to create more of a 'rainbow plate', highly recommended for taste and your health.
Looking for simple ideas to up your veg and fruit intake? See our feature here

Not too tricky






Cuisine
Indian and Indian Subcontinent
Meal
mains
lunches
sides-light-meals-and-salads
vegetable-side-dishes
Ingredients
750g/1lb 10oz sweet potatoes, peeled and chopped into bite-sized pieces (a mixture of white and sweet can also be used if that's all you have)
1 medium white onion, finely sliced or chopped
3 cloves garlic, crushed
1 tbsp oil
1 tbsp cumin seeds
Ginger, 50g/scant 2oz, peeled and grated (use a teaspoon to peel, much quicker than a knife)
1 pinch chilli flakes OR ½ tsp chilli powder (add a smaller amount and taste it first if you're very sensitive to heat)
1 heaped tsp garam masala
Salt and black pepper
2 tins of chickpeas, drained (keep the chickpea water (aquafaba) to use in other recipes, eg vegan mayo, chocolate mousse, cakes… it will keep in a clean screwtop container in the fridge for 3-4 days). Search elsewhere on this site for recipes
1 x 400g tin tomatoes – whole are best as less watery. Chop them up in the pan
300-500ml water or vegan stock (if using stock, reduce the amount of salt used)
Optional: finely shredded cabbage/spring greens or roughly chopped spinach, Swiss chard or kale
ALL KITTED OUT
Chopping board; sharp knife, veg peeler; garlic crusher; measuring spoons, teaspoon, grater, tin opener, wooden or silicone spoon, medium-large saucepan
Instructions
Prepare the sweet potatoes and set aside. Use a Y-shaped vegetable peeler, they whizz through veg prep!
Prepare the onions and garlic. Get the spices measured out and ready also.
Heat a large saucepan over a medium heat and add the oil. Once hot, add the 1 tbsp cumin seeds and fry for a minute, or until aromatic. Add the onion and a pinch of salt and reduce the heat. Cook the onions gently for 5-6 minutes, or until it is soft and translucent. Add the garlic, chilli flakes, garam masala and ginger and fry for a further three minutes. Add a splash or water if the mixture starts to stick at any point.
Drain and rinse the chickpeas. Add to the pan with the tomatoes and sweet potato. Add enough stock/water to cover the chickpeas and sweet potatoes and bring to a simmer, stirring to mix everything together.
Cover with a lid and simmer over a medium low heat, stirring now and again, for 20-30 minutes, or until the potatoes are soft and beginning to break apart and the sauce has thickened. Top up with a little more water during the cooking if needed. If you're adding greens of any kind, cook them in for about 5-15 minutes before the end – spinach and chard will cook quickly but kale or cabbage will need 10-15 minutes. Serve with rice, chappatis, plain vegan yoghurt, chutney, chillies, lime, coriander, salad – any or all of these!
Keywords
Almost instant meals
Articles
Blog
Breakfasts
Budget recipes
Cakes and baking
Family recipes
Guest chef
Health, nutrition & slimming
Healthy recipes
International recipes
Juices & smoothies
Know-how: kitchen skills, shopping tips, cooking techniques etc
News
Recipes
Sauces
Sports nutrition
Students
V30 facts
Not too tricky
Indian and Indian Subcontinent
Mains
Lunches
Sides, light meals and salads
Vegetable side dishes
Gluten-free/optional
Wheat-free/optional
Soya-free/optional
Nut-free/optional
Reduced fat
Reduced sugar
Sesame-free/optional
Diabetic friendly
Store cupboard
Wine & dine
Low fat/sugar
Budget
Boost your mood
Freezable
Did you know that V30 is run by a charity?
We create vital resources to help educate everyone – vegan veterans, novices and the v-curious alike – about vegan food, health and nutrition; as well as the plight of farmed animals and the devastating environmental impact of farming.
Through this work we have helped thousands of people discover veganism; but we want to reach millions more! We rely entirely on donations as we don't get any government funding. If you already support us, thank you from the bottom of our hearts, you are really making a difference! Please share our details with your friends and loved ones too, as every donation enables us to keep fighting for change.