Chinese Omelette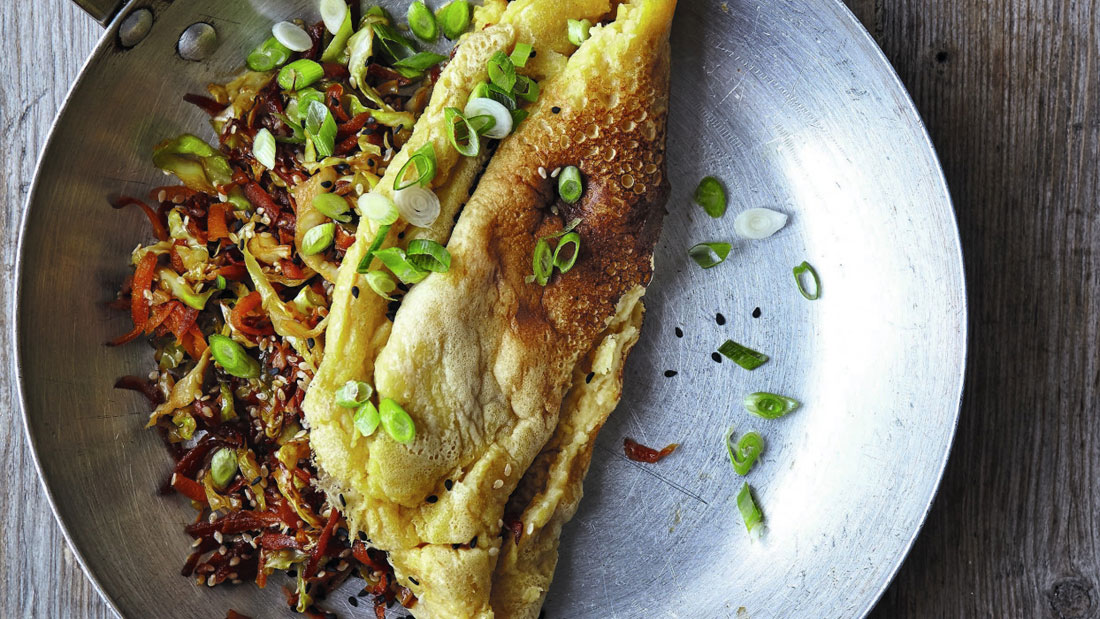 This is my savoury go-to breakfast. It reminds me of holidays in Asia amongst palm trees, beaches and humid curly hair. So good on any given day!
Easy
Gluten free
Wheat free
Quick meal
Cheap
Kids recipe
Ingredients
Filling
2 tbsp olive oil
2 garlic cloves, chopped
¼ head of Chinese leaves (stem lettuce), thinly sliced
1 carrot, grated
1 tbsp medium-heat tamari
1 tbsp sesame seeds
1 tsp sesame oil
1 spring onion (scallion), green and all, thinly sliced
Omelette
60g/½ chickpea (gram) flour, sieved
⅛ tsp bicarbonate of soda (baking soda)
1 tsp apple cider vinegar
125ml/ ½ cup water
Topping
Chilli sauce or sriracha (optional)
Instructions
Heat the olive oil in a pan then add the garlic, cabbage and carrots. Fry for 5–10 minutes until nice and soft. Add the tamari, sesame seeds and sesame oil and put the heat right down and leave.
Put all the omelette ingredients in a mixing bowl and whisk until smooth, then leave to stand for 5 minutes. Get a non-stick pan nice and hot, then add the omelette batter and tip the pan so it spreads out thinly over the base. Sprinkle some sesame seeds on top and cook for a couple of minutes. When you see air bubbles appear on surface it's time to flip to the other side and cook until just set.
Put the omelette onto a plate, fill with the cabbage mixture and some added spring onion slithers before folding over the edges. For extra heat, add some chilli sauce or, my favourite, sriracha, if you like!
Did you know that V30 is run by a charity?
We create vital resources to help educate everyone – vegan veterans, novices and the v-curious alike – about vegan food, health and nutrition; as well as the plight of farmed animals and the devastating environmental impact of farming.
Through this work we have helped thousands of people discover veganism; but we want to reach millions more! We rely entirely on donations as we don't get any government funding. If you already support us, thank you from the bottom of our hearts, you are really making a difference! Please share our details with your friends and loved ones too, as every donation enables us to keep fighting for change.