Creamy Almond Mock Tuna Salad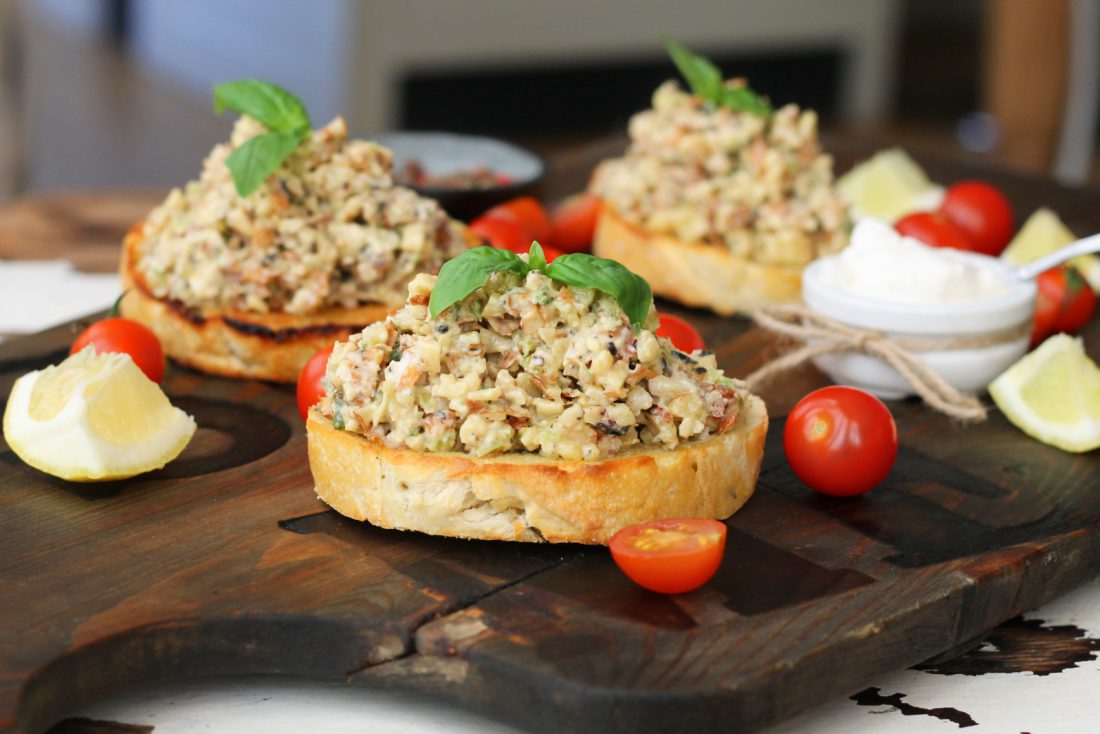 If you're looking for a nice alternative to tuna salad, this might do the trick – think of it as an oceanic alternative rather than something trying to replace fish! After all, human beings in coastal areas have been eating sea vegetables for most of their existence.
More to the point, it's fresh, healthy, tasty and quick to make – soak the almonds the night before and the rest of the recipe can be assembled quickly the following day.
Vegan mayo? There are plenty of brands around – we've shown some of them below. It's also very very quick, simple and cheap to make your own. Here's our favourite recipe
Nori sprinkles (or whole sheets of nori) are also pretty widely available in larger supermarkets although you might need to find a good health food shop or online store for the sprinkles or kelp powder. Give a sheet a quick whizz in the food processor or blender to create your own sprinkles.
Easy
Gluten free
Wheat free
Quick meal
Meal
lunches
sides-light-meals-and-salads
vegetable-side-dishes
Ingredients
150g/generous 5oz raw almonds, soaked (with or without skins)
1 celery stalk, finely chopped
2 spring onions, finely chopped
1 garlic clove, crushed
3 to 4 tbsp vegan mayo to taste (see above for brands or a great recipe) mixed with a splash or two of unsweetened plant milk, eg rice, almond, soya
1½ tsp Dijon mustard (or 1 tsp English)
2-3 tsp fresh or bottled lemon juice, to taste
¼ tsp salt – add more at end if necessary
Black pepper, to taste
Pinch of kelp granules OR 1 tbsp nori sprinkles (these add an oceanic flavour and are full of nutrients too)
ALL KITTED OUT
Container and lid to soak the almonds; chopping board and knife; garlic crusher or just use a knife; measuring spoons; lemon squeezer; food processor or similar to blend soaked almonds; big spoon to mix it all together; serving bowl OR storage container to keep it in the fridge
Instructions
Soak almonds in a bowl of water for 4-8 hours (overnight is best), until they are plump. Drain and rinse well.
Add the drained almonds into a food processor or similar. There is no need to remove the almond skins unless you really want to.
Pulse the almonds until finely chopped. Do this in short bursts – you want to avoid a paste, so don't over-process. It should look a little like flaked tuna.
Place into a medium mixing bowl and add the rest of the ingredients, giving a few good stirs to combine. Taste and add more seasoning or other flavours if you wish – remember that it will marinate and soak up the flavours if left for a few hours or so.
Serve as part of a salad or in a sandwich or wrap or in a lettuce wrap. It will keep in a covered container in the fridge for 1-2 days.
Optional extras / notes
Plus 4-8 hours soaking time. Quantities can be halved or multiplied easily, according to need.
Did you know that V30 is run by a charity?
We create vital resources to help educate everyone – vegan veterans, novices and the v-curious alike – about vegan food, health and nutrition; as well as the plight of farmed animals and the devastating environmental impact of farming.
Through this work we have helped thousands of people discover veganism; but we want to reach millions more! We rely entirely on donations as we don't get any government funding. If you already support us, thank you from the bottom of our hearts, you are really making a difference! Please share our details with your friends and loved ones too, as every donation enables us to keep fighting for change.