Creamy Leek & Mushroom Pasta with Peas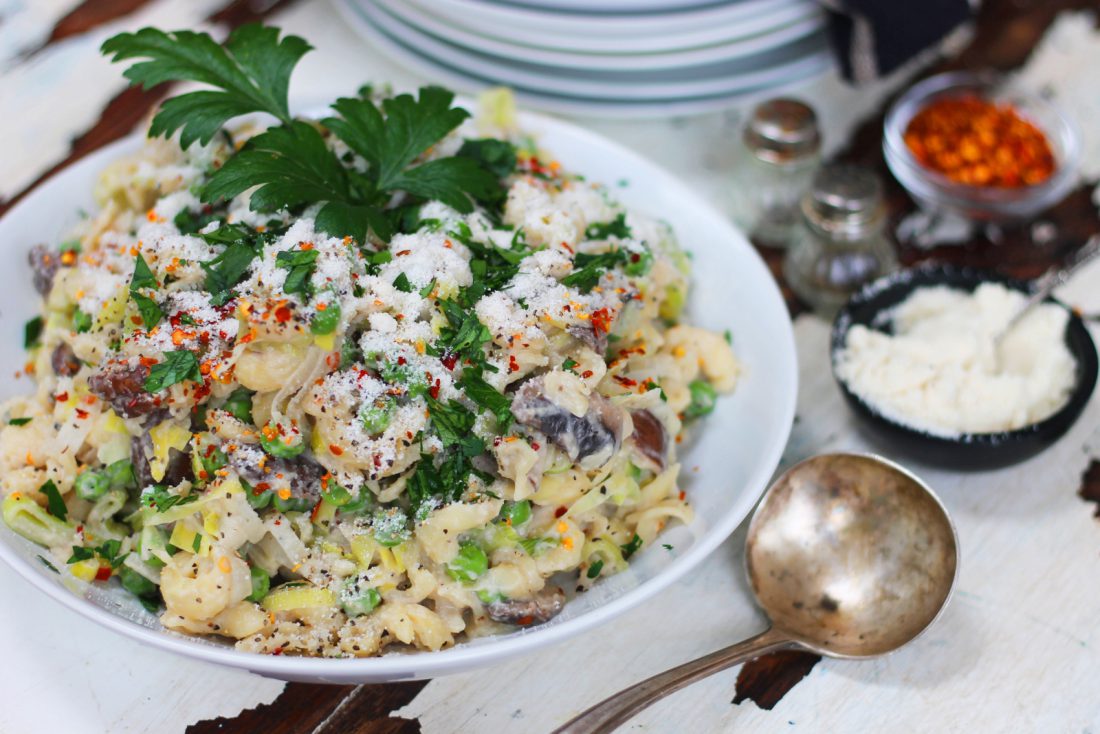 Mushrooms, leeks and vegan cheese sauce party together to make a creamy, savoury dish.
Gluten-free or Wheat-free option
Use GF or WF pasta or noodles
Budget option
Use value mushrooms
Easy
Gluten free
Wheat free
Quick meal
Cheap
Kids recipe
Meal
mains
lunches
sides-light-meals-and-salads
vegetable-side-dishes
Ingredients
60ml/4tbsp olive oil
3 leeks, sliced into rounds (or ready-prepped leeks)
2 garlic cloves, chopped (or 1 tsp garlic paste)
225g/8oz/3 cups chestnut or portobella mushrooms – or any type you like – sliced
110g/4 oz frozen peas, lightly steamed or microwaved
1tsp dried oregano
½ tsp chilli flakes
1/8 tsp nutmeg or allspice
375g/13oz/3 cups pasta of choice – noodles or spirali are good. Use rice or other g/f pasta/noodles for a gluten-free option
75ml/5 tbsp vegan cream cheese, eg Sainsbury's, Sheese, Tesco or Tofutti
30ml/2 tbsp chopped fresh tarragon or parsley, to garnish
Salt and lots of freshly ground black pepper
Serving options
These also provide extra protein and other nutrients
Lentil & tomato salad with walnuts and vinaigrette – use whole lentils, eg green, brown or puy, and rinse and drain well first
Bean salad with finely chopped chives, parsley or spring onions – use a tin of mixed salad beans (rinse and drain as above) or else one nice variety, eg white haricot beans – serve with vinaigrette or vegan mayo
Fresh soya beans (edamame) or baby broad beans, steamed until tender and served with a hint of garlic, lime juice and salt
Instructions
Heat water for pasta in a large pan.
Add pasta and cook 8-12 minutes, according to packet instructions and how soft you like to eat it. Cook the peas now if you haven't already done so.
Meanwhile, heat oil in a large heavy-based frying pan and sauté leeks and garlic for 3 minutes until soft.
Add mushrooms, oregano and chilli flakes and cook gently for 5 minutes more until mushrooms tender. If using one of the salad options, get this ready now also.
Drain pasta, reserving 60ml/4tbsp cooking water for mushroom mixture.
Stir this water into mixture, then add cream cheese, peas and seasoning.
Heat gently for 1-2 minutes, stirring occasionally.
To serve, spoon sauce over the pasta and sprinkle with the tarragon or parsley. Serve any of the options now too, if using.
Did you know that V30 is run by a charity?
We create vital resources to help educate everyone – vegan veterans, novices and the v-curious alike – about vegan food, health and nutrition; as well as the plight of farmed animals and the devastating environmental impact of farming.
Through this work we have helped thousands of people discover veganism; but we want to reach millions more! We rely entirely on donations as we don't get any government funding. If you already support us, thank you from the bottom of our hearts, you are really making a difference! Please share our details with your friends and loved ones too, as every donation enables us to keep fighting for change.