Creamy Squash Pasta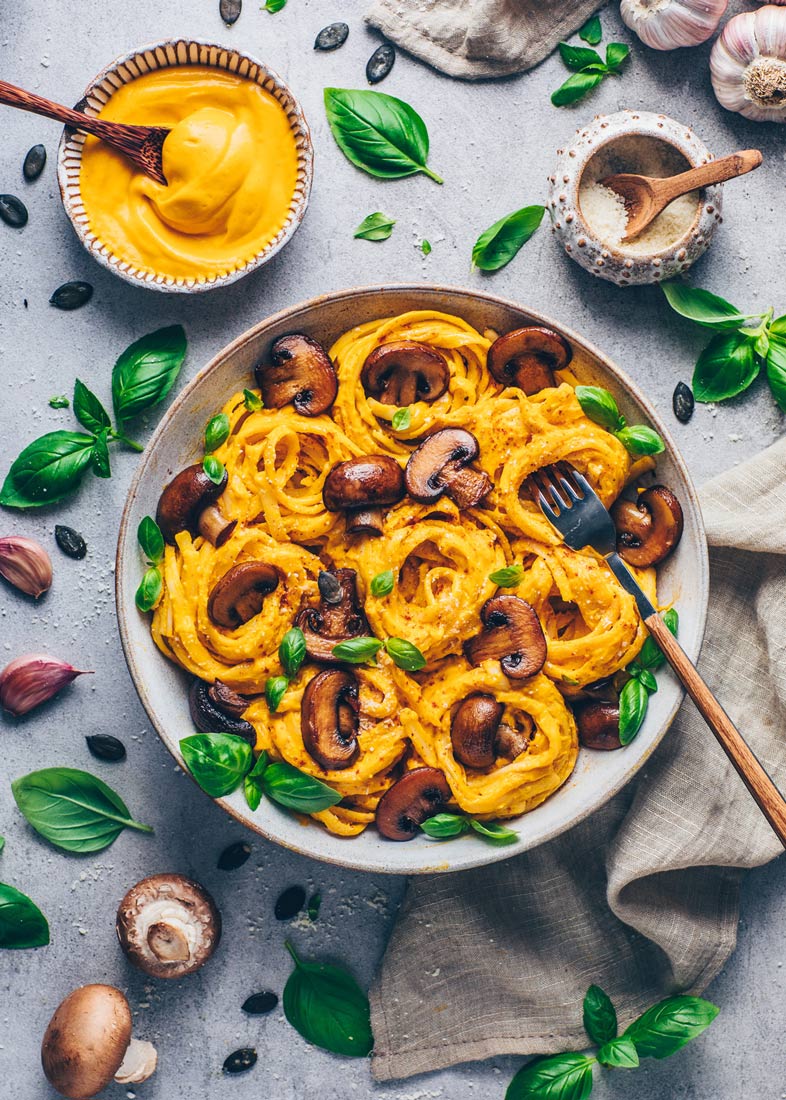 A quick, easy and deliciously hearty recipe by the fabulous Bianca Zapatka!
Easy
Gluten free
Wheat free
Quick meal
Cheap
Kids recipe
Courtesy of Bianca Zapatka


Ingredients
1 small Hokkaido squash or butternut squash (around 800g (1 lb 12 oz) or a tin of pumpkin purée)
400g/14 oz pasta (whichever type you prefer)
A glug of olive oil (optional)
2 garlic cloves, chopped
1 tbsp coconut oil (or vegan butter)
¼ tsp ground paprika
½ tsp. salt, to taste
5 tbsp nutritional yeast flakes (for a cheesy flavour)
1 tbsp tapioca starch (optional)
240ml/1 cup plant milk
3–4 tbsp nut butter (optional)
To serve (optional)
Vegan parmesan
Fresh basil, to taste
Instructions
Chop the squash into cubes and either bake in the oven, boil in a pan or cook in the microwave until soft. (The skin of a Hokkaido squash goes lovely and soft when cooked. If using butternut squash, you will need to peel it first because the skin is too hard).
Using the packet instructions, cook the pasta until al dente. Drain the pasta well and stir in a little olive oil (optional).
While the pasta is cooking, you can make the sauce. Start by frying the garlic in 1 tablespoon coconut oil over a moderate heat for 1 minute.
Add 400g (14 oz) of the cooked squash (or pumpkin purée) to a food processor along with the garlic, paprika, salt, yeast flakes, tapioca starch, plant milk and nut butter and blend to form a creamy sauce.
Pour the squash sauce into a large saucepan, simmer over a moderate heat, stirring frequently, and season. (If the sauce is too thick, add a little more milk. If it's too thin, let it simmer for a bit longer.)
Add the cooked pasta to the sauce and give everything a good stir. Serve the pasta with vegan parmesan and fresh basil or any other toppings you like.
Tips and variations
I strongly recommend using the tapioca starch if you want the squash sauce to be a bit thicker and 'cheesier'. You can also use cornflour to thicken it up.
The nut butter gives the sauce a creamier consistency. I recommend cashew butter or almond butter. For a nut-free version, soya-based vegan cream cheese works well, as do pine nuts. Soak the nuts for at least 8 hours or overnight before using, or boil for 20 minutes to soften. 60 g (2 oz) cashew nuts makes about 4 tbsp. cashew butter.
Did you know that V30 is run by a charity?
We create vital resources to help educate everyone – vegan veterans, novices and the v-curious alike – about vegan food, health and nutrition; as well as the plight of farmed animals and the devastating environmental impact of farming.
Through this work we have helped thousands of people discover veganism; but we want to reach millions more! We rely entirely on donations as we don't get any government funding. If you already support us, thank you from the bottom of our hearts, you are really making a difference! Please share our details with your friends and loved ones too, as every donation enables us to keep fighting for change.