Croissants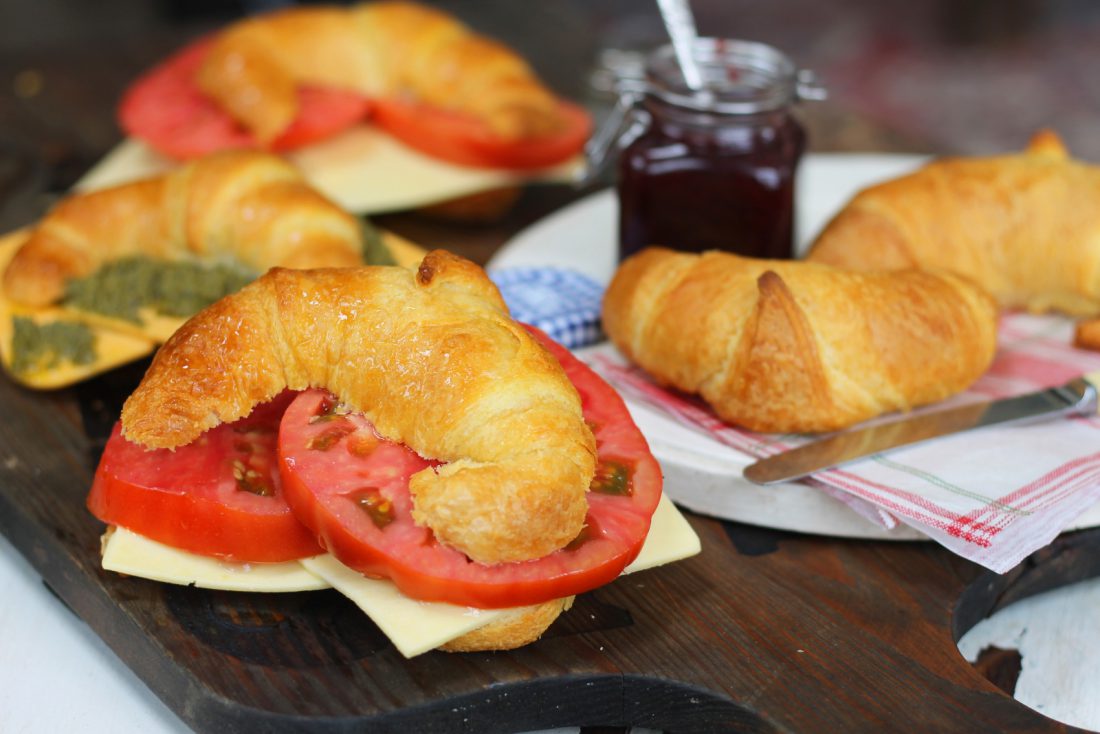 Finding delicious pastries that are suitable for vegans has been rather challenging until recently. So we were over the moon to discover that Jus Rol pastry sells a vegan-friendly refrigerated croissant dough! The packs, which make six croissants, are available in most large supermarkets, alongside other refrigerated pastry. There are also other vegan croissants finding their way slowly into the UK, eg GoVegan Spelt, so keep hunting!
Preheat the oven according to the packet instructions and roll them up. If stuffing them, do this first then roll – then cook a few minutes for a real treat!
For an interesting and balanced look at the palm oil debate, click here
Easy
Quick meal
Kids recipe
Meal
vegan-desserts
breakfasts
sides-light-meals-and-salads
Ingredients
1 packet Jus Rol Croissant Dough or similar vegan product
Plus any of the options below. Bake each option inside the croissants unless indicated otherwise
Sweet ideas:
Dark chocolate spread
Dark chocolate (broken into pieces) with small banana chunks
Jam, topped with vegan whipping cream (add after cooking)
Maple and pecan
Marmalade & tahini
Savoury ideas:
Mushroom and vegan cheese
Vegan cream cheese and cranberry
Sundried tomato and vegan cheese
Vegan cheese and vegan bacon
Vegan pesto and cream cheese
Instructions
Pre-heat the oven according to the packet instructions.
Gather together filling ingredients and one packet of croissant dough.
Peel open croissant packet and gently remove the roll of pastry.
Separate it on a chopping board and cut along the score lines into six separate triangles.
Prepare your filling(s) as suggested above.
Place a teaspoon of filling about an inch from the widest edge of each triangle.
Roll this edge up over the filling and then continue rolling up to form the croissant shape.
Turn the ends in to create a curved traditional croissant shape.
Lightly grease a baking tray or line one with baking parchment. Arrange the croissants equally on it.
Glaze the croissants with soya or other plant milk and bake for 10-12 mins or until golden brown, according to packet instructions. Serve warm with coffee or other beverage of your choice!
Did you know that V30 is run by a charity?
We create vital resources to help educate everyone – vegan veterans, novices and the v-curious alike – about vegan food, health and nutrition; as well as the plight of farmed animals and the devastating environmental impact of farming.
Through this work we have helped thousands of people discover veganism; but we want to reach millions more! We rely entirely on donations as we don't get any government funding. If you already support us, thank you from the bottom of our hearts, you are really making a difference! Please share our details with your friends and loved ones too, as every donation enables us to keep fighting for change.