Easy Packet Vegan Pancakes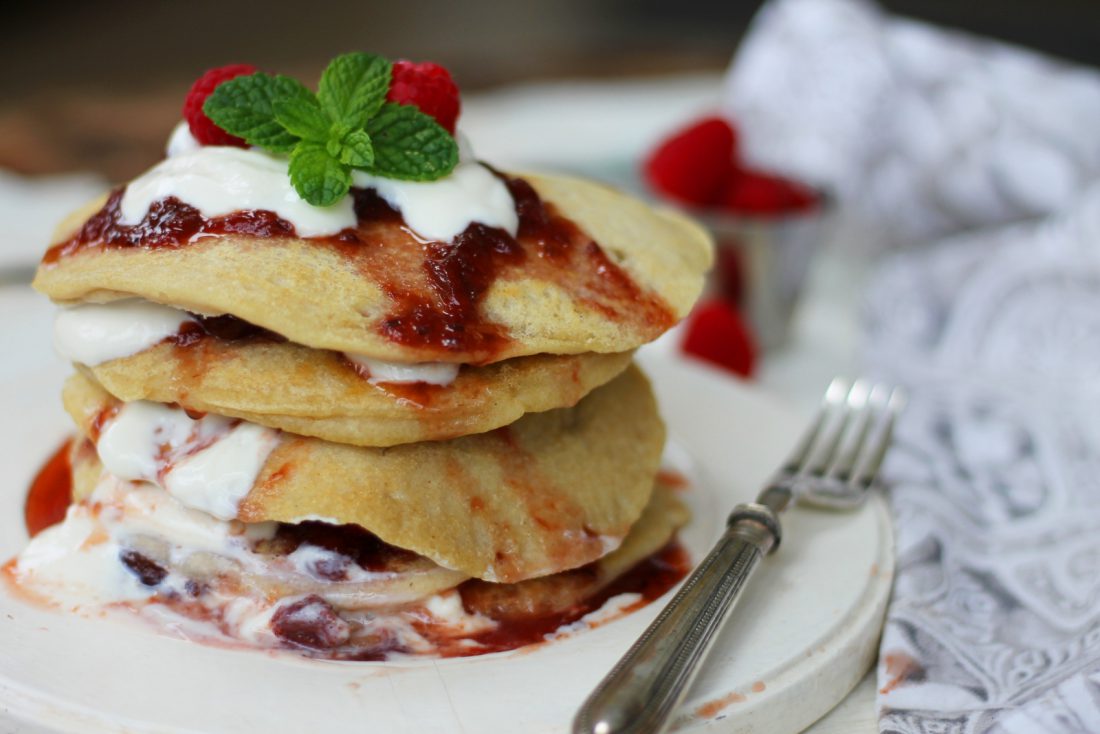 This is a quick guide to the packet mixes out there. These are pretty easy to make and the only kit you need is a half decent non-stick pan, whether the traditional Teflon type or one of the new fancy and greener ceramic non-sticks! Plus a good fish slice, plastic or silicone. Whether you want thicker American/Scotch style thick pancakes or thinner, larger crepes – it's up to you, just reduce or increase the liquid accordingly. Start thick and thin down as you need.
And while this is a breakfast recipe, savoury pancakes are also a nice and easy way to serve some delicious stir-fried vegetables for lunch or supper!
Look out for these brands – some may be available on supermarket free-from shelves, others from health food shops. Most or all of these are GF too.
Ogran
Amisa

Hale & Hearty Free From Four Grain Pancake Mix (the packet instructions specify an egg but you can add ONE of these instead:

1 tbsp flax meal OR chia seeds mixed with 3 tbsp warm water – it becomes all gloopy and forms a flax or chia 'egg'

OR 1 tbsp gram flour, sieved (also known as chickpea or besan flour)
*PS It's actually pretty easy and very cheap to make your own vegan pancakes – see our simple recipe here. You can even make it up as a dry mix and store it. All you have to do is add liquid and oil before making!
Ingredients
Pancakes
Plant milk and vegan egg alternative if needed (see above)
Plain vegetable oil for frying
Accompaniments
All sorts of possibilities! But here are a couple of ideas
Sweet – chopped fresh fruit, syrups eg agave, maple, plain vegan yoghurt
Savoury – fried mushrooms and spinach
Instructions
Mix the batter according to the packet instructions.
Prepare fillings if using.
Heat a frying pan – preferably non-stick – and drizzle in a little oil once it's very hot. A hot pan makes better pancakes.
Using a ladle or similar, drizzle in the batter, tilting the pan and swirling it slightly to distribute the batter evenly over the pan.
Fry for a minute or two, then flip, using a fish slice or similar. Each side should be a light golden brown.
Repeat on the other side.
Serve hot and eat immediately.
Did you know that V30 is run by a charity?
We create vital resources to help educate everyone – vegan veterans, novices and the v-curious alike – about vegan food, health and nutrition; as well as the plight of farmed animals and the devastating environmental impact of farming.
Through this work we have helped thousands of people discover veganism; but we want to reach millions more! We rely entirely on donations as we don't get any government funding. If you already support us, thank you from the bottom of our hearts, you are really making a difference! Please share our details with your friends and loved ones too, as every donation enables us to keep fighting for change.