Easy Pad Thai, Supermarket-style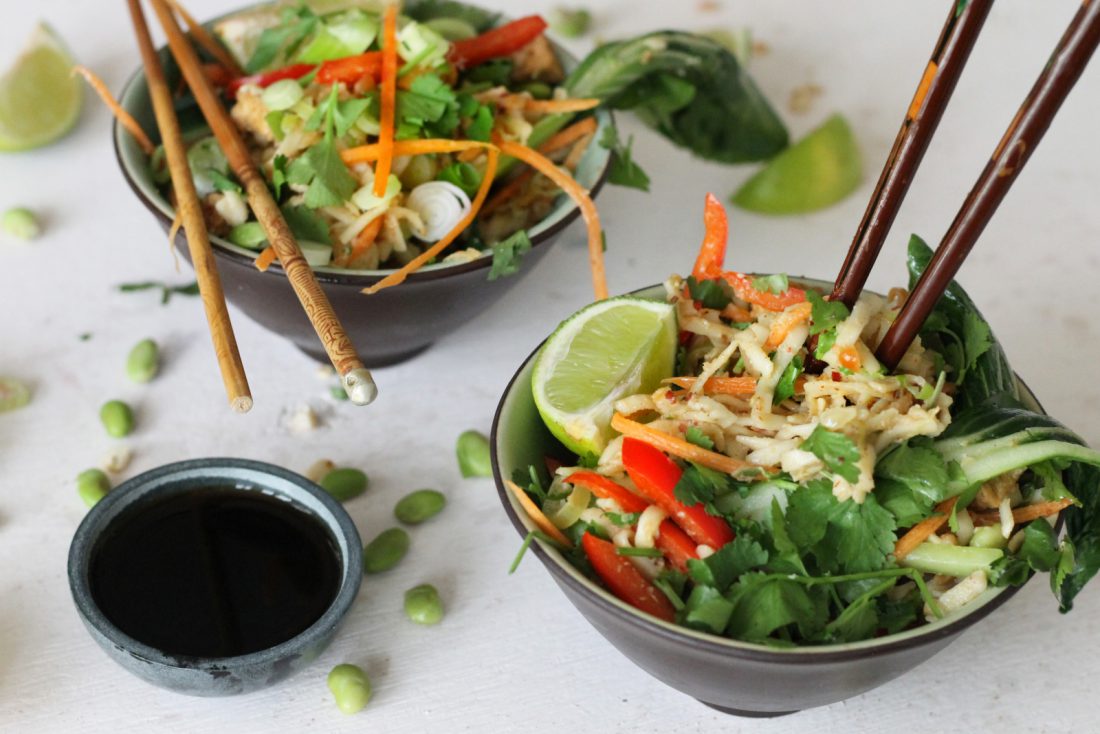 A simple, quick but tasty and healthy supper based on ready-mades. Optionally serve with spring rolls… most supermarket versions are suitable for vegans (but do check as sometimes dairy is added). They are best heated in the oven to crisp them up but a microwave will do at a pinch.
Easy
Gluten free
Wheat free
Quick meal
Ingredients
Sauce
1 jar vegan Pad Thai sauce, eg Maesri (most other brands contain fish) – available from Oriental grocers or online, eg Amazon, Oriental Store
Alternatively make a very quick home-made version. Mix all these in a bowl with a fork or small whisk:
2 tbsp smooth peanut butter
2 tbsp light brown sugar OR use agave or date syrup to taste
3 tbsp fresh lime juice (2-3 limes or from a bottle)
4 tbsp soya sauce, eg shoyu or GF tamari
4 tbsp water
Pad Thai Main Dish
A little vegetable or sesame oil
1 pack fresh beansprouts, rinsed and drained
1-2 packs ready-made rice noodles in a sachet. The best are the wide variety, eg Amoy. Every supermarket sells the thinner 'bird's nest' type if you can't get the wider ones!
Tofu pieces (Cauldron marinated, deep-fried pieces from an Oriental store or home-fried chunks). Alternatively, use fresh green soya beans, removed from the freezer so they defrost a bit
To serve: chopped coriander, lime segments, chilli flakes, roast peanuts or cashews to serve
Instructions
In a wok or similar, heat the oil and quickly stir-fry the beansprouts, just enough to heat through. If you're using the fresh soya beans, add these now.
Stir in the sauce, whichever version you're using.
Add the noodles (and tofu pieces if using). Stir everything so it's coated with the sauce and hot.
Serve each portion with the coriander and any of the serving options that you like.
Optional extras / notes
Add more noodles, veg and sauce to create more servings
Did you know that V30 is run by a charity?
We create vital resources to help educate everyone – vegan veterans, novices and the v-curious alike – about vegan food, health and nutrition; as well as the plight of farmed animals and the devastating environmental impact of farming.
Through this work we have helped thousands of people discover veganism; but we want to reach millions more! We rely entirely on donations as we don't get any government funding. If you already support us, thank you from the bottom of our hearts, you are really making a difference! Please share our details with your friends and loved ones too, as every donation enables us to keep fighting for change.