Easy Peasy Speedy Fajitas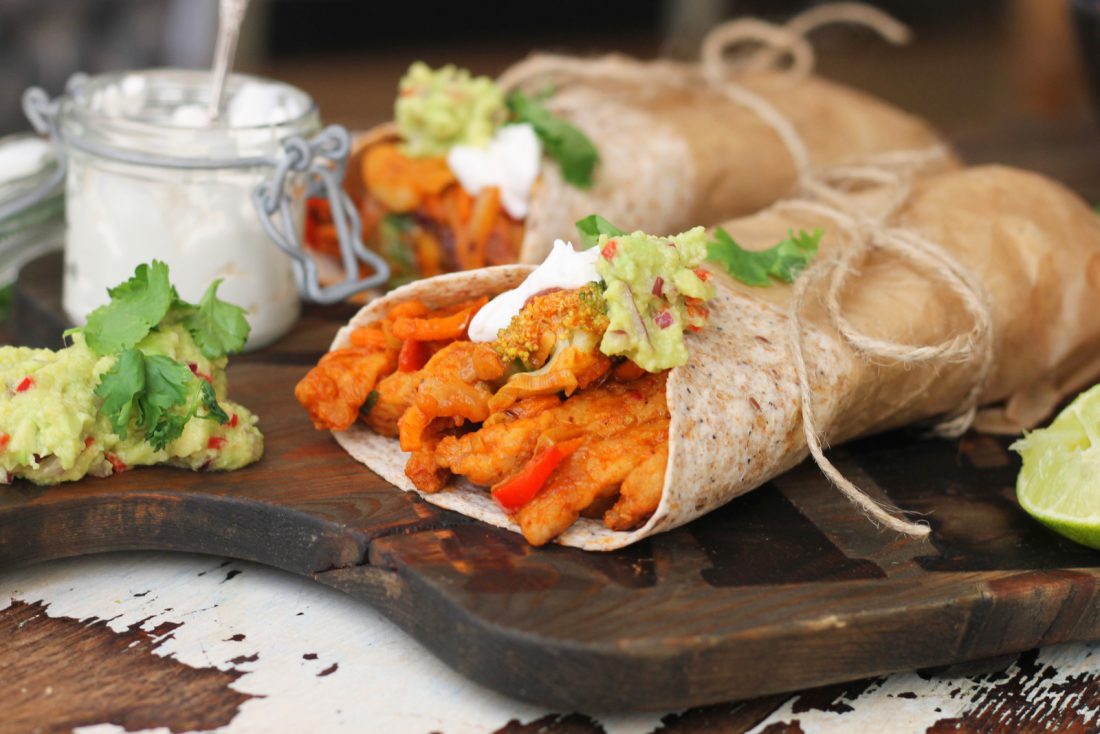 A lovely quick, nutritious meal using store cupboard ingredients and ready-prepped veg. We've also been assured by mums that this is a great way of getting your kids to eat veg because they get to assemble their own fajitas from bowls! And the veg can be chopped up small.
Top Tip – it's easy to make home made guacamole (avocado dip) but if you're short of time then Waitrose World Deli, Holy Moly, Morrisons own brand, Asda Smashed Avocado dip are vegan.
Easy
Gluten free
Wheat free
Quick meal
Kids recipe
Meal
mains
sides-light-meals-and-salads
Ingredients
Wraps, 1-2 per person: eg Old El Paso fajitas OR Discovery tortillas – preferably wholemeal. Mission wraps are also vegan – check other brands for suitablity.
Filling
Oil or oil spray
1 pack of plain tofu, cubed OR vegan chicken-style pieces such as Fry's, VBites or Quorn vegan pieces
Stir-fry sauce, eg Tesco Black Bean sauce or Blue Dragon Garlic & Ginger (wok fry 3 mins)
1 pack of stir-fried vegetables
1 red pepper, sliced very small
6 spring onions, sliced small
1 large leek, chopped small
4 crushed garlic cloves or a big squeeze of garlic paste
1 jar of fajita sauce (El Paso, Discovery or other brand that is vegan)
Guacamole
(or use a ready-made version eg Waitrose World Deli, Holy Moly, Morrisons own brand, Asda Smashed Avocado dip)
2 ready-to-eat avocados
1 clove garlic, crushed OR ½ tsp garlic paste
Lime juice
Salt
To serve
Tomato salsa, from a jar or fresh tub
Tub of Tofutti sour crème OR jar of vegan mayo, eg Plamil
Instructions
If cooking plain tofu, drain and gently squeeze as much water out as possible. Cut into cubes. (Ready-cooked Cauldron marinated tofu pieces also work well but add near the end).
In a non-stick pan, cook the plain tofu or chicken-style pieces in a little oil or oil spray. Add the stir-fry sauce and set aside.
In a wok, fry all the vegetables for a few minutes. Add the fajita sauce just before the end – and the cooked tofu/vegan chicken pieces.
Make the guacamole: peel the avocados, remove the stone and mash them up with a fork in a small bowl. Mix in the garlic, salt and lime juice, tasting and adding more if desired.
Warm the fajitas/wraps by wrapping them in a clean teatowel or kitchen paper – microwave for 20-30 seconds. Alternatively, wrap in foil and heat in a warm oven for 10-15 minutes. Put everything in separate dishes on table; everyone tucks in!
Did you know that V30 is run by a charity?
We create vital resources to help educate everyone – vegan veterans, novices and the v-curious alike – about vegan food, health and nutrition; as well as the plight of farmed animals and the devastating environmental impact of farming.
Through this work we have helped thousands of people discover veganism; but we want to reach millions more! We rely entirely on donations as we don't get any government funding. If you already support us, thank you from the bottom of our hearts, you are really making a difference! Please share our details with your friends and loved ones too, as every donation enables us to keep fighting for change.