Easy Protein Wrap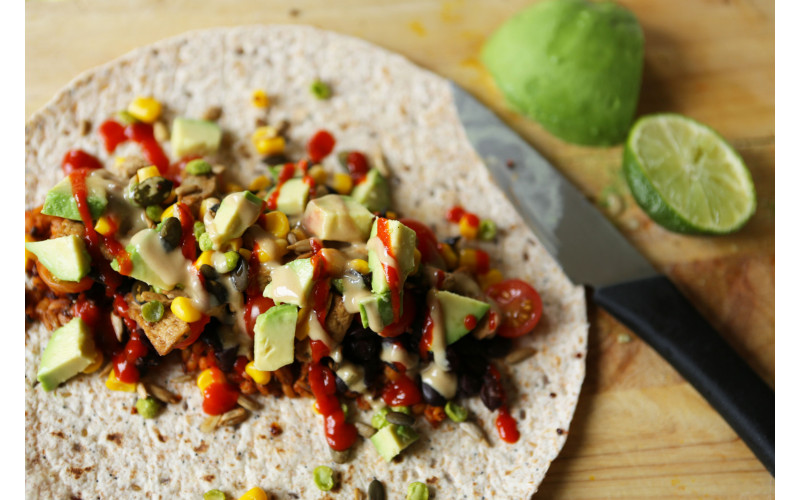 These wraps are full of protein and perfect for lunchboxes, picnics, festivals, camping and pre or post workout.
If you're making these for kids then just take out the chilli sauce!
Easy
Gluten free
Wheat free
Reduced sugar, diabetic friendly
Quick meal
Low fat, low sugar
Kids recipe
* Nutritional information per serving.
Ingredients
4 tortilla wraps (use GF where necessary)
250g/1 packet pre-cooked grains or lentils
120g cherry tomatoes or 2 medium-sized tomatoes
1 tin black beans, drained and rinsed
1 small tin sweetcorn, drained and rinsed
150-200g marinated tofu (eg Cauldron or Taifun), diced
1 avocado
1 tbsp of runny tahini per wrap (or use vegan mayo or hummus)
Juice of 1 lime
Chilli sauce (eg Sriricha)
Drizzle of olive oil
Salt and pepper to taste
Instructions
Lay out the tortilla wrap and fill with a quarter of all of the ingredients.
Drizzle or spoon over the sauce of your choice and add salt and pepper if desired.
Make sure you don't make the wrap too full or it's difficult to roll.
It's best to drizzle a bit of olive oil over the grains to soften them up a bit.
Fold up each end of the wrap and then roll each side together, making sure it's all tucked in.
Did you know that V30 is run by a charity?
We create vital resources to help educate everyone – vegan veterans, novices and the v-curious alike – about vegan food, health and nutrition; as well as the plight of farmed animals and the devastating environmental impact of farming.
Through this work we have helped thousands of people discover veganism; but we want to reach millions more! We rely entirely on donations as we don't get any government funding. If you already support us, thank you from the bottom of our hearts, you are really making a difference! Please share our details with your friends and loved ones too, as every donation enables us to keep fighting for change.