Easy Summer Tart with Asparagus, Peas and White Bean Hummus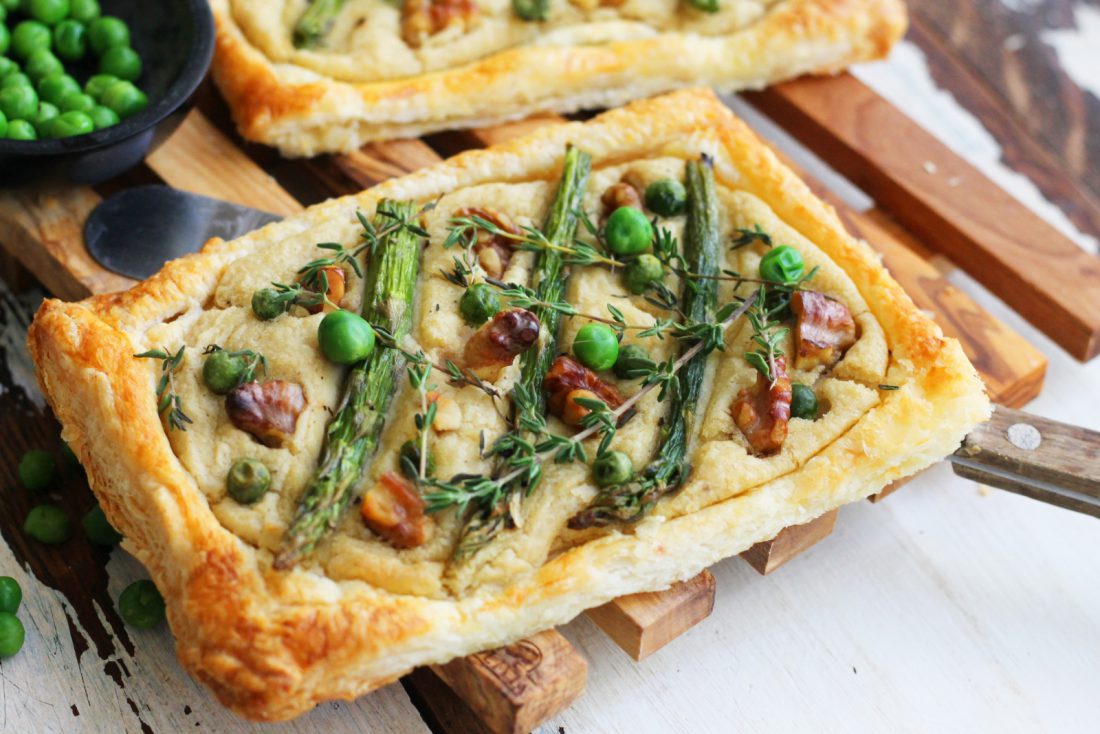 This is a doddle. Even if you're nervous around pastry of any type, prepare to be amazed! Ready-rolled pastry sheets are usually vegan and a blessing to cooks of all persuasions. This looks way posher than it is, so impress your friends and family and don't tell them your secrets! (You could also cheat even more and use shop-bought hummus if you're really strapped for time.). Shhh. We won't tell.
We adapted this recipe from an original on One Green Planet.
PS. For a well-balanced article about palm oil, click here
Meal
mains
lunches
sides-light-meals-and-salads
Ingredients
1 bunch asparagus, woody ends snapped off
1 cup peas, frozen or fresh
1 sheet of ready-rolled puff pastry (Aldi, Tesco, Sainsbury's, JusRol etc – just avoid anything with 'butter pastry' on the packet!)
2 x400g tins white beans, eg cannellini, haricot or butter
2-3 garlic cloves, roughly halved (according to taste)
3 tablespoons Engevita nutritional yeast flakes
2 tablespoons water (if mixture is dry)
2-3 tbsp olive oil – omit if you're on a low-fat diet and replace with more water
Salt and black pepper to taste
2 big handfuls of fresh herbs – half basil and parsley is good or all basil or all parsley. Remove most of the stalks. Keep a little bit of the herbs aside for garnish (or use chives, snipped with scissors, for the garnish)
A handful of walnuts, roughly chopped (or just break them up with your fingers
OPTIONAL:
If asparagus is expensive, out of season or whatever, try thinly sliced peppers. Or try slivers of sundried tomatoes, artichoke hearts, olives…
Vegan pesto could also be used to enrich the bean mixture, Eg Zest, Meridian or home-made
ALL KITTED OUT
Colander to wash veg; steamer or microwave dish; flat baking tray; blender or food processor; jug or bowl if using a stick blender; rubber or silicone spatula; tin opener; knife and small chopping board; measuring spoons and cups
Instructions
Preheat the oven to 190°C/375°F/Gas Mark 5.
Steam the peas and asparagus for a few minutes and allow to cool – do this while you're prepping the tart and filling. Don't overcook – the asparagus should still have some bite to it.
Lightly oil a flat baking tray and place the sheet of pastry on it. Make a small crust by roughly pinching the edges all around with your fingers – about 1cm/½ inch.
Drain and rinse the beans.* Blend them along with the garlic, nutritional yeast, water, olie oil and salt – aim for a smooth paste. Use a spatula to push down the sides after pulsing the beans a couple of times. Add the herbs and pulse in, just enough to break up the herbs without making them too mushy. You may need to add a little more water to get it to a spreadable consistency.
Spread the bean mix on the pastry base.
Arrange the asparagus on top of the bean mix and sprinkle the peas and walnuts on top.
Place in the oven and bake for 25-30 minutes or until the crust is golden brown and puffed up. Check after 20 in case your oven is a bit enthusiastic!
Garnish as above. Serve hot, warm or cold.
* Don't throw away the bean water – this is also called aquafaba and can be used to make fantastic vegan mayo, cakes, meringues and much more. Fridge it in an airtight jar or other container – it will keep for 3-4 days
Did you know that V30 is run by a charity?
We create vital resources to help educate everyone – vegan veterans, novices and the v-curious alike – about vegan food, health and nutrition; as well as the plight of farmed animals and the devastating environmental impact of farming.
Through this work we have helped thousands of people discover veganism; but we want to reach millions more! We rely entirely on donations as we don't get any government funding. If you already support us, thank you from the bottom of our hearts, you are really making a difference! Please share our details with your friends and loved ones too, as every donation enables us to keep fighting for change.