Easy Vegan Pizza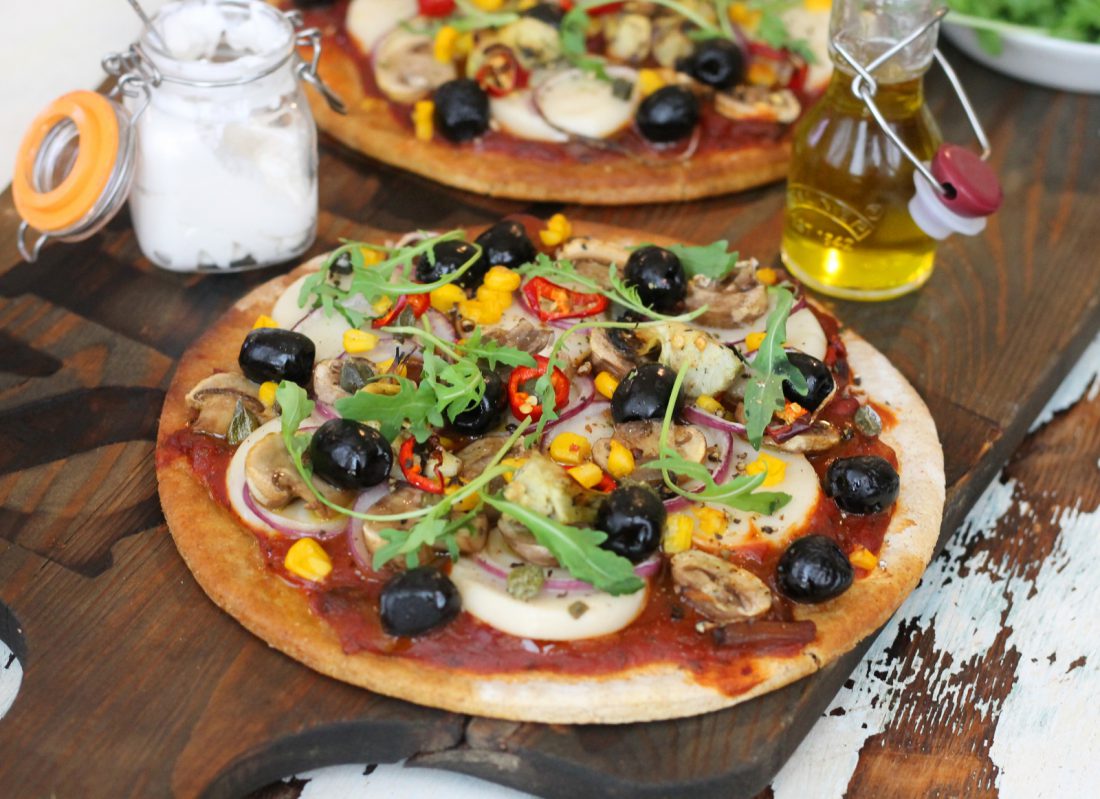 Delicious vegan pizza is quick and easy to make. Use a vegan-friendly base (milk-free) such as Napolina; JusRol; M &S pizza base; Sainsbury's Stonebaked – and it's worth asking in-store at other supermarkets. Some use milk derivatives, others don't!
Alternatively, eat out or get it delivered! See below… (It's worth ringing your local to see what they offer. My Vegan Town is a good place to start – or a local vegan listing site eg Dorset Vegan; Vegan Bristol; Eat Out Vegan Wales)
GF options: Amisa, Biona etc sell gluten-free and vegan pizza bases; Goodness Direct, Ocado and other online stores sell them, as do many health food shops. However, read the packets or online ingredients as some GF brands contain egg – or in the case of mixes, require an egg to be added.
Eating out: Zizi's, Ask Italian, Pizza Hut and Pizza Express are just a few that offer vegan cheese and all – plus there are lots of independents. Given the rise of vegan numbers we think it's likely that other chains and indies will follow suit soon, so keep up your polite pestering! Some may also do a GF vegan option.
Easy
Gluten free
Wheat free
Quick meal
Kids recipe
Meal
mains
lunches
sides-light-meals-and-salads
Ingredients
1-2 pizza bases, eg Napolina (see above for others) – 2 bases will serve 2-4 people, depending on how hungry you are!
Pizza topping from a jar – or use a tomato-based pasta sauce or just some tomato puree. JusRol's base comes with tomato sauce
3 medium mushrooms, sliced
½ small red pepper, cut into thin rings or slices
Other veg of your choice: sweetcorn, olives, tinned artichoke hearts cut in half, scissor-chopped sundried tomatoes; thinly-sliced onions etc are all very good
Olive oil
3 tbsp grated melting vegan 'cheese' such as Violife, VBites Melting Mozzarella/Melting Cheddar, Mozzarisella – find in most larger supermarket branches or health food shops (the one pictured above is Mozzarisella and works very well!)
Freshly ground black pepper
ALL KITTED OUT
Chopping board; sharp knife; grater, spoon to dollop sauce on pizza; pizza cutter if possible – otherwise use a knife
Instructions
Preheat oven to temperature according to instructions on pizza base packet. (Usually around 200°C/400°F/Gas Mark 6 or upwards).
Slice vegetables thinly.
Spread pizza base with topping, then arrange vegetables artistically on top then top with cheese.
Bake for 10-15 minutes or until vegetables are just tender and the cheese has melted.
Did you know that V30 is run by a charity?
We create vital resources to help educate everyone – vegan veterans, novices and the v-curious alike – about vegan food, health and nutrition; as well as the plight of farmed animals and the devastating environmental impact of farming.
Through this work we have helped thousands of people discover veganism; but we want to reach millions more! We rely entirely on donations as we don't get any government funding. If you already support us, thank you from the bottom of our hearts, you are really making a difference! Please share our details with your friends and loved ones too, as every donation enables us to keep fighting for change.