Endless Summer Coconut Noodles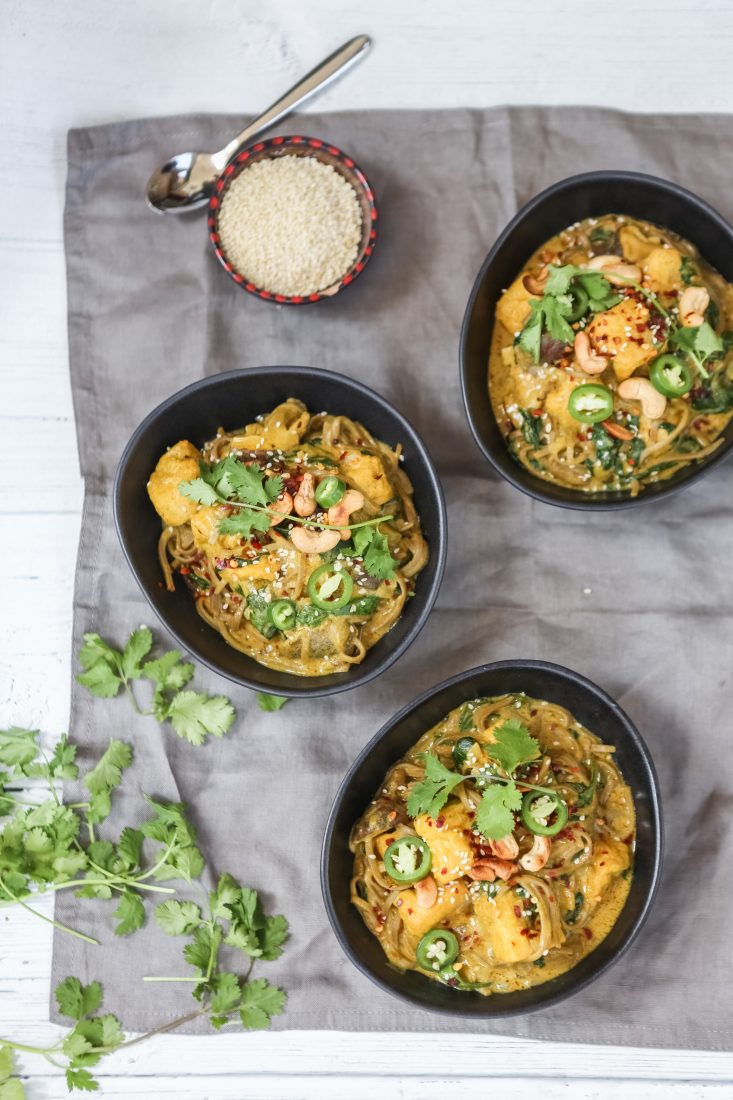 This is a lovely light fragrant dish, perfect for summer evenings.
Easy
Gluten free
Wheat free
Reduced sugar, diabetic friendly
Quick meal
Low fat, low sugar
Ingredients
Spice paste
25g/1 oz ginger, peeled
3 cloves garlic
2 red chillies (seeds included)
2 stalks lemongrass
1 tsp coriander seeds
1 tsp ground turmeric
Splash vegetable oil
Noodles
1-2 onions, finely diced (or use 4 shallots)
130g-150g/5 oz mushrooms (eg shitake or any of your choice)
500ml vegan stock
200g spinach
1 x 400ml tin coconut milk
200g noodles (we used soba)
100g deep fried tofu puffs, halved (optional — buy online and from Asian supermarkets)
Fresh coriander
Squeeze fresh lime juice (optional)
Sprinkling of crispy fried onions (optional)
Instructions
Cook the noodles according to the instructions on the packet, drain and set aside.
Blend the spice paste in a high speed blender or food processor.
In a large saucepan or wok, fry the spice blend for a few minutes then add the onion and mushrooms.
Stir through and heat for a further few minutes.
Add the stock and coconut milk, bring to the boil and then simmer for 10-15 minutes.
Add the spinach, tofu and the noodles and simmer for a further minute.
Remove from the heat (do not drain — it's supposed to be a slightly soupy dish) and serve with fresh coriander and a squeeze of lime juice.
Did you know that V30 is run by a charity?
We create vital resources to help educate everyone – vegan veterans, novices and the v-curious alike – about vegan food, health and nutrition; as well as the plight of farmed animals and the devastating environmental impact of farming.
Through this work we have helped thousands of people discover veganism; but we want to reach millions more! We rely entirely on donations as we don't get any government funding. If you already support us, thank you from the bottom of our hearts, you are really making a difference! Please share our details with your friends and loved ones too, as every donation enables us to keep fighting for change.