Fast & Healthy Cereal Bars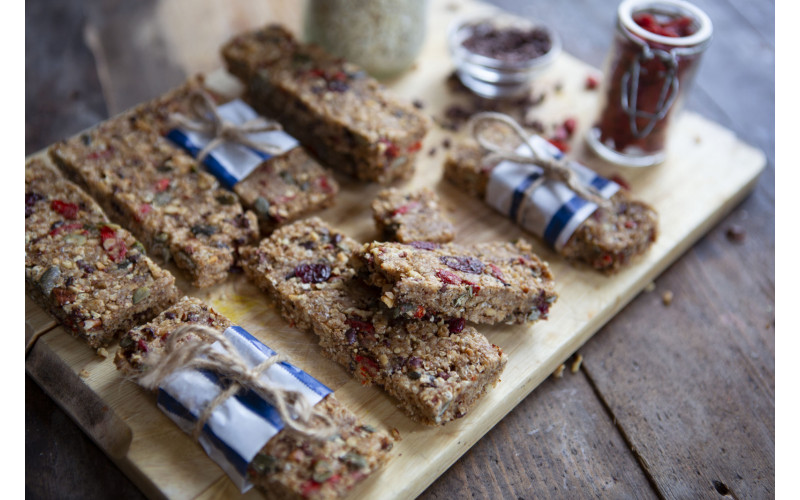 These bars shouldn't really be called healthy as they taste so amazing and indulgent… but they are! Packed full of nuts, seeds, oats and berries, they're a great breakfast or midday snack option. You can get creative with the ingredients and add your favourites… you don't have to stick to the recipe. Some of the Viva! staff said they were so delicious they'd be happy to eat them as a dessert 🙂
Easy
Gluten free
Wheat free
Freezable
Cheap
Kids recipe
Ingredients
65g/½ cup hazelnuts or walnuts or pecans (use chopped, mixed nuts if short of time. If you can't use nuts eg at a school then use chopped mixed seeds instead)
40g/2 scant cups puffed rice cereal (use GF if necessary)
140g/1¾ cups rolled oats (use GF if necessary)
1 tsp ground cinnamon
35g/¼ cup pumpkin seeds
25g/¼ cup cacao nibs
40g/½ cup goji berries
20g/¼ scant cup dried cranberries
¼ tsp salt
130ml/½ cup plus 1 tbsp vegan syrup (eg maple, agave etc)
70g/¼ cup nut butter of your choice
1 tsp vanilla extract or vanilla bean paste
OR budget option/alternative
65g/½ cup unsalted peanuts
40g/2 scant cups puffed rice cereal (use GF if necessary)
140g/1¾ cups rolled oats (use GF if necessary)
1 tsp ground cinnamon
35g/¼ cup sunflower seeds
20g/¼ scant cup raisins or sultanas
¼ tsp salt
130ml/⅓ cup plus 1 tbsp vegan syrup (Clarks Maple & Carob syrup is under £2 and Aldi and Lidl offer cheaper options too)
70g/¼ cup budget peanut butter
1 tsp vanilla essence
Instructions
Pre-heat the oven to 160ºC/320ºF/Gas Mark 4.
Line a 20cm square cake tin with greaseproof paper, making sure there's a good overhang so you can pull the mixture out easily.
Spread the nuts out over a baking tray and then toast in the oven for 10 minutes. If using hazelnuts then you'll need to rub the skins off first with a clean tea towel.
Wait until slightly cooled before chopping (either on pulse in the food processor or with a knife… leave slightly chunky not powdered).
In a large mixing bowl thoroughly combine the oats, rice puffs, toasted nuts, cinnamon, pumpkin seeds, cacao nibs, goji berries, cranberries and salt.
In a small pan heat the syrup and nut butter on a gentle heat for around 5 minutes.
Give it a good stir and add the vanilla extract. Pour the mixture over the dried ingredients until thoroughly combined and sticking together.
Pour the mixture into the lined tin and press it down firmly.
Chill overnight before cutting into 10 bars or freeze for 20 minutes.
Keep the bars in the fridge (for up to 2 weeks in a sealed container) or freeze them.
Did you know that V30 is run by a charity?
We create vital resources to help educate everyone – vegan veterans, novices and the v-curious alike – about vegan food, health and nutrition; as well as the plight of farmed animals and the devastating environmental impact of farming.
Through this work we have helped thousands of people discover veganism; but we want to reach millions more! We rely entirely on donations as we don't get any government funding. If you already support us, thank you from the bottom of our hearts, you are really making a difference! Please share our details with your friends and loved ones too, as every donation enables us to keep fighting for change.