Fast & Leafy Oriental Wraps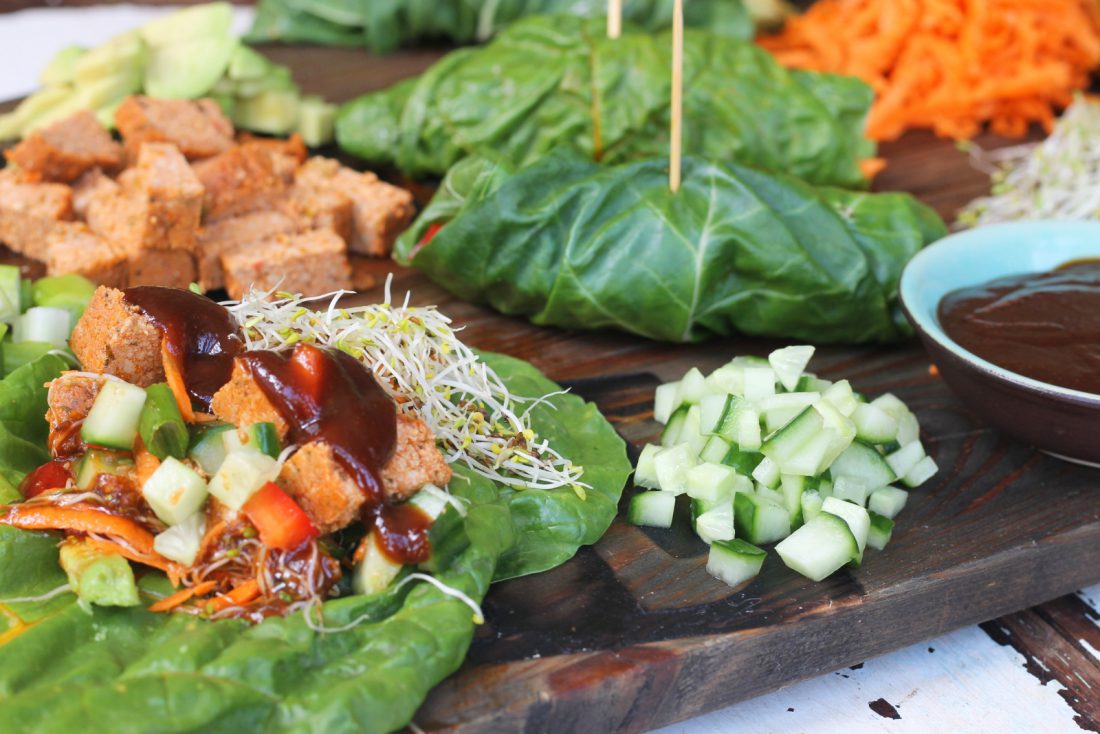 These make a lovely change from bread wraps and are very quick and tasty.
Easy
Gluten free
Wheat free
Reduced sugar, diabetic friendly
Kids recipe
Meal
lunches
sides-light-meals-and-salads
Ingredients
Wraps
2-3 large leaves per person. Use lettuce leaves or chard. If it's a crispy lettuce you may need to serve them as 'open wraps' like a bowl with the filling inside. If using chard or something similar, it should be flexible enough for you to wrap up completely
Cocktail sticks to hold wraps together
Filling
Handful of sprouts – beansprouts, alfalfa or mixed
¼-½ pack flavoured tofu (eg Taifun rosso or basil) OR ½ cup of your favourite cooked beans, eg black or chickpea
1 medium carrot, grated
½ spring onion, chopped roughly
Hoisin sauce, 1-2 tbsp (it's not GF) OR soya sauce with 1 tsp Chinese Five Spice powder mixed in. Use tamari soya sauce for a GF option
Extra vegetables, eg diced peppers, cucumber, avocado…
NOTE. If not using avocado and you want a creamier texture, use some vegan mayo, eg Follow Your Heart, Plamil or the like. Alternatively, make our budget, super quick and tasty Aquafaba Mayo in a minute!
Instructions
Divide the filling amongst the leaves.
Wrap them up tightly and spear with a cocktail stick if necessary. If the lettuce is too fragile just serve like an open sandwich – chard or certain lettuce types will hold together better than others!
If the wrap is quite large, cut through with a sharp knife. Cut on the diagonal – they look pretty that way.
Eat as soon as possible. They can be transported in a sandwich box.
Optional extras / notes
Makes as many as you want
Did you know that V30 is run by a charity?
We create vital resources to help educate everyone – vegan veterans, novices and the v-curious alike – about vegan food, health and nutrition; as well as the plight of farmed animals and the devastating environmental impact of farming.
Through this work we have helped thousands of people discover veganism; but we want to reach millions more! We rely entirely on donations as we don't get any government funding. If you already support us, thank you from the bottom of our hearts, you are really making a difference! Please share our details with your friends and loved ones too, as every donation enables us to keep fighting for change.