French Toast, Vegan-style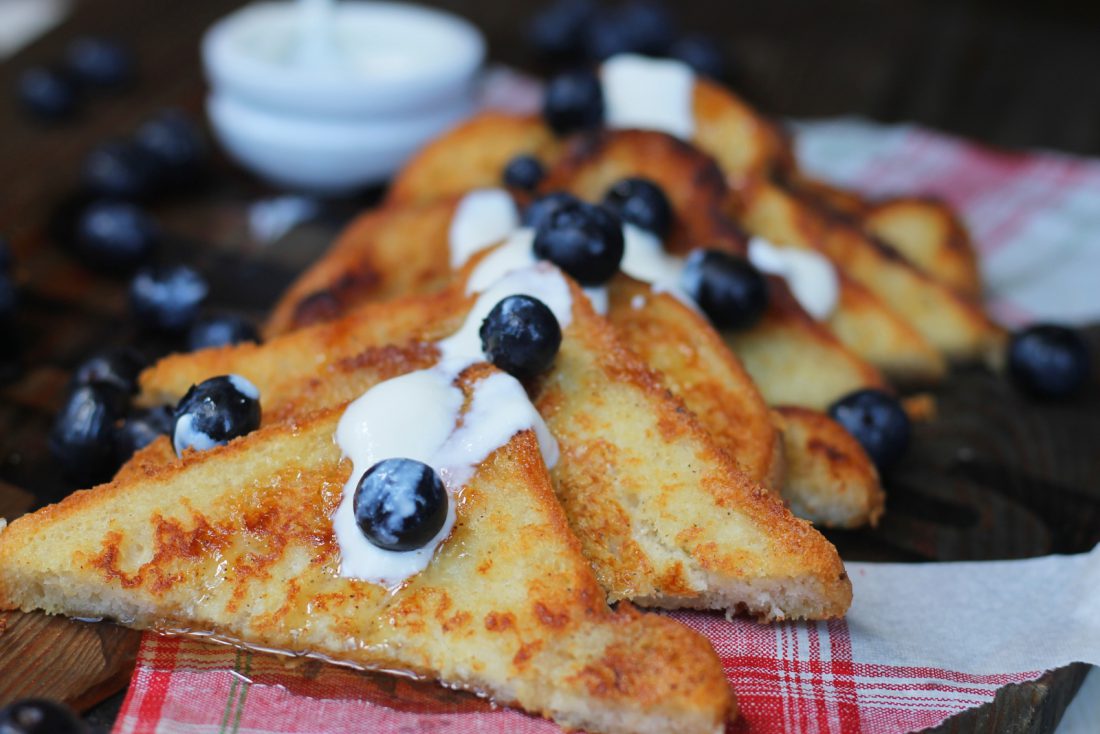 Check out the vegan alternative to what is sometimes called 'eggy bread'!
Here in the UK we tend to eat it with tomato ketchup or brown sauce, but in North America it is often served with maple syrup as part of a cooked breakfast. Whether you eat it on its own or with a pile of veggie rashers, sausages and scrambled tofu, try it drizzled with maple syrup and a sprinkling of cinnamon – or just served UK style! It's also a great way to use up slightly stale bread.
Top Tips.
Leftover silken tofu can be whizzed up with banana or other fruit to make a smoothie – thin down with some soya or rice milk if you want a runnier version.
Nutritional yeast flakes: If you haven't discovered this vegan favourite, check it out. Full of goodness, yeast flakes add a mild, cheesy taste to lots of foods. Find it in tubs on the shelves of good health food shops – Engevita brand.
Easy
Quick meal
Cheap
Kids recipe
Cuisine
United States and Canada
Meal
breakfasts
sides-light-meals-and-salads
Ingredients
Half a pack of firm silken tofu (approximately 175g/6oz)
120ml/4fl oz soya or other unsweetened plant milk, eg almond
1 tbsp vegetable oil
1 tbsp nutritional yeast flakes (Marigold's Engevita brand, sold in health food stores or good delis)
Salt and black pepper. For a more 'eggy' taste, use Himalayan black or pink salt
4-6 slices of bread, medium thick – I prefer good quality white, but granary or wholemeal would also work well. The number of slices you can make depends on whether the bread is from a large or small loaf
Oil spray or oil to fry
To serve (optional): maple syrup and cinnamon powder – or with vegan rashers or sausage
Instructions
Blend the tofu until almost smooth.
Add the plant milk, yeast flakes, salt and pepper and whizz again.
Heat a non-stick frying pan until hot. Spray with a couple of squirts of oil spray.
Depending on the size of your frying pan, coat 1-2 slices of bread in the mixture and place in the pan.
Cook for several minutes on each side until quite crispy and golden brown – make sure the bread isn't soggy.
Repeat the process until the mixture is used up. Serve hot.
Did you know that V30 is run by a charity?
We create vital resources to help educate everyone – vegan veterans, novices and the v-curious alike – about vegan food, health and nutrition; as well as the plight of farmed animals and the devastating environmental impact of farming.
Through this work we have helped thousands of people discover veganism; but we want to reach millions more! We rely entirely on donations as we don't get any government funding. If you already support us, thank you from the bottom of our hearts, you are really making a difference! Please share our details with your friends and loved ones too, as every donation enables us to keep fighting for change.