Going to Pot! Snack Pots and Packet Lunches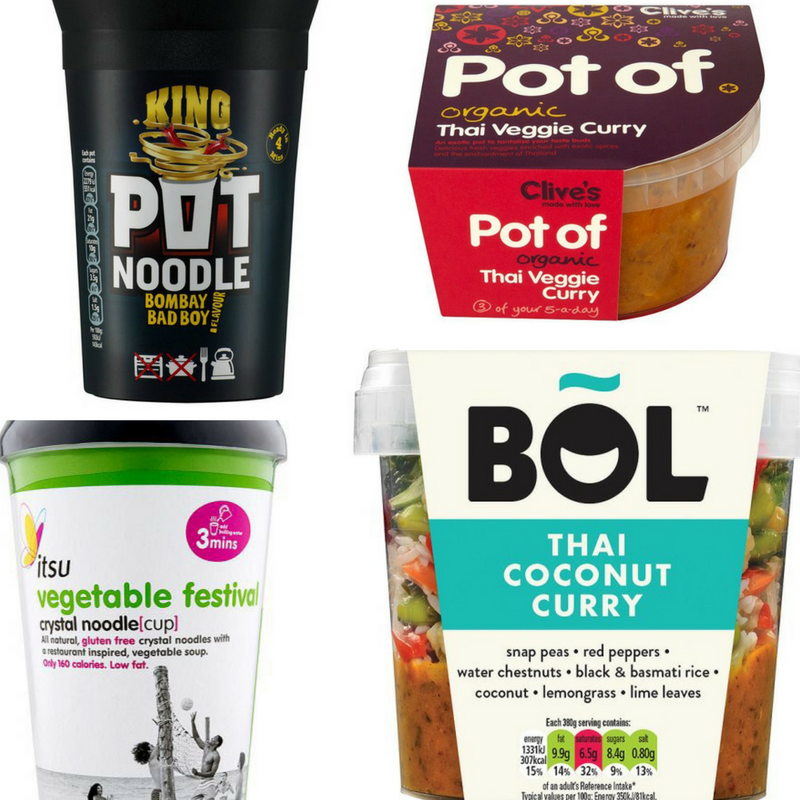 There are lots of these, from the more wholefood end, eg Clive's, Merchant Gourmet or BOL, to 'kettle' noodles from Itsu right through to the more junkfood Pot Noodle type! Some can be eaten cold, some need to be microwaved and some can be made with boiling water. So depending on budget, preference and facilities, take your pick.
Where to buy? Every major supermarket sells a range. Check out My Vegan Supermarket for several pages of pots and other instant products
---
Home-made alternative? Make your own, with leftovers such as curry, dhal, stir-fry, pulses, wholegrains, veg and salad.
---
TOP TIPS
Pimp your pot!
Add extra nutrients: a portion of cooked pulses (peas, beans or lentils); tofu pieces
Add a rainbow: serve with a mixed salad, sprinkled with toasted seeds or nuts if possible
Get fruity: add a serving of fruit
---
Easy
Gluten free
Wheat free
Kids recipe
Meal
lunches
sides-light-meals-and-salads
Optional extras / notes
Time will depend on cooking method, e.g. hot water or microwave
Did you know that V30 is run by a charity?
We create vital resources to help educate everyone – vegan veterans, novices and the v-curious alike – about vegan food, health and nutrition; as well as the plight of farmed animals and the devastating environmental impact of farming.
Through this work we have helped thousands of people discover veganism; but we want to reach millions more! We rely entirely on donations as we don't get any government funding. If you already support us, thank you from the bottom of our hearts, you are really making a difference! Please share our details with your friends and loved ones too, as every donation enables us to keep fighting for change.