Greek Beans with 'Feta' & Olives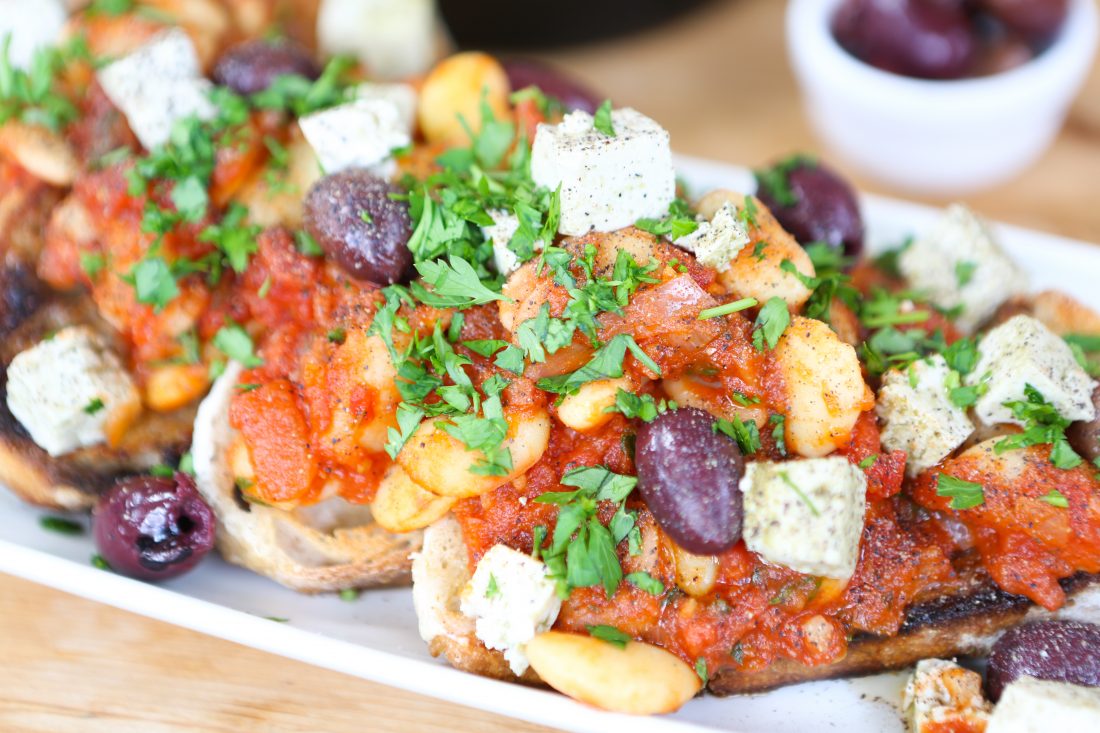 This dish is the ultimate in summer comfort food — think hearty butter beans, rich tomato sauce, fluffy 'feta' and a sprinkling of fresh herbs 🙂
Easy
Gluten free
Wheat free
Freezable
Cheap
Ingredients
1 onion, finely diced
2 cloves garlic, finely chopped
2 x 400g/14 oz tins chopped tomatoes
1 tbsp tomato purée
½ tsp cinnamon
½ tsp paprika
½ tsp dried oregano
2 x 400g/14 oz tins butter beans, drained and rinsed
1 tsp salt and pinch black pepper
1 tsp syrup (eg maple or agave) — optional
150g/5 oz vegan feta (we used Violife Greek White Block), crumbled
Handful Kalamata or black olives (pitted)
Handful fresh parsley or oregano, stalks removed and roughly chopped
4 slices toast and vegan butter for serving
Instructions
Lightly fry the onion until golden.
Add the garlic and fry for a further minute.
Stir through the cinnamon, paprika and oregano and cook for another minute.
Pour in the tomatoes, tomato purée, butter beans and syrup and then simmer on a medium heat for around 20 minutes or until the sauce has thickened and reduced slightly.
Taste the mixture and add more salt if needed.
Pour the bean mix over the fresh toast and then sprinkle over the 'feta', olives and fresh herbs.
Did you know that V30 is run by a charity?
We create vital resources to help educate everyone – vegan veterans, novices and the v-curious alike – about vegan food, health and nutrition; as well as the plight of farmed animals and the devastating environmental impact of farming.
Through this work we have helped thousands of people discover veganism; but we want to reach millions more! We rely entirely on donations as we don't get any government funding. If you already support us, thank you from the bottom of our hearts, you are really making a difference! Please share our details with your friends and loved ones too, as every donation enables us to keep fighting for change.