Green & Herby Savoury Muffins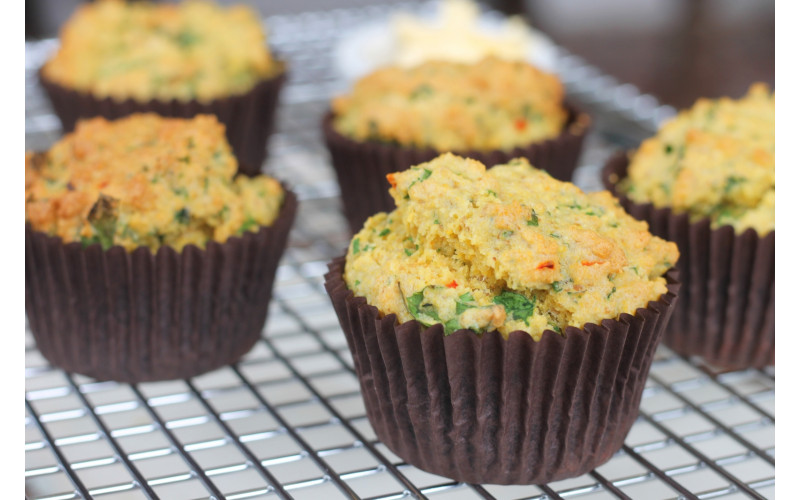 These are pretty quick and easy to make and go well with a cooked breakfast, brunch, lunch, supper, soup… lots of things! You can easily vary the vegetable – spinach or grated carrot would work. Or try mushroom and tarragon. Or a tablespoon or two of chopped sundried tomatoes or olives or… you get the picture! Just ensure the weight is the same as that specified in the recipe.
Serve them warm… We like vegan butter such as Biona or Pure but coconut or olive oil would work well to slather on these little beauties! And they'd freeze too, so it's worth making a whole batch even if you don't eat them all at once – tempting though it might be ;o)
Not too tricky
Gluten free
Wheat free
Quick meal
Cheap
Meal
soups-starters
sides-light-meals-and-salads
vegetable-side-dishes
Servings
Makes 10-12 muffins
Ingredients
1 tbsp flaxmeal + 3 tbsp warm water
250ml/1 cup unsweetened plant milk, eg soya or almond
1 tbsp cider vinegar
125g/1 cup plain white flour (GF flour also works with this recipe)
150g/1 cup minus 4 tsp cornmeal or polenta – medium or fine (already GF)
2 tsp baking powder (use GF if appropriate)
½ tsp bicarbonate of soda
1 tsp salt
60ml/4 tbsp plain oil or olive oil
30g/1oz (a big handful!) of kale leaves, snipped into pieces with scissors and all thick stalks removed
2 tbsp fresh basil or parsley, snipped with scissors
2 tbsp fresh chives, snipped with scissors
Optional: 1 small red chilli, de-seeded and chopped fine OR ¼ tsp chilli powder
ALL KITTED OUT
Large holed muffin tins, preferably non-stick (+ paper cases if using)
Colander
Chopping board and knife
Scales
Measuring jug
Measuring spoons
Scissors
Mixing bowl
Sieve
Instructions
Preheat the oven to 180°C/350°F/Gas Mark 4. Line 8-10 muffin cases OR oil the muffin holes.
Make the flaxmeal mixture in a small container and set aside. Prepare the kale and herbs and set aside.
Mix the plant milk and cider vinegar in a jug or bowl and set aside.
Sieve the dry ingredients into a bowl: flour, polenta/cornmeal, baking powder, bicarb and salt. Add the oil then the flaxmeal mixture into the plant milk mixture and give a quick stir.
Add this liquid to the bowl of dry ingredients and give a gentle but thorough mix. The mixture should be quite stiff – thicker than a sweet muffin batter – but if it is too difficult to work with, add a splash or two of extra plant milk if desired. Add the chilli now if using. Add the chopped kale and herbs and mix in well.
Spoon the mixture into the muffin cases, nearly to the top. Use a lightly oiled spoon or two spoons if that makes it easier. If you're not using muffin cases, spoon directly into the holes.
Bake for 20-25 minutes. Use a toothpick, thin knife or cake tester to test the muffins – it should come out clean.
Did you know that V30 is run by a charity?
We create vital resources to help educate everyone – vegan veterans, novices and the v-curious alike – about vegan food, health and nutrition; as well as the plight of farmed animals and the devastating environmental impact of farming.
Through this work we have helped thousands of people discover veganism; but we want to reach millions more! We rely entirely on donations as we don't get any government funding. If you already support us, thank you from the bottom of our hearts, you are really making a difference! Please share our details with your friends and loved ones too, as every donation enables us to keep fighting for change.