'Ham' & 'Cheese' Crêpes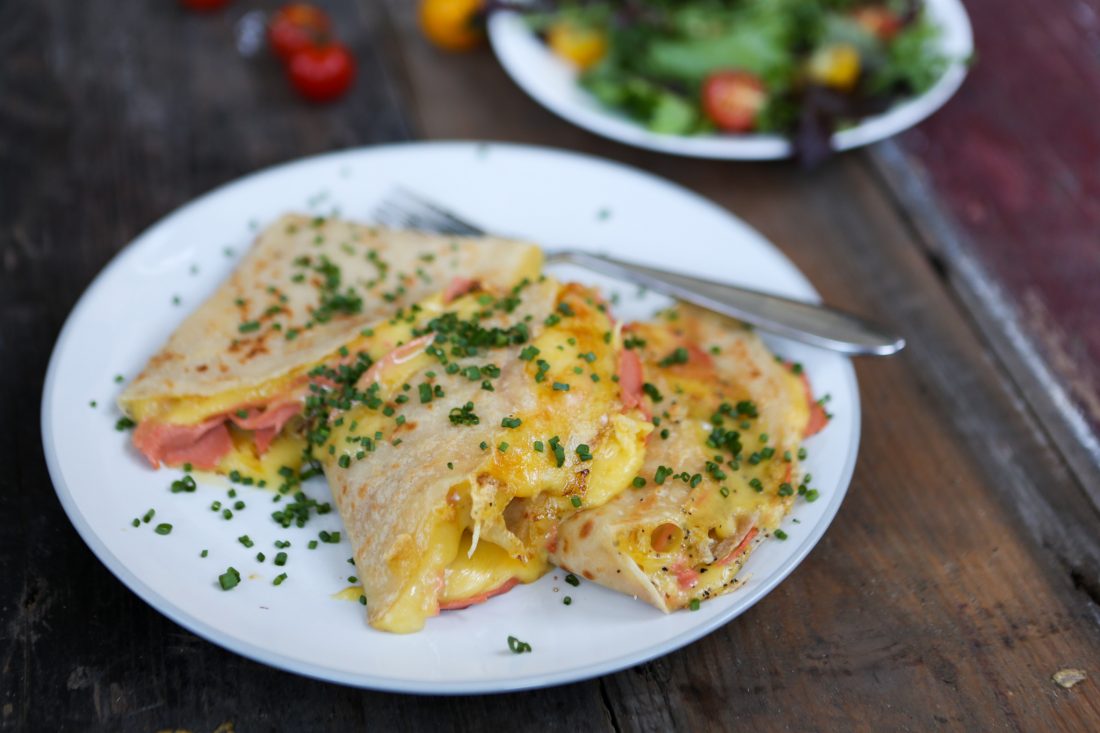 Fill your savoury crêpe with lovely melty 'cheese' and 'ham' for the ultimate quick comfort meal.
Easy
Quick meal
Kids recipe
Ingredients
Crêpe batter
150g/1 cup plain flour
350ml/1½ cups unsweetened plant milk (soya or almond ideally)
¼ tsp salt
1 tbsp neutral oil (eg rapeseed) plus extra for frying
Filling
200g/2½ cups vegan cheese, grated (we used Ilchester Vegan Melting Mature)
100g/3½ oz vegan ham slices, torn into pieces (we used Quorn Vegan Smoky Ham)
Optional serving suggestions: vegan mayo, mustard dressing, crème fraîche, fresh chives, fresh salad
Instructions
In a large bowl, mix the flour and salt together before stirring in the plant milk and oil.
Heat a little oil in a crêpe pan or wide frying pan on a medium-high heat.
When the oil is hot, pour a small ladle of batter into the pan, swirling it around so that it thinly coats the pan.
Fry on one side until lightly golden.
Flip the pancake then sprinkle over one sixth (approx.) of the cheese evenly across. Scatter a handful of 'ham' pieces on top of the 'cheese'.
Fry until the cheese has melted but check that the bottom of the pancake isn't getting too brown – you just want it to be lightly golden and flexible.
Fold the crêpe in half and then in half again – serve immediately.
Did you know that V30 is run by a charity?
We create vital resources to help educate everyone – vegan veterans, novices and the v-curious alike – about vegan food, health and nutrition; as well as the plight of farmed animals and the devastating environmental impact of farming.
Through this work we have helped thousands of people discover veganism; but we want to reach millions more! We rely entirely on donations as we don't get any government funding. If you already support us, thank you from the bottom of our hearts, you are really making a difference! Please share our details with your friends and loved ones too, as every donation enables us to keep fighting for change.