Hazelnut Pesto Pasta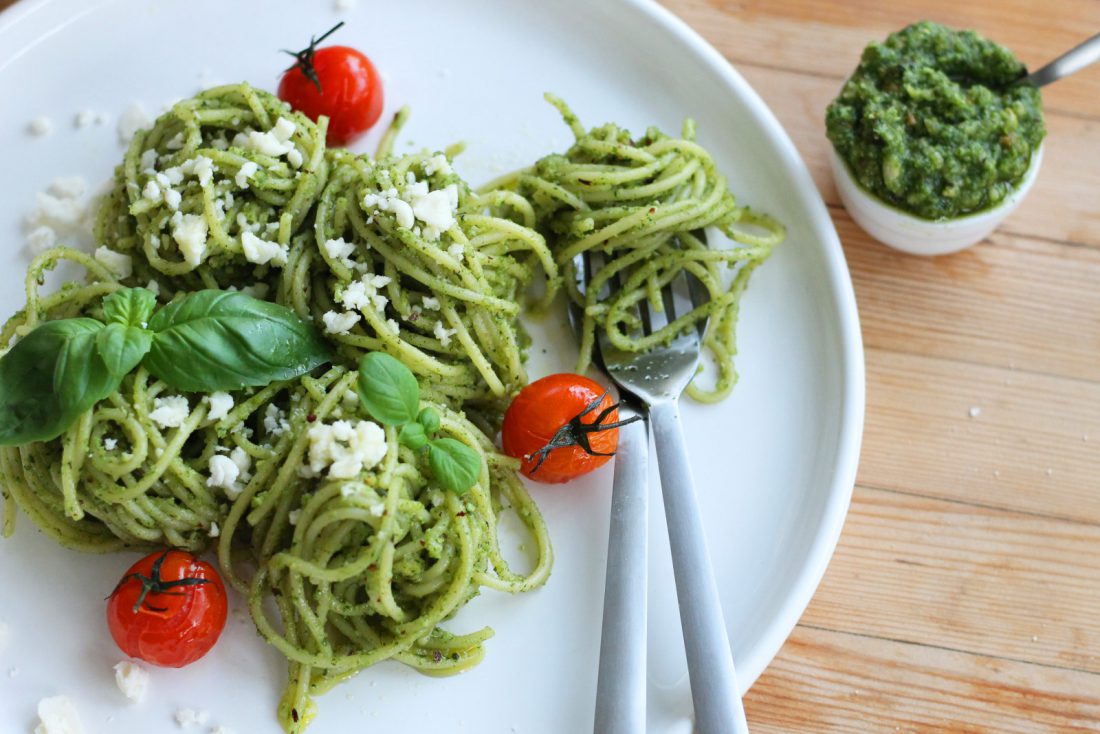 You can use this pesto in lots of different ways and change it up with wild garlic if you fancy some foraging. Simple, healthy and a lovely fresh flavour.
Easy
Gluten free
Wheat free
Quick meal
Freezable
Ingredients
400g wholewheat spaghetti
Salt
Hazelnut pesto
150g hazelnuts (with or without skins)
80g fresh basil OR 60g wild garlic and 20g fresh basil
2 cloves garlic, peeled
2 tbsp lemon juice
200ml olive oil
1 tbsp syrup (eg maple or agave) – optional
Salt and pepper to taste
Optional serving suggestions: fresh basil, cherry tomatoes, vegan Parmesan or Greek-style cheese
Instructions
Preheat the oven to 180ºC/350ºF/Gas Mark 4.
Heat a panful of water for the pasta.
Place the hazelnuts on a baking tray and roast in the oven for 5-10 minutes. Be careful they don't burn.
If the hazelnuts are skinned, go to stage 5. If not, put them in a clean tea towel and rub them together to remove the skins.
Place the hazelnuts in a blender and then pulse until roughly chopped but not smooth.
Add all the other pesto ingredients into the blender and pulse, but leave fairly chunky.
Add the spaghetti to the boiling water, then simmer according to instructions on the packet.
Drain the spaghetti and stir the pesto into the warm pasta.
Serve with optional serving suggestions.
Did you know that V30 is run by a charity?
We create vital resources to help educate everyone – vegan veterans, novices and the v-curious alike – about vegan food, health and nutrition; as well as the plight of farmed animals and the devastating environmental impact of farming.
Through this work we have helped thousands of people discover veganism; but we want to reach millions more! We rely entirely on donations as we don't get any government funding. If you already support us, thank you from the bottom of our hearts, you are really making a difference! Please share our details with your friends and loved ones too, as every donation enables us to keep fighting for change.