Healthy (& very tasty) Vegan Pancakes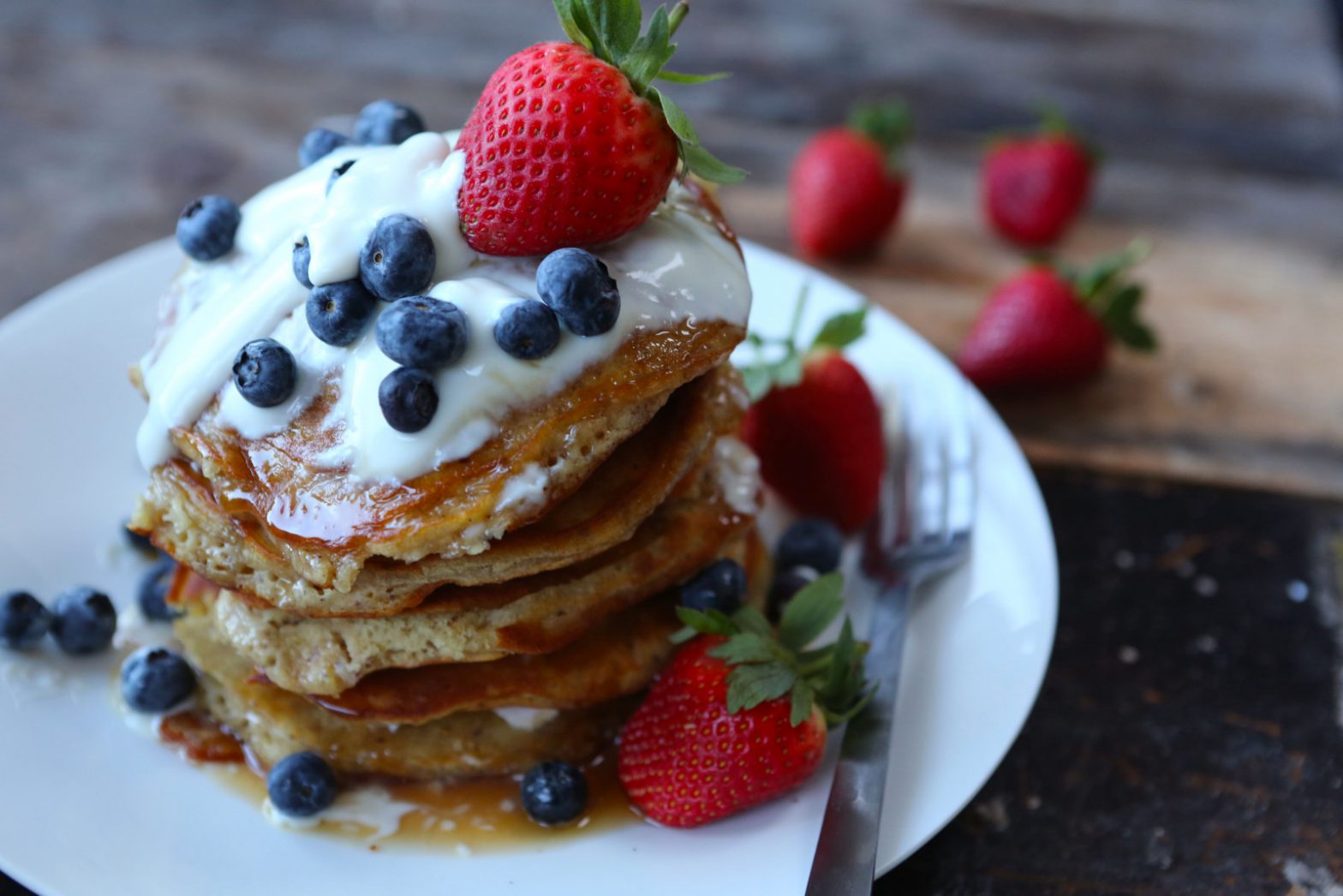 These pancakes are not only healthy but they contain protein and provide a great way to use any leftover cooked grains you might have. Top with natural (vegan) yoghurt and berries and they make the perfect breakfast treat 🙂
Easy
Quick meal
Low fat, low sugar
Cheap
Kids recipe
Meal
vegan-desserts
breakfasts
Ingredients
120g/1 cup plain flour or use wholemeal if you want to go super-healthy
50g/¼ cup cooked quinoa or other cooked grains that you have leftover
25g/¼ cup of quick-cook oats (eg Quaker)
Pinch of salt
1 level tsp baking powder
½ tsp bicarbonate of soda
½ tsp cinnamon (optional)
1 tsp ground flaxseed
150ml/¾ cup plant milk of your choice
30ml/⅛ cup vegan syrup eg agave or maple
1 tsp lemon juice (fresh or bottled)
Oil or vegan spread for frying
Optional Decoration
Vegan natural yoghurt, vegan syrup, berries, mint, mixed seeds, banana, hemp seeds, cacao nibs, lemon juice, gojis, mixed chopped nuts, vegan cream.
Instructions
Combine all of the ingredients together in a large mixing bowl and stir thoroughly but gently.
Heat a small amount of oil or spread in a medium-sized frying pan on a medium heat.
Add around 3 tablespoons of batter to the pan to create one pancake.
Fry on each side until golden.
Repeat this stage until all the batter is used up.
Serve with all the good stuff and enjoy!
Did you know that V30 is run by a charity?
We create vital resources to help educate everyone – vegan veterans, novices and the v-curious alike – about vegan food, health and nutrition; as well as the plight of farmed animals and the devastating environmental impact of farming.
Through this work we have helped thousands of people discover veganism; but we want to reach millions more! We rely entirely on donations as we don't get any government funding. If you already support us, thank you from the bottom of our hearts, you are really making a difference! Please share our details with your friends and loved ones too, as every donation enables us to keep fighting for change.