Herby Quinoa Salad with Pomegranate and 'Feta'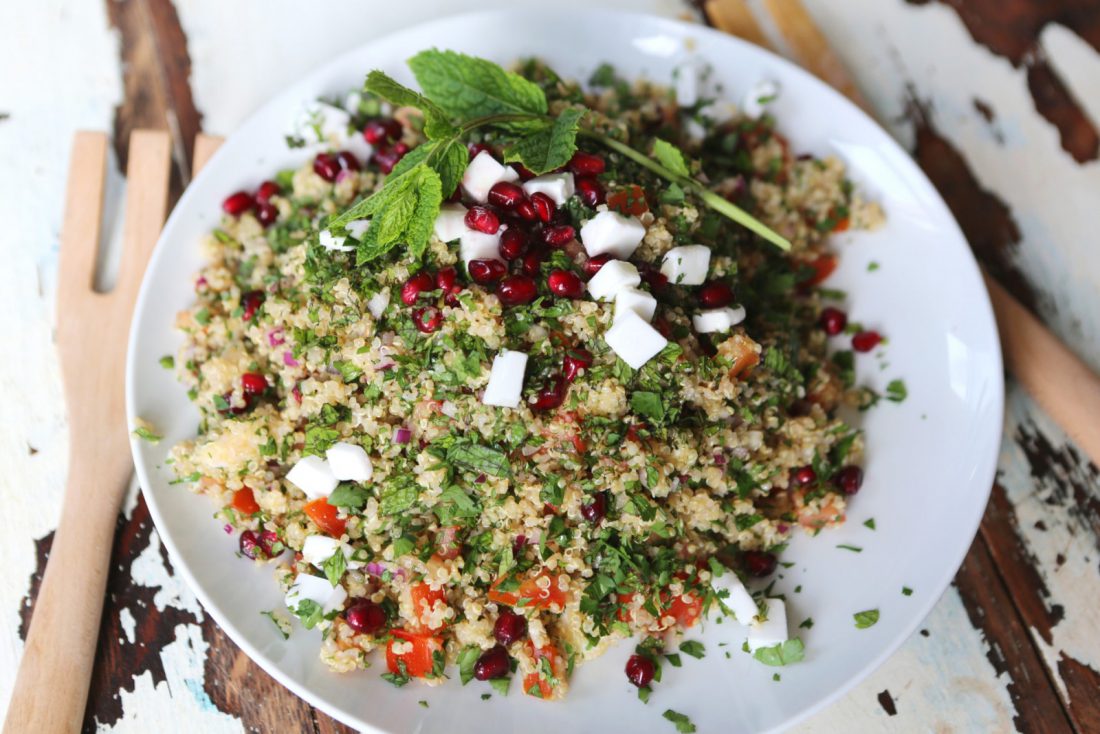 This mezze bowl is so easy, fresh and delicious… be prepared to eat it all in one sitting!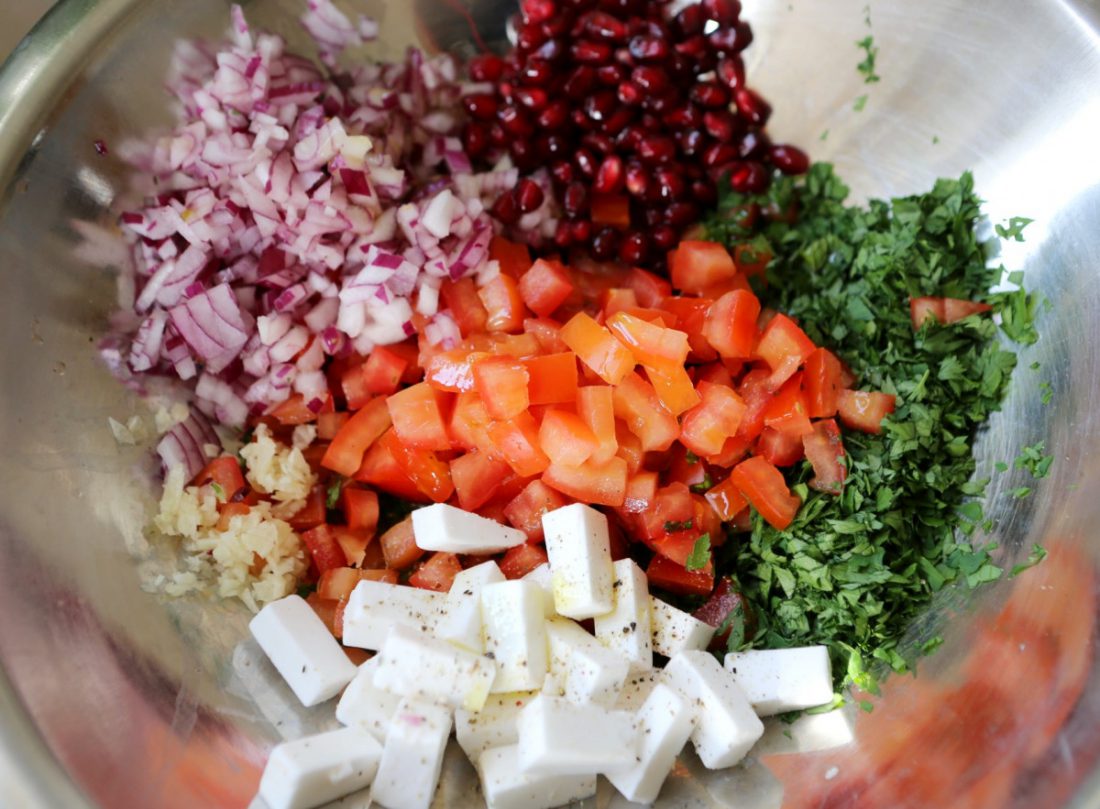 Carbon footprint
0.38kg CO2e/serving (12% fair daily food emissions)
Find out more at myemissions.green
Easy
Gluten free
Wheat free
Reduced sugar, diabetic friendly
Quick meal
Low fat, low sugar
Cuisine
Middle Eastern and Moroccan
Meal
lunches
sides-light-meals-and-salads
Ingredients
Quinoa
200g/1 cup quinoa
375ml/1½ cup water
Other ingredients
½ red onion, finely diced
2 large tomatoes, de-seeded and diced
1 clove garlic, crushed
30g/1 cup fresh parsley, stalks removed and finely chopped
30g/1 cup fresh mint, stalks removed and finely chopped
80g-100g vegan feta (our absolute favourites are Violife Greek White Block or Green Vie Greek Style), cut into small bite-sized cubes
100g/½ cup (approx.) pomegranate seeds
Juice of 1 lemon
2 tbsp olive oil
1 tsp pomegranate molasses or syrup (eg agave or maple) or sugar – optional
½ tsp – 1 tsp salt (depending on your personal preference)
Light sprinkling black pepper
Instructions
Place the quinoa in a sieve then rinse it really well.
Add the quinoa to a medium-sized saucepan with the water. Bring to the boil then cover and simmer on a very low heat until all the water is absorbed (approx. 15-20 minutes but do keep checking). Set aside, with the lid off, to cool.
Whilst the quinoa is cooking and cooling, chop all the veg and place them in a large salad bowl.
Combine all of the ingredients together and set aside a little bit of feta, pomegranate seeds and a sprig of mint for decoration.
Did you know that V30 is run by a charity?
We create vital resources to help educate everyone – vegan veterans, novices and the v-curious alike – about vegan food, health and nutrition; as well as the plight of farmed animals and the devastating environmental impact of farming.
Through this work we have helped thousands of people discover veganism; but we want to reach millions more! We rely entirely on donations as we don't get any government funding. If you already support us, thank you from the bottom of our hearts, you are really making a difference! Please share our details with your friends and loved ones too, as every donation enables us to keep fighting for change.