Indian Dinner, Convenience-style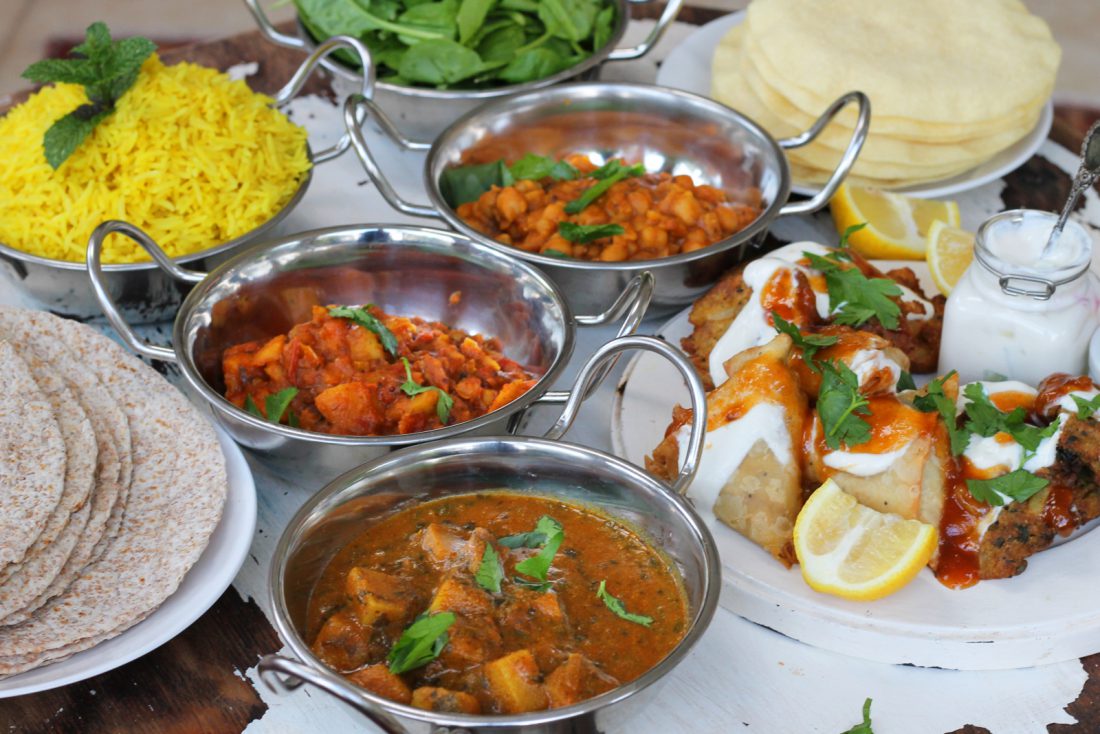 Again, this is not a recipe as such, more a guide to 'accidentally vegan' products.
India being the home of vegetarianism for thousands of years, its cuisine is a great place to start and it used to be the default position for most hungry vegans! Supermarkets all carry a range of vegan-friendly curries – often side portions – and they can work out cheaper than a takeaway. The main thing to watch out is for added butter, cream, butter ghee, yoghurt and the like! So a bit of packet reading is useful – or else check out the supermarket's online vegan list or the company groceries website. My Vegan Supermarket also has a few listed!
It's not just curries either – many Indian snacks, chapatis etc are suitable. Use vegan yoghurt and a nice chutney on the side and you're away!
Cuisine
Indian and Indian Subcontinent
Ingredients
Here is a selection of what was on offer when we trawled supermarket websites. Remember, recipes and dishes are changed all the time – sometimes not in a good way – so always double check by reading the packets!
1-2 packs of ready-made chilled curry
Asda: Vegetable Jalfrezi; Saag Aloo; Bombay Potatoes
Sainsbury's Channa Masala (Chickpeas in a tomato and coconut sauce – contains cashew nuts); Sainsbury's Vegetable Jalfrezi
Morrison's: M Kitchen Aloo Gobi Saag;

M Kitchen Takeaway Bombay Potato

Tesco: Tesco Takeaway Vegetable Curry; The City Kitchen Veg, With Coconut Lentil; Tesco Bombay Potatoes
Waitrose: Bombay Potatoes; Tarka Dhal
Ready-cooked rice
Most pilau rice is suitable for vegans – check the packets. These are sold in most supermarket branches, particularly the large ones
Indian snacks and accompaniments
Most samosas, bhajis and similar snacks are vegan but always read the packs
Poppadoms are usually vegan
Chappatis are vegan, but most naan isn't. However, Asda sell the Clay Oven Bakery range which seems to be fine
Use plain dairy-free yoghurt to serve, eg Alpro, Provamel, Sojade, Tesco
Dahl – if you love this with your Indian meal but can't find a vegan version in your local supermarket, try the tinned variety – eg Asda, Biona, Tesco, Hodmedod's are some of the best known brands
Instructions
Heat up according to pack instructions. Serve hot, with chosen accompaniments, eg chapatis, chutney, vegan yoghurt.
Did you know that V30 is run by a charity?
We create vital resources to help educate everyone – vegan veterans, novices and the v-curious alike – about vegan food, health and nutrition; as well as the plight of farmed animals and the devastating environmental impact of farming.
Through this work we have helped thousands of people discover veganism; but we want to reach millions more! We rely entirely on donations as we don't get any government funding. If you already support us, thank you from the bottom of our hearts, you are really making a difference! Please share our details with your friends and loved ones too, as every donation enables us to keep fighting for change.