Instant Gnocchi (supermarket style)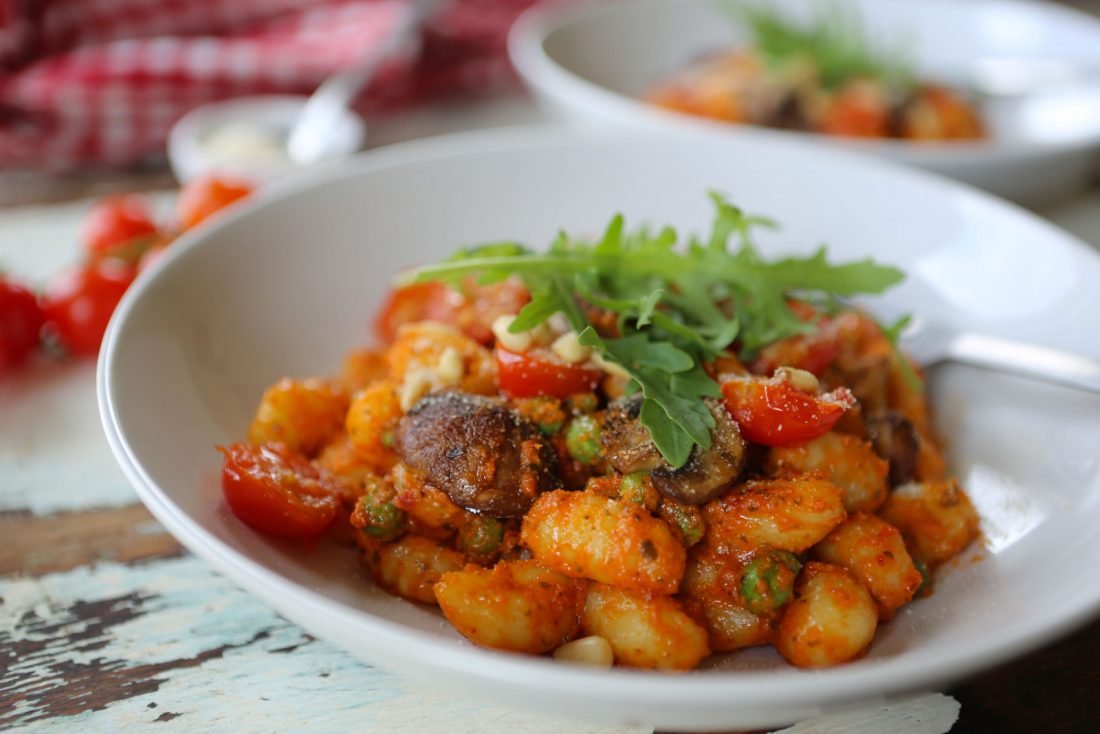 This is such a quick recipe (5-10 minutes) and can be easily adapted depending on what veg you fancy. Grab a jar of free-from pesto (Sacla, Aldi, Meridian, Asda Free-From, Tesco Free-From, Providence Deli… find in supermarkets, health food shops and online) and you're good to go!
Easy
Gluten free
Wheat free
Quick meal
Ingredients
500g vegan gnocchi (most of the fresh gnocchi contain milk but many of the dried ones are vegan eg De Cecco, Asda, Il Pastaio. Found in supermarkets, health food shops and online).
Oil for frying
150g (approx) mushroom, sliced
1 clove garlic (use pre-chopped if short of time)
Large handful cherry tomatoes, halved
Handful frozen peas
5 tbsp red or green dairy-free pesto (see recipe description for suggestions)
Large handful rocket
Handful toasted pine nuts
2 tbsp vegan Parmesan (eg Angel Food or Violife Prosociano)
Salt and pepper, to taste
Other suggestions: watercress, wilted spinach (cook with the gnocchi), mixed seeds, olives, toasted walnuts, pasta sauce, olive tapenade, nutritional yeast, tinned tomatoes, sundried tomatoes, artichokes, red or yellow peppers (lightly fried), capers
Instructions
Boil the kettle ready for the gnocchi.
Lightly fry the mushrooms until soft and golden.
Add the garlic and fry for a further minute.
Add the cherry tomatoes and cook through for a couple more minutes.
Bring the gnocchi and the frozen peas to the boil and then simmer for a couple of minutes until the gnocchi bubble up to the surface.
Drain the gnocchi/peas and stir through the pesto.
Mix in the the vegetables and top with rocket, pine nuts and vegan Parmesan.
Did you know that V30 is run by a charity?
We create vital resources to help educate everyone – vegan veterans, novices and the v-curious alike – about vegan food, health and nutrition; as well as the plight of farmed animals and the devastating environmental impact of farming.
Through this work we have helped thousands of people discover veganism; but we want to reach millions more! We rely entirely on donations as we don't get any government funding. If you already support us, thank you from the bottom of our hearts, you are really making a difference! Please share our details with your friends and loved ones too, as every donation enables us to keep fighting for change.