Jerk Tofu with Rice & Peas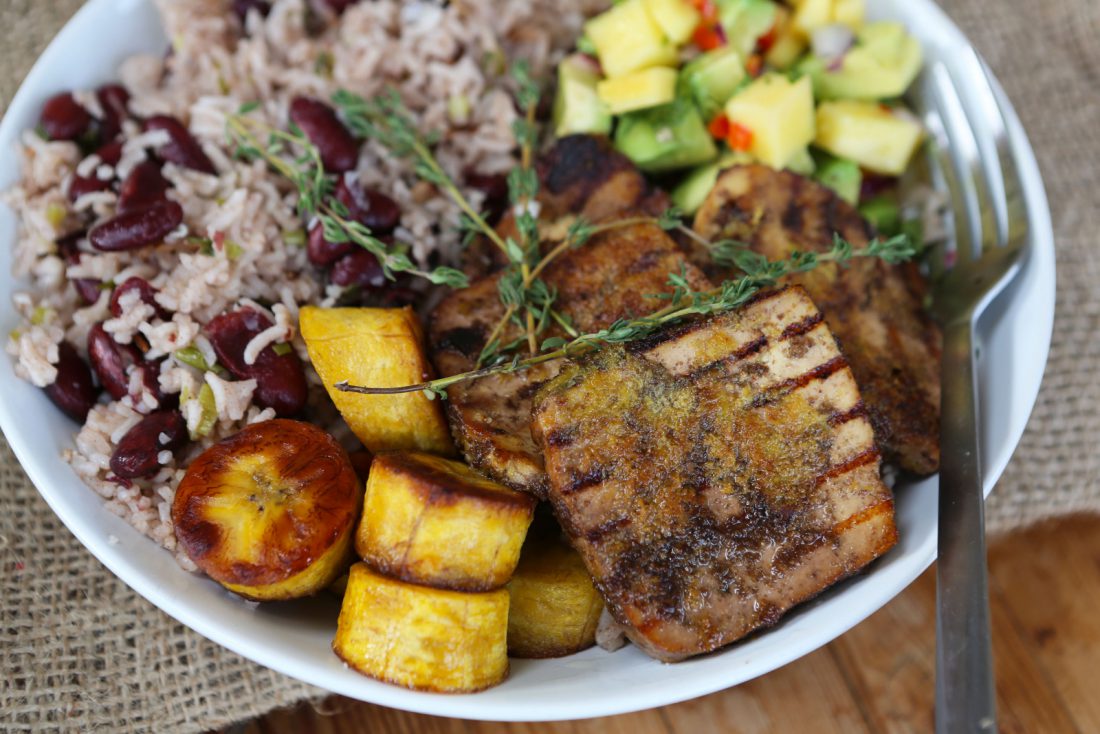 Bring the carnival to your kitchen with this hearty, protein-rich and delicious dish! Comfort food at it's best…
Easy
Gluten free
Wheat free
Ingredients
Tofu
600g tofu (approx 'Äî doesn't matter if it's a bit more or less), sliced around 0.5cm thick, drained and pressed (or just pat down with kitchen roll or clean tea towel to remove water)
Soy sauce (not needed until the frying stage)
Nutritional yeast (not needed until the frying stage)
Jerk marinade
If you're short of time you can pour over a shop-bought jerk marinade, making sure the tofu is covered on both sides
2-3 cloves garlic, peeled
½ onion, peeled and roughly chopped
Thumbnail of ginger, peeled
1 bunch spring onions, ends removed
Juice of 1 lime
2 tbsp soy sauce
2 tbsp veg oil
2-3 tbsp brown sugar
2 tsp allspice
¼ tsp cinnamon (optional)
Rice & Peas
300g basmati rice
1 x 400g tin coconut milk
450ml cold water
¼ tsp ground allspice
2 sprigs thyme
1 tin kidney beans, drained and rinsed
½ tsp salt
1 bunch spring onions, ends removed and finely sliced
Instructions
Jerk marinade
Blitz all the ingredients in a high powered blender or food processor until smooth. Don't be tempted to add water as the sauce needs to be thick.
Try the marinade and then add more sugar, soy sauce or lime juice if necessary, until the flavours are balanced.
Tofu (marinate)
Cover the sliced tofu in the marinade (on both sides) and rub it in. Leave in the fridge for a minimum of an hour, ideally.
Rice and Peas
Put the rice in a medium sized saucepan then rinse in cold water.
Add all of the ingredients to the pan apart from the kidney beans.
Put the lid on the pan, bring to the boil and then simmer for 10 minutes.
Add the kidney beans after 10 minutes and then simmer for another 5 minutes with the lid off.
Tofu (fry)
Whilst the rice is cooking, heat some oil in a large frying pan on medium heat and then add the marinated tofu slices to the pan.
Drizzle over a little soy sauce and a sprinkling of nutritional yeast.
Fry on both sides until golden.
Serve with rice and peas, mango salsa, fresh thyme leaves and fried plantain (fry slices of ripe plantain on either side in a little oil and salt).
Did you know that V30 is run by a charity?
We create vital resources to help educate everyone – vegan veterans, novices and the v-curious alike – about vegan food, health and nutrition; as well as the plight of farmed animals and the devastating environmental impact of farming.
Through this work we have helped thousands of people discover veganism; but we want to reach millions more! We rely entirely on donations as we don't get any government funding. If you already support us, thank you from the bottom of our hearts, you are really making a difference! Please share our details with your friends and loved ones too, as every donation enables us to keep fighting for change.