Mango Lassi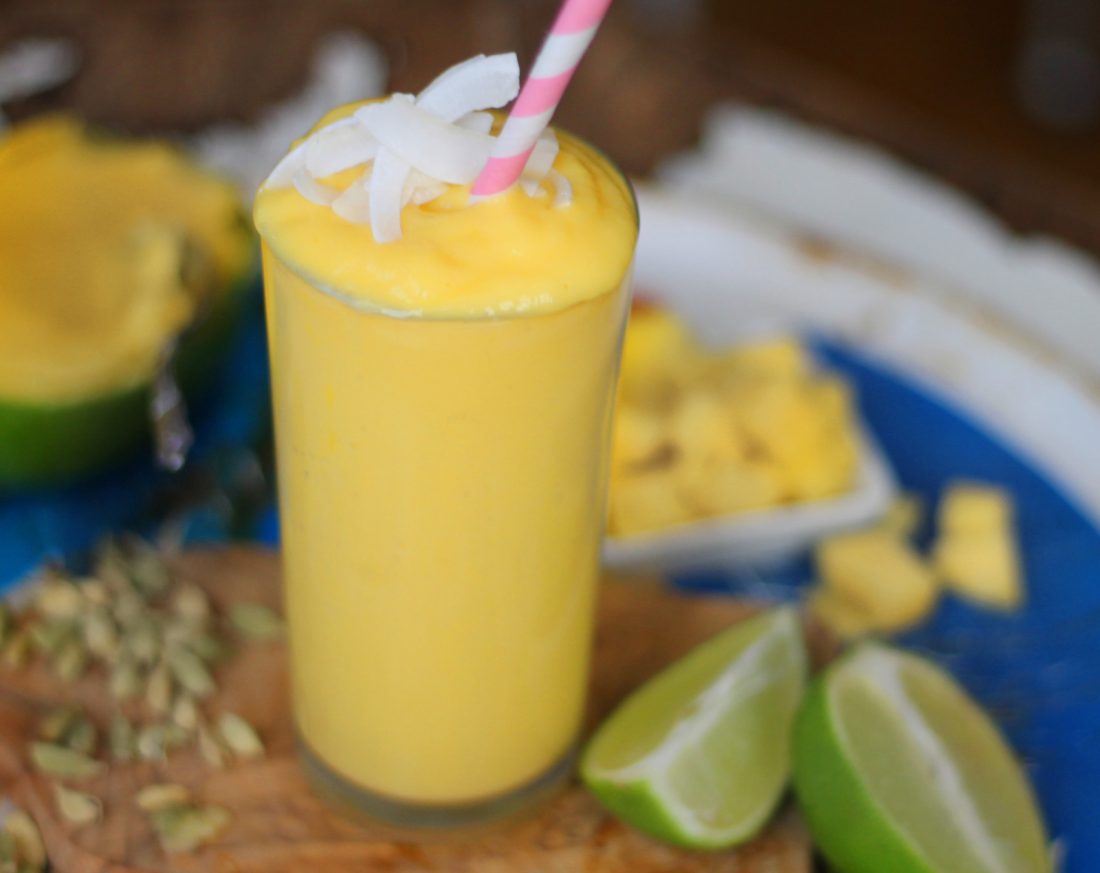 This is utterly gorgeous and refreshing. We make it with vegan yoghurt but it can also be made with a plant milk such as coconut, hemp, almond or soya.
If you love mangoes but find them a bit hit and miss in the UK, the good news is that you can buy fresh or frozen chunks (or even tinned purée) from many supermarkets.
Easy
Gluten free
Wheat free
Quick meal
Cuisine
Indian and Indian Subcontinent
Ingredients
2 whole ripe mangoes OR 2 cups mango chunks, frozen or fresh OR 1 tin or 1½ cups unsweetened purée
2 cups vegan yoghurt, eg Alpro, Tesco, Sojade – or try a coconut milk based vegan yoghurt, eg CoYo or Coconut Collaborative
¼ tsp ground cardamom
Optional extras
Splash of tinned coconut milk (ie the thick stuff)
Ice cubes
A splash of lime juice
Instructions
If using the fresh mango option, peel each mango, slice off the fruit roughly with a sharp knife and add it to the blender. Otherwise add the frozen chunks or tinned purée. Blend with the vegan yoghurt and cardamom.
Taste. Add more cardamom if desired plus the lime juice/coconut milk/ice cubes if using (you won't need ice if using the frozen mango!)
Eat immediately.
Did you know that V30 is run by a charity?
We create vital resources to help educate everyone – vegan veterans, novices and the v-curious alike – about vegan food, health and nutrition; as well as the plight of farmed animals and the devastating environmental impact of farming.
Through this work we have helped thousands of people discover veganism; but we want to reach millions more! We rely entirely on donations as we don't get any government funding. If you already support us, thank you from the bottom of our hearts, you are really making a difference! Please share our details with your friends and loved ones too, as every donation enables us to keep fighting for change.