Marinated Tempeh Rashers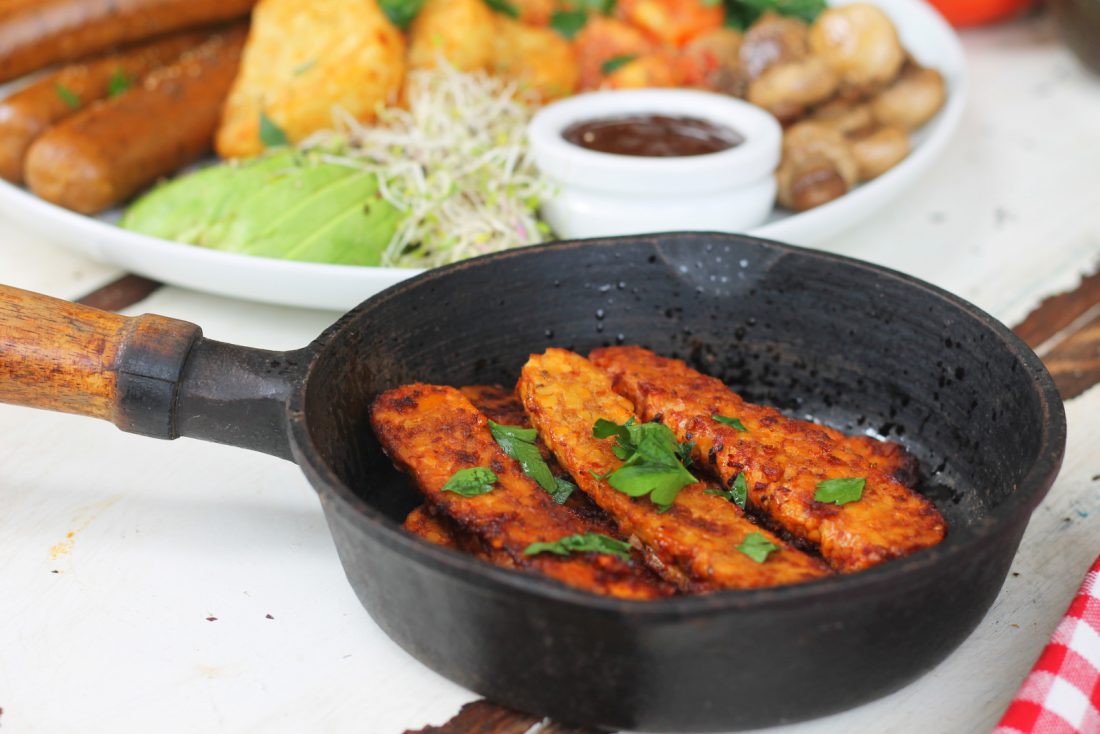 This simple recipe shows you how to marinate tempeh rashers ready to put in a delicious breakfast sandwich – or to serve as part of a big vegan breakfast. For the best flavour results, marinate overnight or for at least 2 hours.
However, we recommend steaming the tempeh first as to offet its tangy flavour. However, if you have eaten it before and like that taste, don't bother!
What is tempeh?
It is a high-protein, natural food made from fermented soya beans and formed into slabs. It's widely used throughout Indonesia, but is gaining in popularity here. It's available in the freezers of health food shops, although ready-made tempeh rashers are also available if you are short of time. Plain tempeh is gluten-free.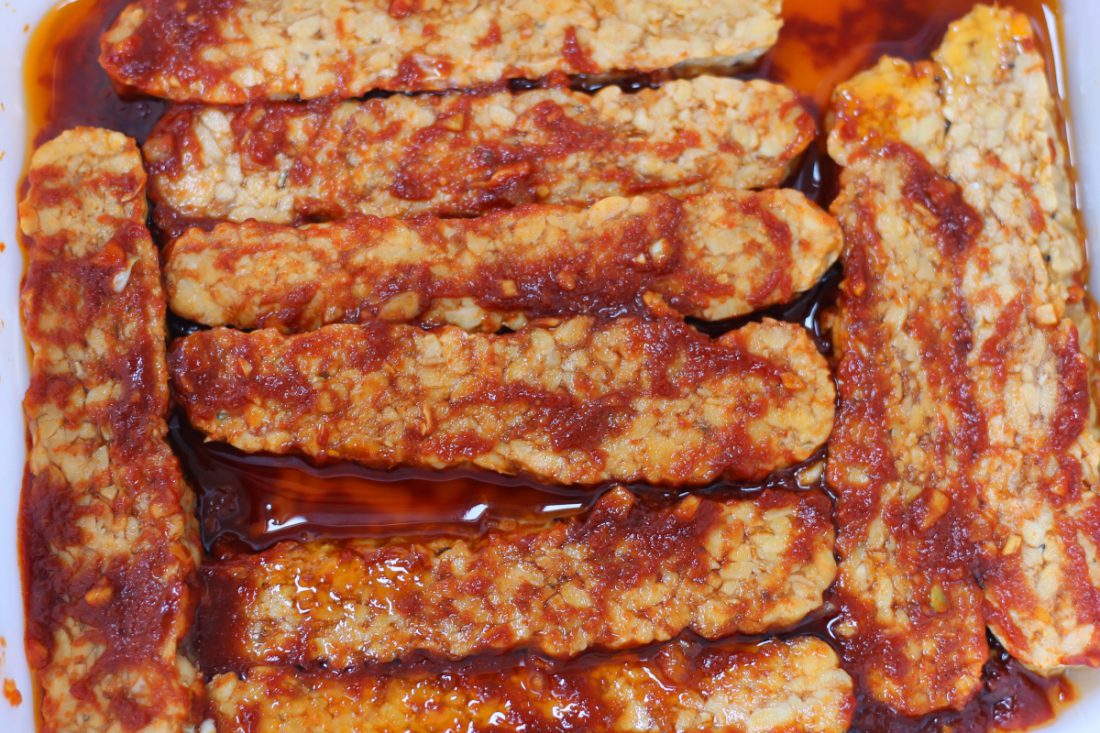 Easy
Gluten free
Wheat free
Quick meal
Cheap
Meal
breakfasts
sides-light-meals-and-salads
Ingredients
1 slab of defrosted plain tempeh. Sometimes it's sold in chillers, meaning no defrosting is necessary
½ tsp smoked paprika
2 cloves of garlic, crushed
2 tbsp shoyu or for a GF option use tamari soya sauce
1 tbsp tomato puree
1 tbsp cider vinegar
2 tbsp oil – olive or plain (eg rapeseed or other mild-tasting oil)
Optional: 1 tsp liquid smoke
Instructions
Steam the block of tempeh for 5-10 minutes. Let it cool a bit then cut into thin slices.
Make the marinade by mixing the rest of the ingredients together in a small bowl. Set aside.
Coat the tempeh rashers with the marinade, using a pastry brush. Place in a covered container in the fridge for at least two hours, preferably overnight. You can make it immediately without the marinating time but the flavours won't be quite so good!
To cook: heat the oil in the frying pan and fry the rashers on each side for a minute or two, until they have turned golden brown and crisped up a bit. Serve hot.
Optional extras / notes
Plus 2+ hours marinating time
Did you know that V30 is run by a charity?
We create vital resources to help educate everyone – vegan veterans, novices and the v-curious alike – about vegan food, health and nutrition; as well as the plight of farmed animals and the devastating environmental impact of farming.
Through this work we have helped thousands of people discover veganism; but we want to reach millions more! We rely entirely on donations as we don't get any government funding. If you already support us, thank you from the bottom of our hearts, you are really making a difference! Please share our details with your friends and loved ones too, as every donation enables us to keep fighting for change.