Mediterranean Mezze Bowl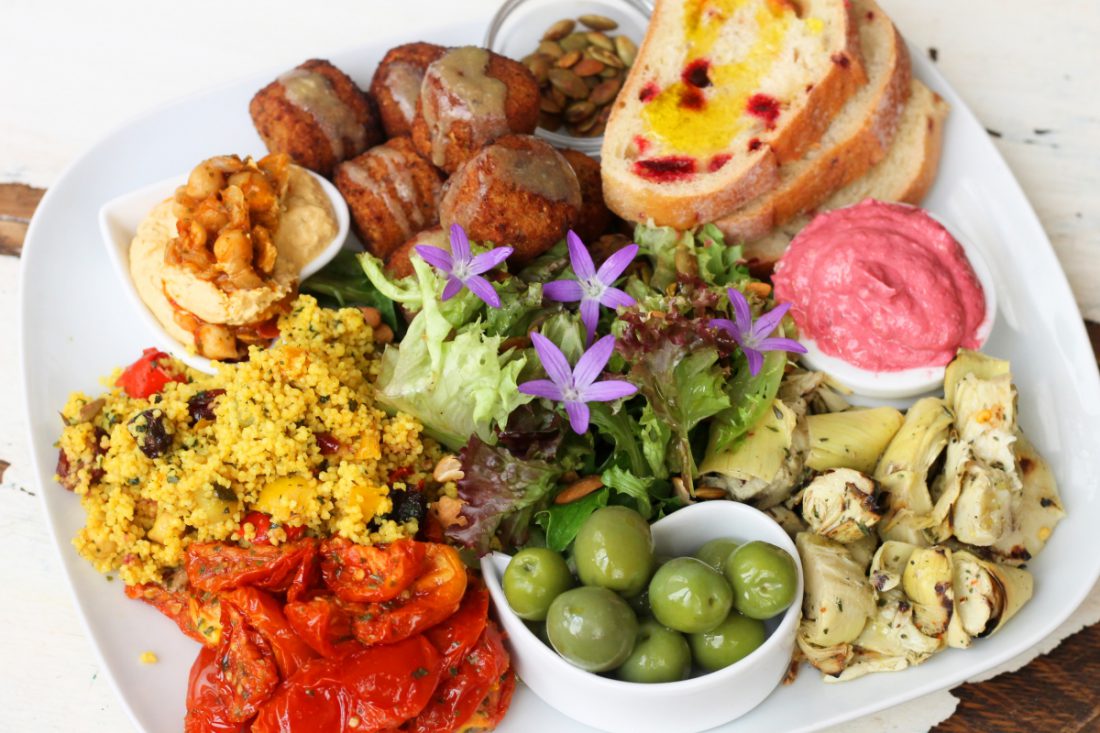 Yum! Simple, very quick and can be pretty budget too if you shop wisely – Aldi and Lidl sell budget olives, hummus, salads, antipasta in jars as do other chains. If you're lucky enough to have a good international deli or grocery nearby, eg Turkish, Greek or Cypriot to name a few – you'll find all sorts of delights.
Easy
Gluten free
Wheat free
Kids recipe
Ingredients
Base bowl
Green leaves, tomato, cucumber
1-2 falafel, chopped (make sure they're vegan, ie no egg or milk. Some are GF too, eg Great Food range. Most supermarkets now have at least one option)
Hummus, a dollop. Any flavour but regular is probably best
Additions – choose a few
Olives
Stuffed vine leaves (tinned, quite cheap)
Ready-cooked couscous or bulghur in a pouch – use a GF grain such as quinoa if appropriate OR pitta bread
Large pickled chillis
Sundried tomatoes
Artichoke hearts
Lemon wedges to serve
Dressing
Tahini – a tablespoon or two thinned down with lemon juice and water OR a little oil and vinegar
Sweet or hot chilli sauce to drizzle
Instructions
Assemble everything together artistically in a portable lunch container or a pretty bowl.
Eat and enjoy!
Did you know that V30 is run by a charity?
We create vital resources to help educate everyone – vegan veterans, novices and the v-curious alike – about vegan food, health and nutrition; as well as the plight of farmed animals and the devastating environmental impact of farming.
Through this work we have helped thousands of people discover veganism; but we want to reach millions more! We rely entirely on donations as we don't get any government funding. If you already support us, thank you from the bottom of our hearts, you are really making a difference! Please share our details with your friends and loved ones too, as every donation enables us to keep fighting for change.