Mega Melty Vegan Cheese Sandwich/Toastie with Pesto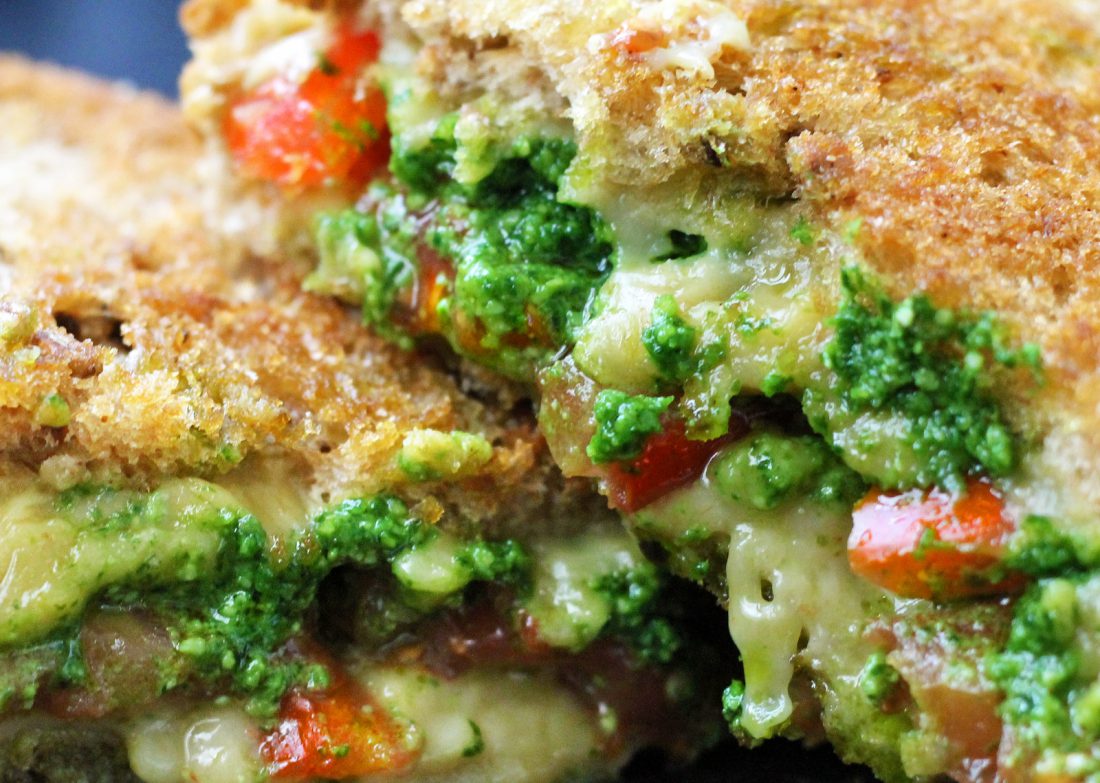 This combination of flavours is to die for and can easily be made using simple shop bought ingredients or tasty homemade if you're feeling creative. One of our colleagues tried this toastie and said "this is the nicest sandwich I've ever had in my life!"
Not too tricky
Gluten free
Wheat free
Kids recipe
Meal
mains
lunches
sides-light-meals-and-salads
Ingredients
Pesto
(Quick version… buy a jar of Sacla Dairy Free Pesto, Zest Vegan Pesto or one of the supermarket 'free from' brands)
50g/2oz fresh basil leaves (or wild garlic)
25g hazelnuts
15g/1oz pine kernels OR cashews
½-1 garlic clove
Black pepper
50ml olive oil
½ tsp agave
1 tbsp vegan 'parmesan' or nutritional yeast flakes (optional)
A little lemon juice if the pesto is still too dry – add a splash at a time
Vegan Cheese
Choose from our list or just use your own favourite firm vegan cheese. If you're feeling adventurous then follow our Cashew White Cheddar Artisan Style recipe!
Bute Island Sheese Strong Cheddar Style
Tesco Strong Soya Cheese
Vegusto No Moo Mild Aromatic
Other
(If making a quick version then just choose 1-2 from the list)
Fresh, crusty vegan bread of your choice (use GF if required)
Vegan spread
Cherry tomatoe, sliced
Baby spinach
Jalepenos
Kimchi (optional. If using, make sure it's vegan; some kimchi contains fish or shrimp paste)
Instructions
Pesto
If using skinned hazelnuts, go straight to no. 4.
Heat the oven to 200ºC/400º/Gas Mark 6. Place the hazelnuts on a baking tray. Roast them in the oven for 8-10 mins but keep an eye on them; check after 5 minutes that they're not burning!
Place the hazelnuts in a clean tea towel and rub off the skins.
Dry roast the pinenuts in a small frying pan until golden. Keep stirring and keep a close eye on these as they catch and burn very quickly.
Put all ingredients together in a food processor and blend until the pesto becomes as smooth as you like. Personally we like ours on the slightly rustic, chunkier side so we don't blitz it for so long.
Taste it, then add in more oil or seasoning if you wish.
Make other varieties by adding different ingredients; sun-dried tomatoes, olives, nuts, different herbs.
Sandwich option
Heat the grill to a medium heat
Toast (or fry if you're feeling indulgent) one side of each slice of bread
Turn each slice over and cover with chunky slices of cheese
Place back under the grill until melted
Add all the other ingredients in layers and sandwich together
Toastie option
Prepare the toastie machine as usual then make the sandwich.
Did you know that V30 is run by a charity?
We create vital resources to help educate everyone – vegan veterans, novices and the v-curious alike – about vegan food, health and nutrition; as well as the plight of farmed animals and the devastating environmental impact of farming.
Through this work we have helped thousands of people discover veganism; but we want to reach millions more! We rely entirely on donations as we don't get any government funding. If you already support us, thank you from the bottom of our hearts, you are really making a difference! Please share our details with your friends and loved ones too, as every donation enables us to keep fighting for change.