Middle Eastern Dinner, Convenience-style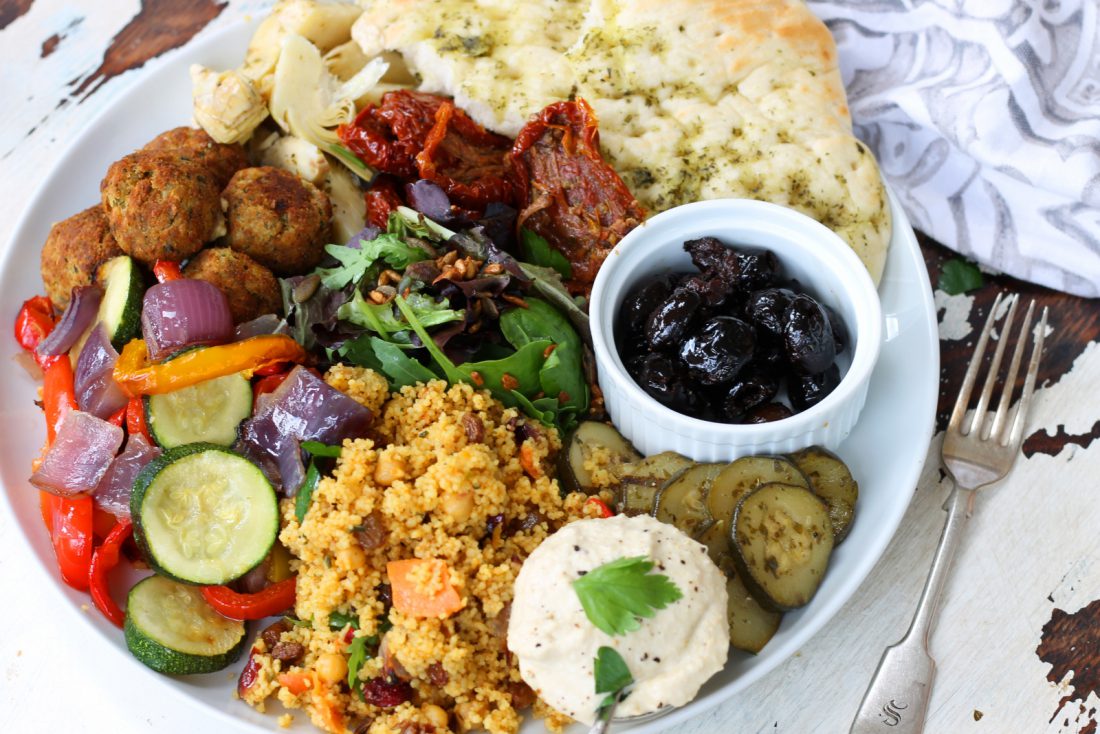 Once again, not a recipe as such but a nudge to what can easily be put together from supermarket ready-mades for those of you who just don't want to cook or are strapped for time! Alternatively, try something like Waitrose Vegetable Tagine, which is a hot one pot meal.
Easy
Gluten free
Wheat free
Meal
mains
lunches
sides-light-meals-and-salads
Ingredients
Choose from some or all of these
Couscous or quinoa based salad, ready-made – these are everywhere and usually vegan. See below for a few examples from just three of the supermarket chains
Hummus, any flavour as long as it's vegan
Fresh bean salad, eg Sainsbury's Four Bean; ASDA Minty Bean
Flatbread, pitta or GF wraps
Vine leaves, stuffed with rice
Olives, any colour or type, (not the type with anchovies or feta!)
Salad leaves, tomatoes, cucumber if desired
Handful fresh parsley, any type, chopped fine
Lemon juice to sprinkle
Other options: ready roasted veg in a tub, eg aubergines, peppers, courgettes; antipasta in a jar; sundried tomatoes from a jar or packet
ASDA Good & Balanced Quinoa & Edamame Bean Salad; ASDA Roasted Vegetable Cous Cous
Morrisons Grilled Pepper Cous Cous
Sainsbury's Fruity Couscous; Sainsbury's BGTY Chargrill Vegetable Couscous; Sainsbury's My Goodness! Quinoa & Cashew Salad
Tesco Pepper And Spinach Cous Cous Salad; Tesco Lime And Coriander Quinoa Mix
Instructions
Place everything artistically on a plate or in several small bowls. Toast the flat bread or pitta if using. Serve and eat.
Optional extras / notes
Servings depend on how much you want and how many items you buy or use.
Did you know that V30 is run by a charity?
We create vital resources to help educate everyone – vegan veterans, novices and the v-curious alike – about vegan food, health and nutrition; as well as the plight of farmed animals and the devastating environmental impact of farming.
Through this work we have helped thousands of people discover veganism; but we want to reach millions more! We rely entirely on donations as we don't get any government funding. If you already support us, thank you from the bottom of our hearts, you are really making a difference! Please share our details with your friends and loved ones too, as every donation enables us to keep fighting for change.