Sushi Rolls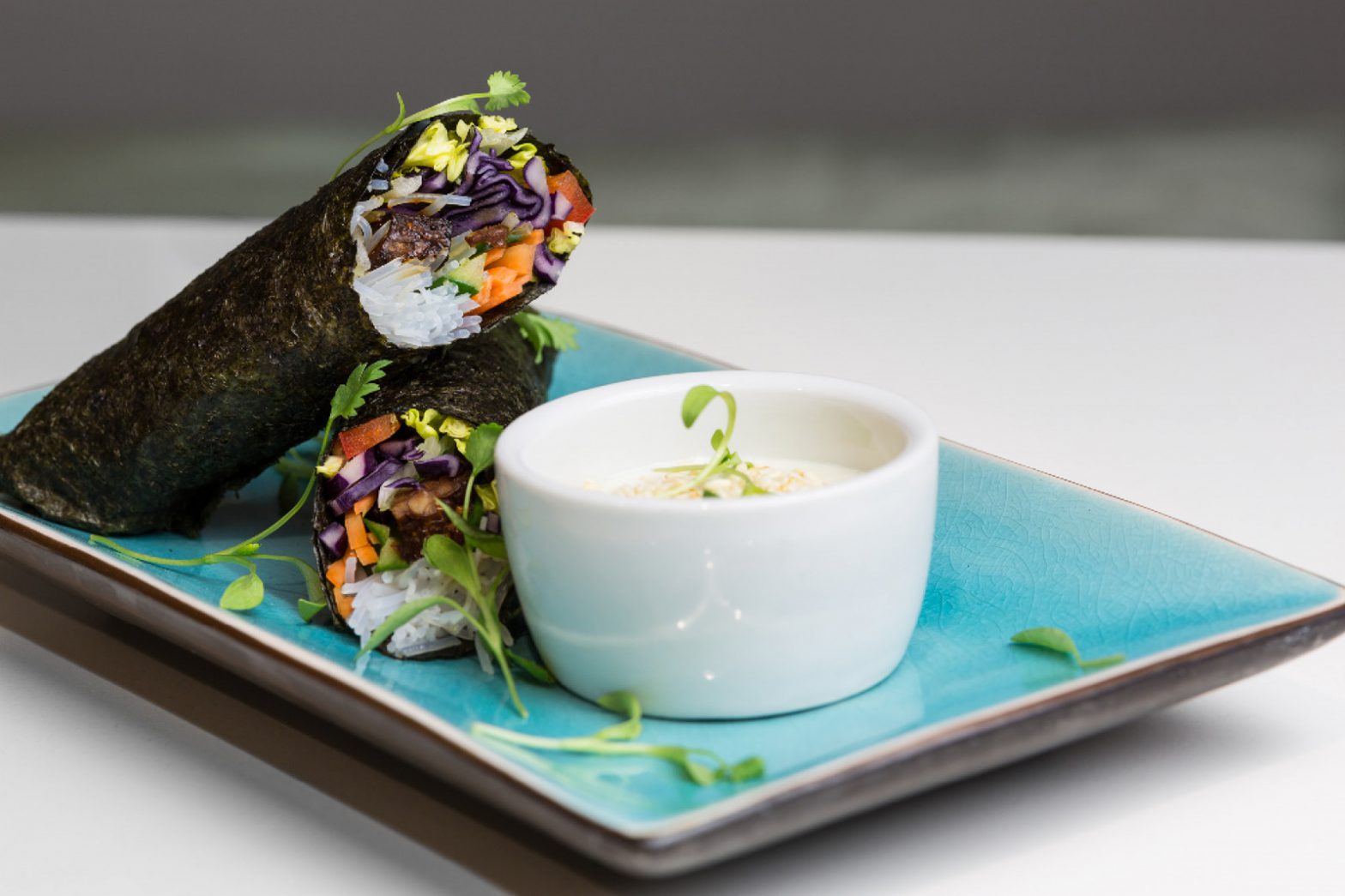 Stem + Glory founder Louise has been experimenting with plant-based foods for more than 30 years and loves clean and healthy Japanese cuisine. It's incredibly easy to 'veganise' many Japanese recipes. You can use different crunchy vegetables if you prefer and they also work well without noodles. This recipe uses tofu, but at Stem + Glory they use marinated tempeh too.
Not too tricky
Gluten free
Wheat free
Low fat, low sugar
Courtesy of Stem & Glory


Ingredients
For the wasabi mayonnaise dip
1 block of silken tofu
1 lime, zest and juice
½ tsp salt
½ tbsp vinegar
1-2 tsp wasabi according to taste
For the marinated tofu
1 block of firm tofu (plain or smoked)
40g tomato purée
½ tsp cayenne pepper
1 tsp smoked paprika
1 tsp salt
40g oil
For the noodles
1 pack of fine rice noodles
2 tbsp sesame oil
For the vegetables
1 large carrot, peeled and thinly sliced (approx 5cm x 2cm)
1 red pepper, thinly sliced (approx 5cm x 2cm)
1 cucumber, thinly sliced (approx 5cm x 2cm)
100g white or red cabbage, sliced into fine strips (do this on the side to preserve 'wavy' shape)
1 baby gem or any soft leaf lettuce, sliced into fine strips (do this on the side to preserve 'wavy' shape)
1 pack of nori sheets
Instructions
Dip
First, make the dip. Blend all the ingredients until the mixture is super smooth. Add more wasabi according to your preference.
Tofu
Preheat the oven to 180°C/350ºF/Gas Mark 4.
Drain and pat down the tofu then cut into long square strips, approximately 1cm thick.
Mix the remaining ingredients together to make a marinade, add the tofu and leave to marinate for 10 minutes.
Bake the coated tofu in the oven for 10-15 minutes.
Noodles
Add the sesame oil and rice noodles to boiling water and cook or stand according to the instructions on the packet. Stir to avoid the noodles clumping.
Drain and rinse the noodles with cold water to quickly stop the cooking process.
Vegetables
Dampen a clean cloth slightly and then place the nori paper on top.
Moisten slightly then place a handful of rice noodles, 3 batons of red pepper, 3 batons of cucumber, a large pinch of cabbage, the same of lettuce and two pieces of tofu on a quarter of the sheet closest to you.
To roll, fold the edge closest to you over the filling and tuck it under, then roll that over the remaining nori paper. To stick the ends down, wet the edge and press firmly.
To serve
Slice the roll into four pieces at a diagonal, and serve with the wasabi dip.
Did you know that V30 is run by a charity?
We create vital resources to help educate everyone – vegan veterans, novices and the v-curious alike – about vegan food, health and nutrition; as well as the plight of farmed animals and the devastating environmental impact of farming.
Through this work we have helped thousands of people discover veganism; but we want to reach millions more! We rely entirely on donations as we don't get any government funding. If you already support us, thank you from the bottom of our hearts, you are really making a difference! Please share our details with your friends and loved ones too, as every donation enables us to keep fighting for change.