Nutty Butter Toast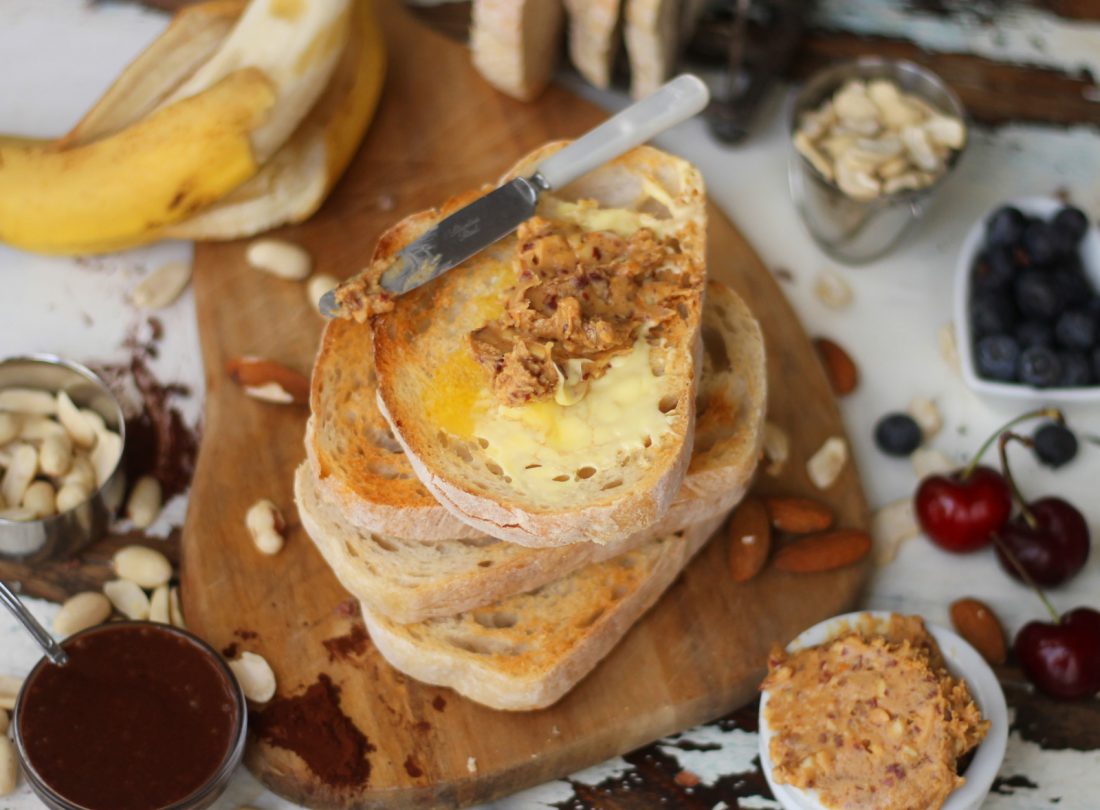 OK, so we all know about peanut butter, right? But there is a whole world of nut and seed butters waiting to be explored! AND we've included a nut-free option, see below.
Cashew, almond, tahini (sesame), hemp, sunflower are just some of those on offer. Then there are the mixed nut/seed butters…
Similarly with bread – go for the best you can afford, preferably wholemeal – and if you're really into it, buy a breadmaker or just make it the traditional way. It's light years away from Hovis brown! If you're allergic to wheat, there are plenty of good alternatives – spelt, rye and more – and for the coeliacs or gluten-allergic, there is a much better range out there and improving all the time, just check there is no added egg.
Nut and seed butter lowdown
All these butters are a fantastic source of good fats, protein and more. There is also a choice of raw butters – ie the nuts aren't roasted – or the more traditional roasted versions.
For those of you with nut allergies – or school-age kids who aren't allowed to take nuts into school – there is even 'WowButter' sold in Tesco et al – it's a nut free 'peanut butter' alternative that even has nut-free certification on the jar!
Brands? Lots. Many of the cheaper ones contain added palm oil and sugar. The better ones don't, but are more expensive. Have a look at the shelves, consider your budget and go for the best you can afford. Health food shops – high street or online – will often carry a much wider range of brands than the supermarkets although cashew, almond and other types have reached the big chains, hooray!
Home-made? It's pretty easy and a lot cheaper, but you do need a hefty food processor or blender! See our Home Made Nut & Seed Butter recipe here
For more info, nutritional and otherwise, check out our Go Nuts feature
Easy
Gluten free
Wheat free
Quick meal
Kids recipe
Meal
breakfasts
sides-light-meals-and-salads
Ingredients
Nice bread for toasting
Nut or seed butter of choice
Optional:
Bananas, sliced or mashed
Berries
Jam
Yeast extract (not just Marmite, lots of other types…)
Instructions
Make the toast. Spread the nut/seed butter as thinly or thickly as you like. Add toppings. Eat!
Did you know that V30 is run by a charity?
We create vital resources to help educate everyone – vegan veterans, novices and the v-curious alike – about vegan food, health and nutrition; as well as the plight of farmed animals and the devastating environmental impact of farming.
Through this work we have helped thousands of people discover veganism; but we want to reach millions more! We rely entirely on donations as we don't get any government funding. If you already support us, thank you from the bottom of our hearts, you are really making a difference! Please share our details with your friends and loved ones too, as every donation enables us to keep fighting for change.