Nutty Grain Pilaf, Convenience-style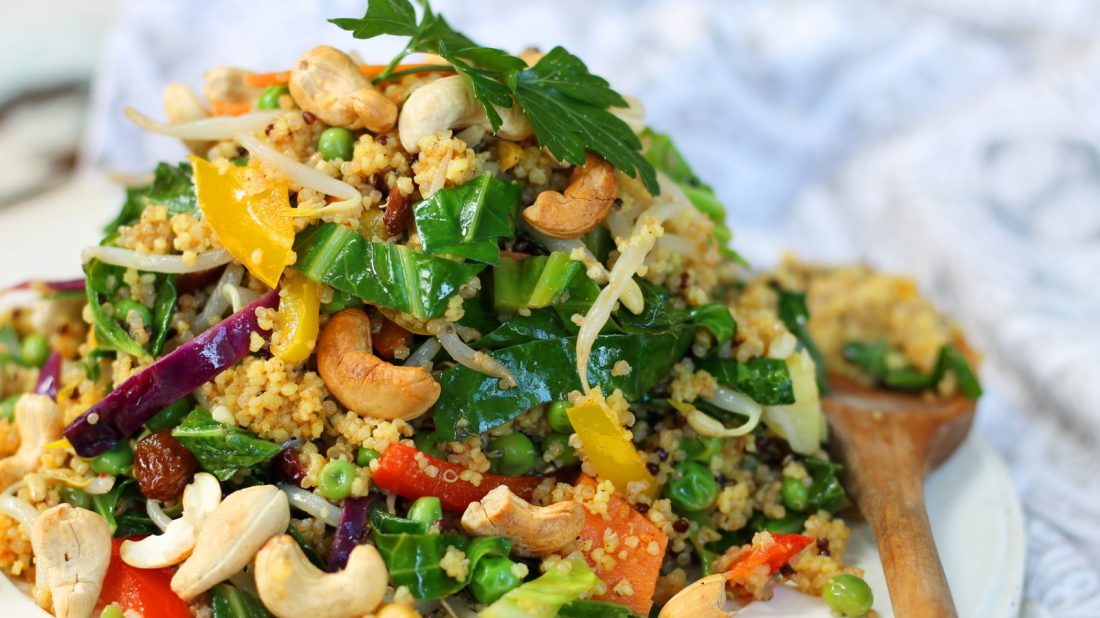 This is a quick-fix version of another recipe elsewhere on the site – it uses healthy ready-mades so is perfect for those busy days! Wheat couscous and frozen peas each offer a surprising range and amount of nutrients, including protein, calcium and iron and are economical cupboard and freezer staples. Alternatively, use a ready-to-eat grain that's wheat or gluten-free if that's your preference. There are lots out there!
Ingredients
1-2 packs dried instant couscous (or use sachets of ready-cooked grains if you don't want wheat). Many are vegan but others aren't, so read the labels. Here's a useful link from My Vegan Supermarket
1 mixed stir-fry pack containing onion, pepper and anything else you like
1 tbsp oil
1 tsp cumin
1 tsp turmeric
225g/8oz frozen peas
Juice of 1 lemon
Fresh or freeze-dried mint, ½-1 packet according to taste
Roasted or raw nuts to sprinkle on top, eg hazelnuts, slivered almonds, cashews. Alternatively, use seeds such as sunflower, pumpkin or a mixed type of your choice
Green salad to serve
Plain vegan yoghurt if desired
Instructions
Make the couscous according to the packet instructions – this usually involves pouring boiling water over the mixture in a heat-proof bowl. If you're using a ready-to-eat grain in a packet, just warm through in the microwave or on the stove.
Cook the peas – in a saucepan or in the microwave until just tender. Set aside.
In a wok or large frying pan, heat the oil then quickly fry up the stir-fry pack for a couple of minutes – you want the veg to have texture. Stir in the cumin and turmeric and fry them in for about a minute. Remove from the heat.
Mix the couscous, peas and cooked vegetable mixture together. Add the lemon juice and mint and stir in well.
Serve in bowls with the nuts or seeds on the top and the salad on the side. Spoon plain vegan yoghurt on top if using.
Did you know that V30 is run by a charity?
We create vital resources to help educate everyone – vegan veterans, novices and the v-curious alike – about vegan food, health and nutrition; as well as the plight of farmed animals and the devastating environmental impact of farming.
Through this work we have helped thousands of people discover veganism; but we want to reach millions more! We rely entirely on donations as we don't get any government funding. If you already support us, thank you from the bottom of our hearts, you are really making a difference! Please share our details with your friends and loved ones too, as every donation enables us to keep fighting for change.