One Pot Rainbow Pasta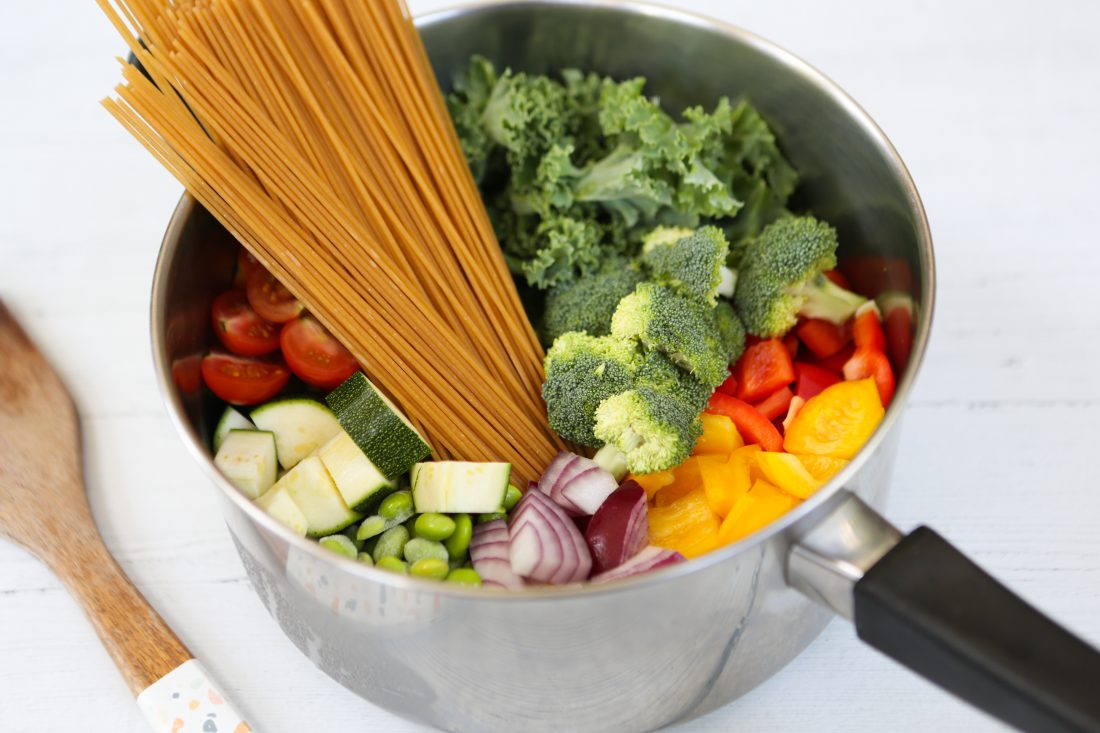 Get a healthy hit of colourful veg and hearty spaghetti for a quick evening meal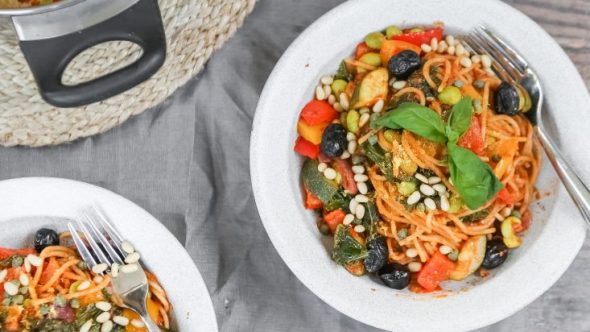 Easy
Gluten free
Wheat free
Reduced sugar, diabetic friendly
Quick meal
Cheap
Ingredients
250g whole wheat spaghetti
1 pepper (red or yellow), chopped into bite-sized chunks
1 red onion, roughly chopped
2 cloves garlic, minced
½ courgette, diced
Handful mushrooms, cut into chunky slices
2 handfuls kale or spinach
½ head broccoli, cut into bite-sized pieces
150g/1 cup frozen edamame beans
150g/1 cup frozen peas
750ml/3 cups boiling vegan stock
Sauce of your choice eg pesto (Sacla, Zest, some supermarket own-brands), Sacla Vegan Bolognese Sauce, tomato pasta sauce (eg supermarket own-brands, Dolmeo etc), vegan white sauce (eg Sacla), black olive tapenade, Waitrose Kalamata Olive & Sundried Tomato Tapenade, Waitrose Tomato & Rocket Sauce
Optional toppings: fresh basil, vegan Parmesan or other cheese of choice, nutritional yeast, peanuts, pine nuts, olives, black pepper, mixed seeds, chilli flakes, lemon juice, lemon zest, capers, pre-marinated tofu (eg Taifun or Cauldron), vegan bacon pieces, dried mixed herbs
Instructions
Add everything to a large saucepan (apart from the frozen edamame, frozen peas, broccoli, kale/spinach, sauce, toppings), bring to the boil and then simmer for 10 minutes.
After 10 minutes add the edamame, peas, broccoli, kale/spinach and simmer for a further 5 minutes.
Check that the pasta is cooked properly, remove the pan from the heat and then drain everything into a colander.
Dry off the pan and then return everything to the pan. Add the sauce, stir through and heat on a gentle heat for a couple minutes.
Add any of the toppings you fancy and enjoy.
Did you know that V30 is run by a charity?
We create vital resources to help educate everyone – vegan veterans, novices and the v-curious alike – about vegan food, health and nutrition; as well as the plight of farmed animals and the devastating environmental impact of farming.
Through this work we have helped thousands of people discover veganism; but we want to reach millions more! We rely entirely on donations as we don't get any government funding. If you already support us, thank you from the bottom of our hearts, you are really making a difference! Please share our details with your friends and loved ones too, as every donation enables us to keep fighting for change.