Out to Lunch! Vegan items in the shops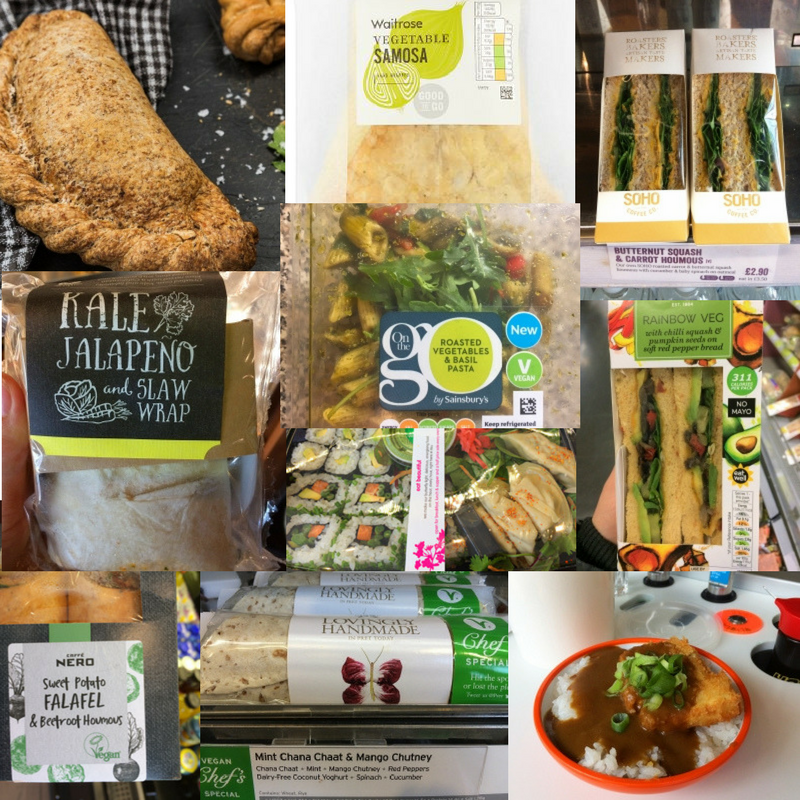 Not a recipe but a quick round-up of some of the ready-to-go lunch items available, mainly in supermarkets. Some can be eaten cold, some need a microwave, so choose accordingly. We've focused on supermarket own-brands products but obviously, every supermarket sells other brands that carry some vegan items, eg New Covent Garden soups.
When in doubt… hummus, nice bread, salad and raw veggie sticks are available in just about every supermarket, as are nuts, seeds, fresh and dried fruit, energy bars like Nak'd… If you have access to a microwave or cooker, many fresh and tinned soups are vegan too, as are Indian vegetarian side dishes, tinned dhal and the like.
Accidentally vegan: many bakery items, confectionery, biscuits, crisps and so forth are also vegan. If you're not sure, ask. Don't be fobbed off – staff should be able to access this information easily from the store's computer system. Alternatively, see below for links to the Vegan Womble and My Vegan Supermarket, both of whom have superb lists of items across the chains.
Remember, this list is not exhaustive and may be post code dependent – eg a big Tesco in Bristol sells things that my friends in West Wales can't get hold of and this is the same across the UK and with many other chains. In addition, options both change (ie companies often stop making certain items or rebrand them etc) BUT vegan ranges are increasing all the time – and if you, the valued customer, keep asking your branch to stock more items, the word will get out there!
---
Aldi: Fruity Moroccan Couscous; Orzo & Slow Roast Tomatoes; Sweet Pepper Cous Cous; Onion Bhajis; Vegetable Samosas; Vegetable Spring Rolls; Bombay Potato; Pilau Rice; Soupreme Butternut; Curried Sweet Potato & Coconut Soup; Lentil And Tomato Soup; Soupreme Skinny Thai Carrot Soup; Spinach, Kale & Garlic Soup; Cook Fresh Beetroot & Pomegranate Soup. (Interestingly, Aldi now sell a superfood range eg supergreens powder, wheatgrass powder, cacao, frozen fruit and veg for smoothies; energy bars and more – all very reasonably priced.) Click here for Aldi's vegan list and get regular updates by searching for 'Aldi Vegan List' every few months or so!
Asda: Spicy Couscous, Tomato & Roast Vegetable Salad; Minty Bean Salad; Three Chilli Pasta Salad; Vegetable Jalfrezi; Channa Masala; Mixed Pakora & Bhajis; Thai Vegetable Snack Selection; Good Balanced Curried Chickpeas (sachet); Good Balanced Snack Pots (need hot water): Chilli & Lime Bulghur Wheat, Spicy Moroccan Couscous & Lentil, Spicy Tomato, Bulghur Wheat & Quinoa, Tomato & Basil Couscous Quinoa. No vegan list but they do have a vegan search on the website – however, check carefully as it can be a bit hit and miss… and Vegan Womble has a fine 'unofficial' list for Asda!
Co-op: Food2Go Carrots & Houmous; Falafel & Houmous Salad; Chilled Roasted Vegetable Cous Cous; Salad Bar Roasted Vegetable Couscous; 4 Vegetable Spring Rolls; Chilled Onion Bhajis; Vegetable Samosa 4 pack; Squash and Grains Meal Pot; Tomato & Basil Soup; Chunky Vegetable Soup; Truly Irresistible Tuscan Tomato & Lentil Soup – plus lots of hummus. Click here for the most recent Co-op vegan list, including bakery and booze items
Lidl: don't provide a vegan list although there is one for bakery items. Vegan groceries are supposed to be labelled but not all are. Some salad pots will be suitable, as is most of their hummus. They also do a Protein Roll in the bakery section (kind of a sausage roll?) which is vegan. So label reading is needed! Keep politely lobbying the company and the workforce – hopefully the company will take the hint soon. Some of their bakery goods, chocolate and biscuits are accidentally vegan.
M &S: Roasted Butternut Squash And Chickpea Salad; Edamame And Sunflower Superbowl; Edamame Bean Salad Dual Tray; Edamame Soybean Salad; Raw Garden Super Bowl; Super Green Bowl Pasta With Slow Roasted Tomatoes & Large Salad; Giant Couscous & Wheatberries With Roasted Butternut Squash; Roasted Butternut Squash, Red Pepper Houmous Wrap; Sweet Chilli Veg Sushi Wrap; Vegetable Spring Roll Selection; Oriental Vegetable Selection With A Thai Chilli Dip; Indian Starter Selection; Mini Onion Bhajis And Vegetable Pakoras Indian Style Snack Selection; assorted hummus in regular and 3 stacker pots and more. They also have a regularly updated vegan list.
Morrison: Moroccan Couscous; Tomato, Pepper & Basil Pasta; Minted Bean Salad; Grilled Pepper Couscous; Vegetable Samosas; Moroccan Falafels; Carrot Celery & Hummus Dip Pot; Falafel & Hummus Dip Pot and more. Like Asda, no vegan list but there is a search facility – and of course, there is Vegan Womble's marvellous 'Unofficial Vegan List'! (see below)
Sainsbury's: Four Bean Salad; BGTY Chargrill Vegetable Couscous; Taste the Difference Edamame & Butterbean Salad; TTD Tabbouleh Salad; Fruity Couscous; Tomato & Basil Pasta; Minestrone Soup; Deliciously Free-From Cheddar (hard); DFF Cheddar & Onion; Wensleydale with Cranberries; Greek Style. Also a range of soft cheeses including plain and Garlic & Herb; … Sainsbury's vegan search list here
Tesco: Falafel And Houmous Wrap; Finest Chargrill Vegetable Cous Cous; Broad Bean, Asparagus And Mint Houmous; Italian Pasta Salad; Finest Edamame And Pea Salad; Three Bean And Mint Salad; Pepper And Spinach Cous Cous Salad; Fruity Couscous Salad; Tomato Cous Cous; Spiced Roasted Cauliflower; Oriental Quinoa Salad; Indian Snack Selection; Counter Tesco Mini Onion Bhaji Pick And Mix; Counter Tesco Mini Vegetable Spring Roll Pick And Mix; Oriental Kitchen Vegetable Spring Rolls; Mexican Chilli Bean Soup; Butternut Squash Soup; Minestrone; Finest Vine Ripened Tomato And Lentil Soup; Snack pots – need added hot water: Everyday Value spicy curry flavour noodles, Sweet & Sour Rice Pot, Sweet Chilli Rice Pot, Three Bean Chilli Rice Pot; Free From Alternatives to Cheese – hard and cream, assorted flavours including smoked; FreeFrom Coconut Tapioca with Alphonso Mango; Free From Coconut Rice with Strawberry; Free From Banana Soya Alternative. (Tesco do a very good free-from range but it is postcode dependent and not all of it is vegan so always check the labels). Tesco vegan list? This used to be available via a click on the Tesco RealFoods site but now you have to contact Tesco and ask for each list to be sent to you. Yes, we have questioned this strange change and no, they haven't given us a sensible response! Do keep lobbying their lovely and helfpful Customer Services department with polite requests. In the meantime…
For a list of Tesco products suitable for Vegans or Vegetarians are available from our Customer Services and is updated every 3 months:
Telephone: 0800 505555
E-mail: customer.service@tesco.co.uk
Write to: Tesco Customer Service, PO Box 73, Baird Avenue,
Dryburgh Industrial Estate, Dundee, DD1 9NF
Waitrose: Fruity couscous; Mixed bean salad; Adzuki and edamame bean salad; Vegetable couscous; Wheatberry & bean salad; Rainbow rice salad; Fruity couscous; Vegetable couscous; Nutty Rice Salad; Wild Rice Salad; Oriental Black Quinoa Salad; Asian Nutty Slaw; Roasted cauliflower & lentil; Buckwheat Noodle and Tenderstem® Broccoli Salad; Roasted Vegetable & Couscous Salad; Beetroot falafels; Sweet potato & red pepper samosa; Minestrone soup; Red Lentil & Chilli Soup; Italian Inspired vegetable ribollita soup; Italian Inspired Bean Soup; Mushroom & Black Barley Soup; Gazpacho; Mediterranean Inspired Vegetable Soup; Vegetable gumbo soup; Asian Inspired Pea, Edamame & Chilli soup; Vegetable & Lentil Soup; Bombay potato; Vegetables in Chinese curry sauce; Raspberry Jelly Terrine; Raspberry Jelly. Vegan list updated regularly.
Finally… If you're up for posher items, we're currently loving both Pret and Itsu's vegan choices – fresh, healthy and absolutely delicious! Most of these are clearly labelled but when in doubt, ask their staff.
For lots more lunchtime options, see our useful blog 'Out to Lunch: Our Favourite Vegan High Street Takeaways'!
Thanks to Vegan Womble for all their hard work compiling the Unofficial Asda list and Unofficial Morrison list – and so much more! Search the right hand side of Vegan Womble for previous posts and food lists.
Thanks to My Vegan Supermarket who are also rocking the 'accidentally vegan' product world.
Top Tips!
Think Pulses: add cooked peas, beans or whole lentils to lots of different things – eg salads, grain salads and so forth. This immediately bumps up the protein, iron and calcium content. The pulse family is cheap, cheerful and a nutritional miracle.
Think wholegrains: brown rice, quinoa, bulghur, couscous and combinations are widely available in ready-to-eat pouches and are a great source of nutrients and fibre – they work well in multi-salads so try them with pulses, tofu, avocado, leaves, sundried tomatoes… and anything else you fancy!
Think Tofu: Cauldron Marinated Tofu Pieces add another taste and nutritional hit to your salads and so forth.
Think Nuts & Seeds: a sprinkling of these offers taste, protein and other nutritional goodies.
Think Dressing: most ready-made salad vinaigrette style dressings are vegan, just check there's no added honey or other animal ingredients. Vegan alternatives to mayo or yoghurt are also widely available.
Did you know that V30 is run by a charity?
We create vital resources to help educate everyone – vegan veterans, novices and the v-curious alike – about vegan food, health and nutrition; as well as the plight of farmed animals and the devastating environmental impact of farming.
Through this work we have helped thousands of people discover veganism; but we want to reach millions more! We rely entirely on donations as we don't get any government funding. If you already support us, thank you from the bottom of our hearts, you are really making a difference! Please share our details with your friends and loved ones too, as every donation enables us to keep fighting for change.