Pasta with Aubergine & Artichokes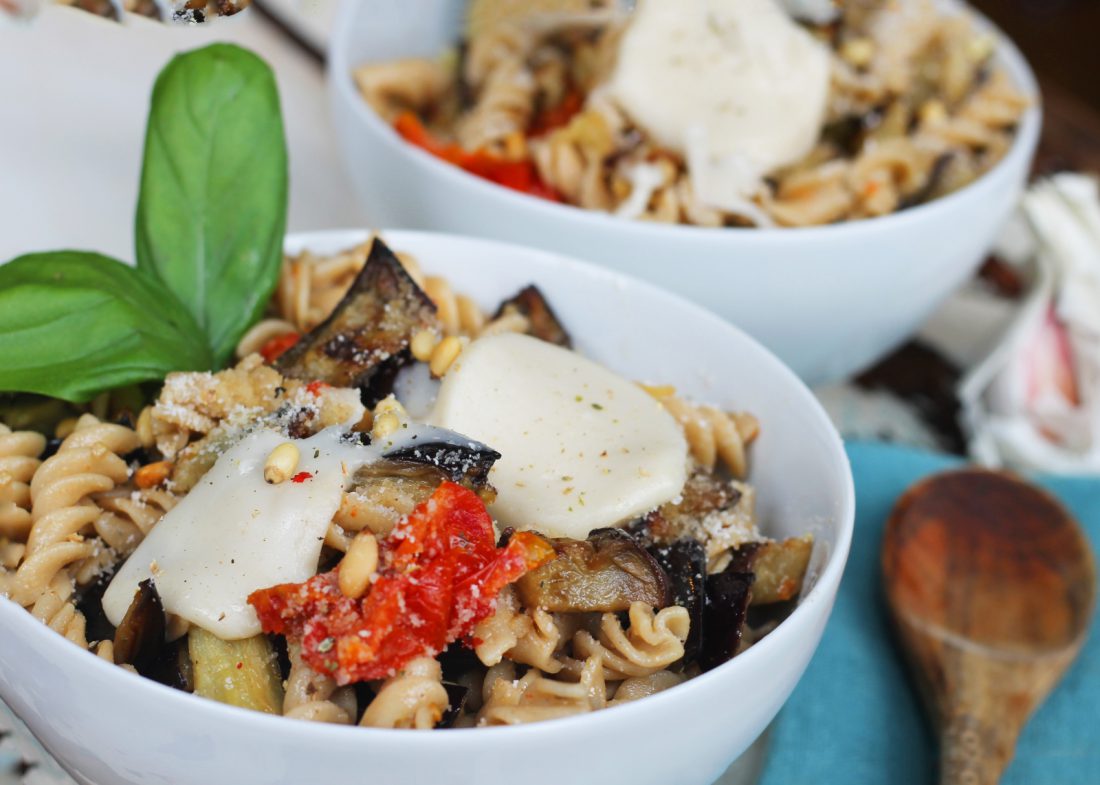 This quick and simple dish is real burst of Mediterranean loveliness. You can be prepping and cooking the vegetable component while the pasta is boiling.
The quantities can easily be halved or quartered – but it might make a nice 'leftovers lunch' for the following day. And feel free to add a bean salad on the side for an extra protein boost!
Gluten-free or Wheat-free?
Use GF or WF pasta
Nut-free?
Replace nuts with sunflower seeds if you're not seed allergic
Low-fat/reduced-fat/diabetic-friendly?
Replace oil with oil spray
Use oil-free sundried tomatoes and artichokes
Use nutritional yeast flakes instead of vegan cheese
Not too tricky
Gluten free
Wheat free
Reduced sugar, diabetic friendly
Quick meal
Low fat, low sugar
Meal
mains
lunches
sides-light-meals-and-salads
vegetable-side-dishes
Ingredients
450g/1lb pasta, such as pappardelle, noodles or penne. Fresh pasta usually contains egg but most dried pasta is vegan – just read the packet
4 tbsp olive oil
2 onions, chopped
2 large aubergines, diced quite small
4 cloves garlic, minced/crushed
2 cans artichoke hearts, drained & each cut into 2-4 pieces, according to size – not too small or they won't keep their shape. The type in oil also work well – use two jars, but drain well and reduce the oil given in the recipe
15 sun-dried tomatoes, roughly chopped – if using the plain dried variety, soak them in hot water. If they come in oil, drain well and reduce the olive oil in the recipe
3 tbsp capers, rinsed and drained
3 tbsp pine nuts or cashew pieces – or sunflower seeds
Handful of fresh basil leaves, roughly torn
Vegan Parmesan-style cheese, grated eg Violife Prosiciano OR VBites Italian style OR a few tbsp nutritional yeast flakes AND/OR MozzaRisella
Freshly ground black pepper
Salt if required (remember capers and olives are quite salty)
Instructions
Bring large saucepan of water to boil for pasta.
Cook for 10-12 minutes, according to packet instructions and how soft you like pasta.
Meanwhile, heat oil in a large pan and add onion and aubergine.
Cover and cook gently for 7-10 minutes or until aubergine tender.
Add garlic and cook for further 1-2 minutes.
Add artichokes and add to mixture, along with sun dried tomatoes and capers.
Toast nuts or seeds over the heat in a dry saucepan and keep stirring so they turn golden but don't burn.
When pasta is ready, drain in colander then return to the hot empty pan.
Add aubergine mixture and season with salt and lots of black pepper.
Serve on warm plates and scatter with pine nuts and basil – and whichever vegan cheese option you're using.
Optional extras / notes
Time includes vegetable preparation
Did you know that V30 is run by a charity?
We create vital resources to help educate everyone – vegan veterans, novices and the v-curious alike – about vegan food, health and nutrition; as well as the plight of farmed animals and the devastating environmental impact of farming.
Through this work we have helped thousands of people discover veganism; but we want to reach millions more! We rely entirely on donations as we don't get any government funding. If you already support us, thank you from the bottom of our hearts, you are really making a difference! Please share our details with your friends and loved ones too, as every donation enables us to keep fighting for change.